Inside: If your 2-year-old tantrums out of control read these tips for how to deal with toddler tantrums and how to help a child having a meltdown.

How to Tame a Toddler Tantrum
Toddler tantrums are scary, and sometimes there's so much crying and screaming going on, you don't know who's making more noise — you or your child. It's a whirlwind ride in which you live in fear of someone one-third your size.
If you haven't experienced a toddler tantrum yet, here's the lowdown on what happens. Your child can be incredibly sweet and happy one moment, and in the next breath turn into a raving lunatic. The worst part is even if you see a tantrum brewing, it can be too late to contain it. All you can do is try to survive it with your sanity intact.
To make it through the worst the toddler years have to offer, here are some tips.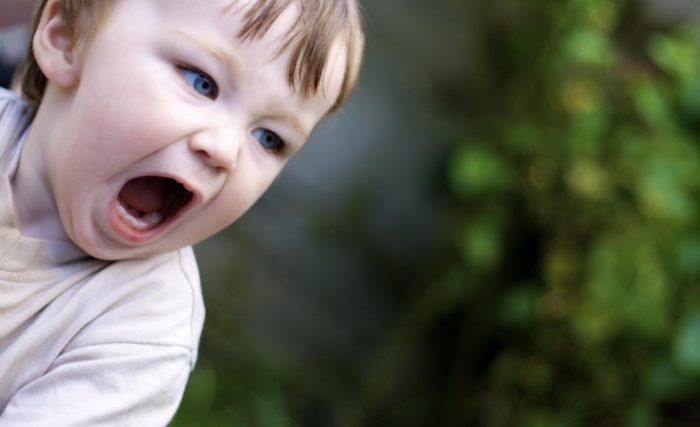 How to Deal with Toddler Tantrums
Don't Lose Your Cool
There's already one screaming out-of-control person in the room — you can't afford to let that escalate into two people screaming. Since your child isn't going to be the voice of reason, you'll have to be, whether you want to or not.
Whether you have to walk away for a minute or you employ the old standby of counting to 10 before you speak, you'll need to keep your cool. Remember, your child will learn how to handle a crisis and express his feelings by watching how you do it in these situations. There's a lot at stake here.
Let Him Cry It Out
Sometimes the best thing to do is let him vent without your interference. If his crying, screaming and rolling on the floor is driving you crazy, go into the other room and check back on him in a few minutes.
Without an audience there witnessing his epic display, he'll likely calm down quicker. He'll also learn some important self-soothing skills in the process.
Leave Logic at the Door
You won't reason your way out of this one, so expecting your child to use logic during his tantrum is setting you both up for complete failure. He wouldn't have lost his temper in the first place if he was capable of using logic in emotional situations.
All you'll do with your detached reasoning is make him angrier and more confused than he was before you began talking.
Put Yourself in His Shoes
Try to channel all the empathy you can muster up. Your child needs it now more than ever. His rage and heartbreak are very real to him, even if you can't figure out what triggered it or why it's such a big deal to him.
Since he doesn't have the ability yet to simply talk out his feelings, screaming, crying and throwing his body to the ground is the only way he knows to express himself. That's got to be a scary feeling, and it's something we all go through at that age.
So the next time you feel yourself losing control, try to remember he's the same little boy who will be holding you tight as you put him to bed and giving you all the hugs and kisses you want on a daily basis.
Trick Him Out of His Bad Mood with Redirection
The great thing about kids is this — you can distract them with the tiniest bit of effort. Drawing a simple picture, or doing a random dance in the middle of his tantrum might be enough to snap him out of it. He'll wonder what you're doing, and if it looks like you're having fun, he'll want to join in. Before long, he'll be having a blast, and he won't even remember he was miserable just a few minutes earlier.
Don't Cave
If this tantrum was brought on because your toddler wanted you to buy him a Twinkie in the grocery store, pay for your groceries, and get out of there as soon as possible to save yourself any potential embarrassment. But whatever you do, don't put that Twinkie in your cart.
Your child doesn't deserve your wrath for his meltdown, but he doesn't deserve a reward for it either. Giving your child some boundaries is a good thing. But adhering to those boundaries is even better because rules and expectations don't mean anything if they aren't enforced.
You'll Both Get Through It
In the midst of his outburst, just keep your eyes on the prize — parenting isn't a war, but it does involve many battles that you'll fight over the next 18 years.
The next time your child freaks out during a world-class tantrum, just remember how much you'll miss these days when your child is an adult.
Author Bio
Jenny is just another mom trying to do her best. She loves making lists and trying to help others find what they are looking for. When she's not sharing the latest parenting hacks & tips on her blog, you'll find her trying to help other moms save time and money by writing epic buyer's guides on breast pumps, diapers, and the other mommy essentials.
Want more parenting advice? Check out this amazing Positive Parenting Solutions program!

Join the Working Mom List
Join the Working Mom collective and get support and tools to help you thrive! Subscribers get access to my library of resources and printables.