Congratulations on your Pregnancy! You have just entered such an exciting time in your life! Pregnancy is such a roller coaster of emotions and hormones, but we all agree that getting prepared and making a plan helps us go through each stage. Now, do you know the first things to do when you find out you're pregnant?
Best things to do when you find out you're Pregnant
Get organized for pregnancy with planners
Here are some lovely mom-to-be planners with all things to prepare for baby!

Baby Elephant Pregnancy Planner
Get your mom freebies and baby registry planned out
Babylist Registry is the best, universal gift registry for expecting parents. They offer unbiased advice to help parents make decisions with confidence. Create a Babylist registry today to be eligible for a free baby box full of goodies for you and baby!

Getting free things is quite exciting, even more, when they're baby related. Check out my Ultimate List of Freebies for New Moms post for the list of everything you can snag for free or at a discount.
Then, when you're working on your shopping lists, put some of these pregnancy essentials on your registry. That list includes tons of creature comforts that help you get through pregnancy, like a great pillow and support band.
Figure out a healthy diet for pregnancy
There is so much you can't eat anymore while pregnant, and it took me a long time to understand all the ins and outs. One example is soft cheese like feta.
Be sure to start taking your prenatal vitamins daily, with DHA. They don't have to be the fancy vitamins doctor prescribes. Over the counter drug store vitamins are perfect.
Morning sickness (aka all day sickness) might make it hard for you to eat certain foods, or at certain times. I found having bland crackers, toast, nuts, etc helped tame that feeling. I also ate many tiny meals rather than several large meals throughout the day.
Announce your pregnancy
Some people want to announce a pregnancy right away, shouting from the rooftops. Others, like myself, wait until after the first trimester is over, just in case. Whenever you decide to do share, be sure you plan fun pregnancy announcements for your husband, family, and even to share online.
Check in with your workplace
You might not want to tell at work right away, but you should start looking at your HR documents to get familiar with your maternity leave policy. You should also check your insurance coverage and make sure you pick a doctor, hospital, etc, all in-network.
You should also think about whether you're going back to work full-time or part-time (or at all, some people have that option) and start finding out if your office already has a breastfeeding/pumping room or a quiet room you can use or if they need to create a space for you.
Then plan for the transition to returning to work – get tips on breastfeeding and working!
Plan Childcare
Planning your childcare is important to do while you're still pregnant. Some daycares have long waiting lists and you need plenty of time to interview a potential nanny.
Read more tips on how to find childcare on our collection of childcare tips.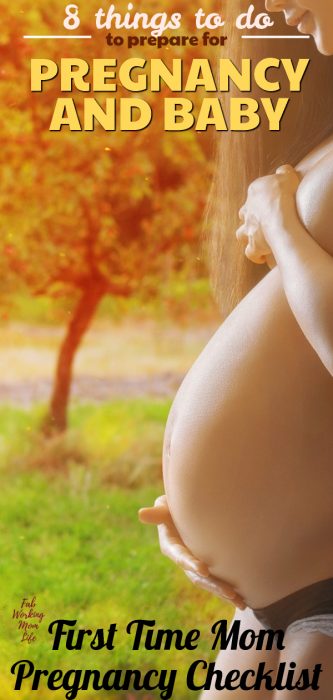 Picture and Bond with your baby
Start picking baby names. My husband and I had the hardest time picking a baby name. Thankfully we agreed on JUST ONE in time for me to be induced. Start picking name options early! My friend also has some great tips for helping you pick a baby name.
Bond with your baby during pregnancy with this great early childhood learning opportunity. A helpful tip would be to use a pregnancy calculator to determine how many weeks pregnant you are and observe your baby's development. A baby's prenatal brain is highly influenced by auditory experience and is capable of learning. As a baby compares the simple rhythmic sounds of BabyPlus from those of their mother, learning and enrichment begin. An expectant mom can start using BabyPlus at any time between 18-32 weeks of pregnancy for just one hour a day. Nurture your Baby's mind – Begin with BabyPlus!
Predict your baby's appearance:


Take a breastfeeding class
If you have access to a class at your local hospital, I highly recommend that! If you're looking for an amazing online class you can listen to again and again from the comfort of your class – you absolutely must check out Milkology! This is a fabulous breastfeeding class!
You also should consider learning about pumping, and Milkology also has a fantastic
pumping class
!
Then prepare for breastfeeding with these tips!
Read pregnancy books
Books that have a lot of information, such as month to month changes, explain all the prenatal development happening, and talk about labor and delivery are very helpful.
You also want to start perusing books about newborns and infants.
Journal your Pregnancy and Postpartum experience
Starting to journal your feelings and experiences as a new mom is a great idea. Journaling can help document all milestones because you know it will be a challenge to remember every change you experience.
You can use these journals as a baby book, a pregnancy book, a postpartum book, and every step in your motherhood journey.
Shop Promptly Journals' New Postpartum Journal & Baby Essentials Collaboration with Goumi!

Make a Labor and Birth Plan
Write a birth plan and think about where you want to deliver. Make your birth plan as detailed as you can, but leave some wiggle room since nothing goes as planned.
Don't forget to grab your checklist for your hospital packing list!
Grab your Hospital Packing List!
Join the email list and we will send you this hospital packing checklist right away!
Grab your Hospital Packing List!
Join the email list and we will send you this hospital packing checklist right away!
Make a Postpartum Plan
It is so important to have your Postpartum Care Plan ready before you go to deliver! I'm sharing this wonderful e-course that can help you plan and prepare! Making Your Postpartum Plan – Prepare for life after baby and how you will care for yourself. Conversations to have with your partner/support team before baby arrives, tangible ways to set yourself up for success after baby.
Get all your baby gear
Making sure you have all the baby gear you will need before you deliver is important. You're not allowed to leave the hospital with your baby without an infant car seat. My nurse even checked that my car seat was properly installed.
You'll also want your stroller, crib or bassinet, play yard, and other baby gear. You can do all your shopping online. I suggest checking out BabyWise.life!
Bonus: Join Mom groups
Finding a mom tribe is so vital! Find your people, those moms in a similar place in their life as you, and you will never feel alone. There are great groups all over the internet and locally. I'm in some amazing Facebook groups that you should check out. You can try apps like Peanut to make friends with local moms.
---
Read all my pregnancy tips and posts: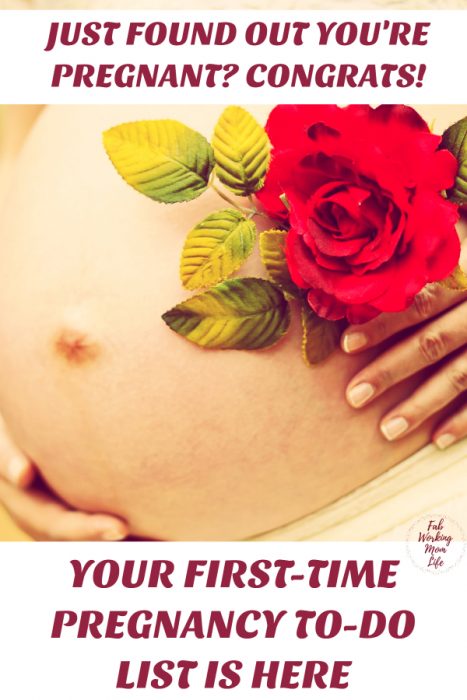 First things to do when you find out you're pregnant!
Join the Working Mom List
Join the Working Mom collective and get support and tools to help you thrive! Subscribers get access to my library of resources and printables.