Eating breakfast is an important part of your morning routine, and it is even more so important for kids. Starting their day with a full belly and a healthy meal will help our toddlers play hard, learn new things, and develop their brains during their daycare and preschool activities. I'm sharing a bunch of great daycare breakfast ideas for you mamas! Enjoy this fabulous list of toddler breakfast ideas for daycare!
If getting out the door and to work on time with kids wasn't stressful enough, toddlers make it even more complicated with their fighting putting on clothes, refusing to eat, and all the lovely delay tactics as they try to exert their independence. There are parenting tricks to help get kids to put on their clothes – such as letting them pick their outfits – and there are also parenting hacks to help even picky toddlers to eat their food.
I like to plan ahead because when you have a go-to list of quick and easy toddler breakfast ideas, meal prep time can get that much easier. These ideas for quick morning and before preschool breakfasts can all be made in advance and warmed up ready to eat! So enjoy this list of breakfast ideas for toddlers, picky eaters included. Then have a great day after daycare or preschool drop-off.
Breakfast for Toddlers – Healthy Balanced Meals for kids
Breakfast for toddlers doesn't need to be complicated, much like when you prepared breakfast ideas for 1 year old kiddos. Toddlers and preschoolers thrive off a diet that includes healthy toddler breakfast options from all the food groups – proteins/dairy, fruits, vegetables, and grains. While not every meal needs to have all these food groups covered, you want to make sure they are represented throughout the day.
In my toddler lunches for daycare post, I shared how we can break the lunch into categories to cover most of these food groups. You want to do something similar with breakfast to start their day off right. The Child and Adult Care Food Program (CACFP) has guidelines that help determine what daycares can feed the children in their care – here's their table for breakfast meals.
We want to feed our kids (and ourselves) a balanced meal. That means while we may let them enjoy an occasional sugary cereal, we prefer to give them more variety and food introductions, because exposure to new foods early on also helps with picky eating. I like to pair grains with fruits and have a dairy beverage for an easy outline let's say. But I've been known to sneak in vegetables from time to time.
Toddler breakfast ideas for daycare
Toddler breakfasts can be extra fun to put together because you can split everything in those adorable divided plates, or give them one big mash-up! Here are some items for each food group category to pick from as breakfast ideas for daycare.
Grains –
A grain-based breakfast can be a healthy way to start your day. Whole grains are a good source of fiber and other nutrients, and they can help you feel full and satisfied. There are many different types of grains to choose from, so you can find a breakfast option that fits your taste and nutrition needs.
Pancake
Muffin
Waffle
Toast
Bagel
Cereal
Oatmeal
Fruits –
Starting the day with fruit for breakfast is a great way to get the nutrients your body needs to function at its best. Fruit is packed with vitamins, minerals, and fiber that can help you stay energized, focused, and healthy. Plus, eating fruit for breakfast is a delicious way to start your day!
Berries – strawberries, blueberries, blackberries, raspberries
Pineapple
Grapes
Banana
Orange/cutie
Pear
Peach
Apple
Melon medley
Fruit cup
Raisins
Dairy –
Starting the day with dairy can be a nutritious way to begin breakfast. Dairy products are rich in calcium and protein, which can help promote strong bones and muscles. They also contain essential vitamins and minerals, such as vitamin A and potassium. Incorporating dairy into breakfast may also help regulate blood sugar levels and provide lasting energy throughout the morning.
Yogurt
Cheese
Milk to drink
Proteins –
If you're looking to start your day off right, you should consider eating protein for breakfast. Protein is an essential nutrient that helps our bodies function properly. It can also help us feel fuller for longer, which is why it's often recommended as a weight-loss strategy. Plus, there are endless possibilities when it comes to incorporating protein into your breakfast routine.
Eggs
Chicken
Fish
Beans
Sausage patty
Vegetables / Low Sugar Fruits –
A lot of people choose to eat sugary cereals or pastries for breakfast, when they could be eating something much healthier like veggies. Veggies are a great source of nutrients and fiber, and they can help you start your day off on the right foot.
Spinach
Peas
Corn
Cucumber (yes technically a fruit)
Squash – zucchini, yellow squash (also technically fruits)
Carrots
Breakfast Ideas for Toddlers and Preschoolers
I've broken this daycare breakfast for toddlers list into categories by type of food so you can pick a theme of the day if you're into that sort of thing and grab an idea from this list. These are perfect breakfast ideas for your 2 year old but also don't forget these 1-year-old breakfast ideas with leftover baby cereal.
These ideas combine food groups to get the most out of your child's breakfast.
Toddler Breakfast with Eggs
Toddler Breakfast Muffins
Breakfast Toddler Waffle Love
Pancakes for Preschool
Breakfast Cookies or Baked Oats FTW
Other Brilliant Toddler Breakfast Recipes
Tools to make your easy toddler breakfasts
I'm a fan of meal prepping on the weekend and just quickly reheating during the week. You'll want to store your ready-to-warm-up and eat toddler breakfasts in some glass containers so they're BPA-free and safe for your little ones.
JoyFul by JoyJolt 24pc Borosilicate Glass Storage Containers with Lids. 12 Airtight, Freezer Safe Food Storage Containers, Pantry Kitchen Storage Containers, Glass Meal Prep Container for Lunch
Serving toddlers food in fun colorful plates is the best!
Suction Plates for Toddler,Silicone Plates for Baby Kids Infant Feeding Supplies Fits Most Highchair,BPA Free Dishwasher Microwave Safe-Green Fish
You'll want a muffin tin because they're not just for making muffins! They're great for cooking up toddler-sized foods of all types, such as frittatas and pancakes too!
12 Cups Silicone Muffin Pan – Nonstick BPA Free Cupcake Pan 1 Pack Regular Size Silicone Mold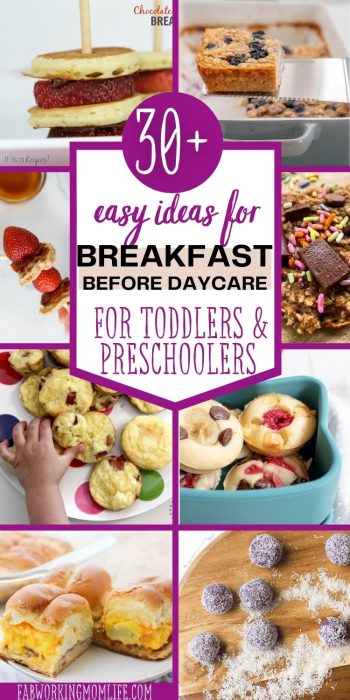 Q&A about Toddler Breakfasts before Daycare
Should I feed baby before daycare? Well, yes, I would suggest not bringing the child super hungry to daycare. It might take some time while they are settling in all the daycare kids before they get a chance to feed your child. Plus, daycare tends to feed on their specific schedule so if you're bringing your baby or toddler in at a time that is too far from the daycare meal schedule, do make sure your child is not hungry. I always liked to feed my son at home while I ate breakfast before we headed out to daycare and work.
What time should toddler have breakfast? When do you have breakfast? I suggest you eat together. So if you're out the door at 7 to get to work on time and you eat your breakfast at 6:30 am, also feed your little at that time.
Why does my toddler eat better at daycare? If you're struggling to feed your toddler at home and yet your toddler eats better at daycare, let them have their meals there. At this point the important part is early brain development which means as long as they get the best nutrients somewhere, they're fine. Sometimes toddlers eat better at daycare because the environment is different. It might be more relaxing, or more stimulating, and there might be just enough activity to distract them from thinking about their food. They might also be falling into eating what their peers are eating, and more willing to try things they see other kids their age eat. You can keep fighting picky eating battles at home as needed.
You may also like:
Join the Working Mom List
Join the Working Mom collective and get support and tools to help you thrive! Subscribers get access to my library of resources and printables.