We're in summer like no other we've seen before. It has been going on for months it seems, and schools in the fall are uncertain. So with all this time at home making kids go crazy, let's keep planning on fun summer activities to do.
If you're looking for fun summer activities for June and July, I got you covered! Here's your summer bucket list!
Why would you want to look for fun things to do for the summer? Well, your kids just probably finished a crazy school year (virtual for most) or have been cooped up indoors with all the things being closed. Summer provides warm temperatures, great long days, and lots of opportunities to have some relaxing and exciting times. For us working parents that means packing the weekends full of fun summer plans, and even have time for something in the evenings, too. So let's find some great and fun summer activities for kids at home and outside, and that includes toddlers, preschoolers, and school-age kids too!
Fun Summer Activities For Kids
Live on the coast? Beach time! Beaches are great sensory input for kids (running/walking on sand, splashing, jumping in waves). Here's how to pack for a beach day with a toddler.
Play with sand (sandpit or beach) and make fun shapes – also fun is to use kinetic sand.
Create with play dough
Swimming pool (even a tiny kiddie pool in your yard).
Sprinklers! Bonus points if you get a fun inflatable sprinkler – like this unicorn one.
Slip n slide anyone?
Get a water table, if you don't have space for the big water toys. Great way to cool off for the littles.
Water balloon fight. Or squirt-gun fight.
Go on a hike or walk trails.
Fly a kite.
Make an ocean-themed sensory bin.
Go camping. Doesn't have to be in the field – can do it in your backyard.
Go to a drive-in movie theater.
Make a movie night in your own backyard. Great if you have a projector or if you can move your living room TV.
Go on a bike ride. Or a trike ride.
Color. Draw. Grab coloring books or just sketch something. Or paint.
Do an indoor scavenger hunt.
Pack a picnic and have lunch outdoors.
Cook a meal as a family.
Make popsicles.
Visit a state or national park. Or a botanical garden.
Watch the sunset. Or sunrise. Or both.
Read books together.
Go fishing.
Family dance-off.
Do Cosmic Kids Yoga.
Play board games.
Plan a fun day out for your dog.
Start a garden or grow something from a seedling in a pot.
Teach kids to do new chores.
Create a weekly family theme night.
Blow bubbles – try these super-strong bubbles.
Wash the car – like actually with the hose and soft sponges – fun play for kids
Visit a local farm and pick some fruit.
Make homemade lemonade or other fun summer drinks for kids.
Watch the stars at night, since nights are warmer now stargazing is more fun.
Go to the zoo.
Do some random acts of kindness.
Play with a beach ball.

If you're spending fun time in nature this summer don't forget to put one of these BuzzPatch natural mosquito repellents on your child.

So if you're wondering what are good summer activities you can do inside or outside this summer at home, enjoy this list! It will provide you with daily ideas for fun for the summer activities for kids!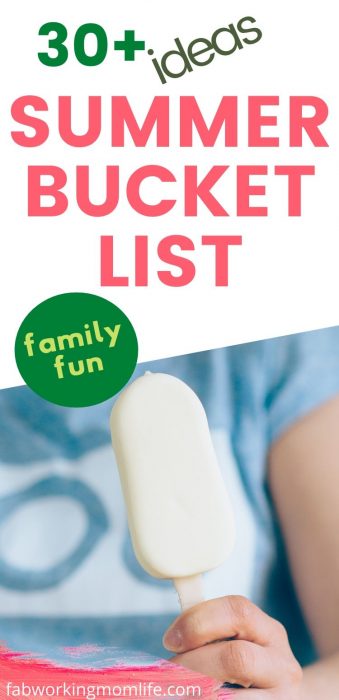 These activities for Summer break are fun and help keep the screen time battles reduced this summer. If you're wondering how to keep kids off screens all day long this post might be a help. Also, grab this free printable screen time rules checklist for kids!

Want it? Join my list and you'll get a link to the subscriber freebie library where you can download the PDF!

Join the Working Mom collective!
Join the Working Mom collective (email list) and get support and tools to help you thrive! Subscribers get access to my library of resources and printables, including this Nanny Interview Questions Checklist!

---
Welcome To The Sweet Summertime $100 Cash Giveaway!
We're giving one lucky winner $100 PayPal cash or an Amazon gift card. The event will begin on June 1st and continue until August 1st. The giveaway is open worldwide to all adults.
---
GIVEAWAY DETAILS
Prize:
$100 PayPal Cash or an Amazon Gift Card
One Lucky Winner Will Receive a $100 Cash!
---
Hosted By:

Co-Hosted By:
The Frugal Grandmom, Deliciously Savvy, Seeking Serenity and Harmony, & SaraLee's Deals Steals and Giveaways
---
Rules: Use The Rafflecopter Form To Enter Daily. The giveaway ends 8/1 And Is Open Worldwide. Entrants Must Be 18 Years Old To Enter. The Winner Will Be Notified Via Email.
---
Are You A Blogger? CLICK HERE To Get A FREE Link Added To One Of Our Giveaways. Just Post And Report!
---
If You Have Any Questions Or Are A Brand/Company And Would Like To Work With Nerdy Dad RP Please Contact Me. Also, To Be Informed Of New Giveaways CLICK HERE.
---
Good Luck! Enter Below
---
One entrant will be selected by the entry form to win a $100 Cash (Amazon gift card or PayPal). Open for entry worldwide, 18 years and older from 6/1/22 thru 8/1/22. No purchase is necessary. Void where prohibited. This giveaway is in no way endorsed, affiliated, or associated with Facebook, Twitter, or any other social media networking site. The winner will have 48 hours to respond to the notification email to claim their prize or a new winner will be selected. Once a winner is drawn and confirmed, the name will be announced on the Rafflecopter form. Nerdy Dad RP will be responsible for sending the winners their prizes.
---
Thank You So Much For Visiting Today!
Join the Working Mom List
Join the Working Mom collective and get support and tools to help you thrive! Subscribers get access to my library of resources and printables.