Summer at home? Here are some great at-home summer camp ideas for your kids while you work from home! Check out this list of virtual summer camp ideas and summer camp activities for kids for while you are working.
Schools are closed. Some daycares have not reopened. But working moms still have work to do. Many working moms are working remotely for our full-time jobs. Some offices are beginning to reopen, but with child care looking very different for us, the feasibility of continuing to work is becoming difficult.
Working from home with kids is a challenge, but working remotely with kids during a pandemic presents unique and undeniable hardship.
Finding ways to keep our kids busy (and entertained) while we focus on meeting our deadlines is a must this summer. Here is a collection of ideas for summer camp at home 2020 as well as virtual summer camp options for working moms and your kids. These summer camp activities ideas will help get you through this summer.
Summer Childcare
Finding summer childcare is critical, and hiring someone to care for our child in our own home might be the only option we have with schools and daycares closed. Here are some great options.
If you want to hire your own nanny or babysitter, here are some ideas for sitter or nanny interview questions. Here are tips on what to include in your nanny contract since you will need an agreement for your nanny or sitter.
To search for the perfect sitter you can use a website or service. I used Care.com to find our nanny. You can also use Sittercity.
Summer Camp at Home Activities (Ideas for Mom Summer Camp Activities for Kids)
When kids are stuck at home all summer, it is imperative to have some fun activities they can get involved in and have fun. Here are some great at home camps for kids!
Science Camp in a Box: Little Passports
You already know I love Little Passports monthly activity mail for my son. Now we can do Summer Camp in a Box: 6 days of fun & discovery!
This kit is the perfect way to host Summer Camp at home. Keep the campers busy for six days, 3-4 hours a day. Additional online printables and activities are available to extend your camp experience.
Introducing Little Passports' Summer Camp in a Box: A Made-for-Anywhere Camp Kit for Kids 3 and Up!
Summer Camp in a Box: World Edition includes:
The first six packages of the World Edition product: World, Brazil, Japan, France, Egypt, and Australia
Sam & Sofia's Scooter Stories Chapter Book Boxed Set
Our signature blue suitcase
Your very own passport and world wall map
Exclusive collectible country coins and coin board
Three fun, super soft animal squishies
Letters from new pen pals Sam & Sofia
Stickers, activity sheets, hands-on souvenirs
Plus online access to fun facts, photos, foreign language phrases, DIY crafts, pen-to-paper printables, music,

camp

schedule, and a camp completion certificate!
With Summer Camp in a Box: World Edition, kids will learn about the world around them with an introductory kit featuring an easy-to-follow camp schedule, our signature blue suitcase, and a world map. Campers will then travel to five different countries where they will be immersed in the cultures of Brazil, Japan, France, Egypt, and Australia. Camp activities include reading a letter from pen pals Sam and Sofia, completing pen-to-paper activities, collecting coins, enjoying hands-on culturally relevant projects, reading the Sam & Sofia's Scooter Stories Chapter Books, and so much more.
Summer Camp in a Box: Science Jr. includes:
The first six packages of the Science Junior product: Weddell Seals, Volcanoes, Sound & Music, Chimpanzees, Deep Sea Exploration, and Wetlands
Our signature green backpack
Materials for hands-on projects and DIY experiments
Full-color magazine with comic, instructions, and pen-to-paper activities
Stickers, trading cards, and badges
Plus access to online videos, DIY crafts, printables,

camp

schedule, and a

camp

completion certificate
With Summer Camp in a Box: Science Junior, budding scientists can explore the world around them with STEAM-based activities. While visiting six unique locations around the world, campers will build projects like a Weddell seal walker, an erupting volcano, a stringed instrument, a swinging chimpanzee, a sinking submarine, and a balloon-powered air boat. Campers will also read full-color comic books, complete pen-to-paper activities, collect trading cards, and place badges on their very own camp backpack. An easy-to-follow, flexible camp schedule allows campers to participate in camp over a one-week period or spread camp out all summer long.
>> Get Summer Camp in a Box: Science Junior <<
Little Passports has also given me this lovely how-to-draw worksheet to share with you! Download it below.
Grab your drawing supplies and get ready for some art time! This How to Draw a Chimpanzee worksheet from Little Passports lets your child learn about primates while practicing their drawing skills. Swing over to littlepassports.com for more fun learning activities.
Learning Activities
Younger kids can be set up with an activity and play beside you while you work. It isn't ideal, I know, but little ones require supervision. Lots of supervision. You can try some of these amazing learning activity ideas for one-year-olds up to preschool age from Hands on as we Grow. I love the ideas she shares, and there are always great fresh ideas in her Activity Room Membership.
I also have a bunch of ideas for learning activities for preschoolers and kindergarten readiness.
I have collections of preschool letter learning and math learning activities to help you get your kids busy with a great and fun learning activity, and continue getting ready for kindergarten.
If you're worried that your school-aged child struggled with learning during this time, perhaps a virtual tutor could help! Check out a virtual tutoring program, like ArgoPrep for K-8 math and ELA. They also offer a great variety of free worksheets to help supplement learning.
Get some fun science kits to enjoy summer STEM projects!

Active Play
Active play is so important for cooped-up kids. If you have the space in your home or yard, active toys and play equipment is a must! These active play ideas must go on your list of summer camp indoor activities!
You can also take your kids on a nature walk, which is very educational, and then do some nature crafts.
Interactive Toys
Melissa and Doug toys are great for open-ended play and learning. Take 15% Off All Summer Toys. Use Code SUMMER15

Backyard Camp Idea from Melissa & Doug- Take 15% Off Active & Outdoor Toys. Use Code CAMPOUT
Fun.com has some great interactive family game ideas!

Virtual Summer Camp Ideas for Kids
Did you hear about the Kids Cook Real Food Free Virtual Summer Camp? 100% free to attend, the Kids Cook Real Food Life Skills Now
What you get from the #LifeSkillsNow Summer Camp:
FREE access to over 60 workshops for kids ages 5-18
100% online June 12-16 with workshops available for 24 hours (replay!)
Every 24 hours you get a new batch of workshops to choose from. Make your own schedule for the day!
Your kids can choose the ones they're most interested in (plus some for parents!).
Prizes, freebies, and more!
Give our camp leaders 20 minutes a day to teach a skill, and we'll give your kids a simple action step that will get them off screens and into their imaginations for the rest of the day!
Cooking Lessons: Whis-Kid
This is great for older kiddos who can read and work in the kitchen alone, or for younger kiddos with parent supervision (you know, when you're done working for the day). The Whis-Kid Guidebook and lessons help teach your kids to cook, ending battles in the kitchen over meals. Because when kids are in control of the food they are cooking, they will want to eat what they make.
With the help of an adult, Whis-Kid cooking lessons are suitable for children and teens of all ages. The boys in the video lessons range from 7-14 years of age.
Join one or more of Write the World's virtual writing workshops (great for kids ages 13 – 19). They offer week-long virtual writing camps for a variety of writing styles: poetry, flash fiction, writing for social justice, humor, and more. Their dedicated team of authors and educators facilitates the workshops and mentors the young writers. Register for 2+ workshops and receive 20% off automatically!
Virtual Maths Tutoring: BrainBuilder Maths
BrainBuilder Maths specialists have helped many families who struggled to find the coach to either help their children falling behind in math or know how to stretch and extend their children beyond achieving straight A's. Their experienced teachers specializing in math and comprehensive programs are geared to teach Math online in an exciting way established in 2017.
Why don't you try the 1-free trial online class and see the benefits that come with it? BrainBuilder Maths is an internationally proven teaching method and the Curriculum is aligned with the US Common Core book (used in CA and many other parts of the US) Math in Focus that Dr. Fong Ho Kheong wrote. The key approach to help benefit children in developing their:
*Critical thinking
*Higher Order Thinking skills
*Confidence to master maths
For 1 free trial class, contact BrainBuilder Maths directly via email [email protected]
Virtual Music Lessons
Get your kids in the Piano Summer Camp! Piano lessons are available for ages 5-15. Get a free piano class from Pixical. They offer a Flexible week-by-week enrollment format.
Virtual Camp: Outschool
Outschool: Explore any interest over live video chat! Discover fun, social, and safe learning experiences for kids ages 3-18 led by passionate teachers. Classes from $10. From phonics to AP Physics to Minecraft to Piano, Outschool feeds your kid's curiosity and elevates their learning with a variety of 15,000+ classes.
Recommended: Digital Protection
While you're doing all these great virtual summer camp options, you may also like this affordable digital protection membership for your online presence. With subscriptions to Dashlane and CyberScout, get complete coverage for your online information and assets, with protection against cyber attacks, $1M identity reimbursement coverage and access to 24/7 legal advice. All for just $12 a month. Join Walnut.
Free Virtual Camps
Scholastic learn at home (BookFlix) – online stories
Primrose online with Og – weekly activity ideas and learning ideas
Arree Chung – Free classes on writing, drawing, and storytelling from award-winning author/illustrator Arree Chung
Virtual museum tours – many famous museums offer virtual tours
Virtual School Day at Varsity Tutors! Daily Live Classes. 100% interactive. 100% free.
Camp Kinda– Self-directed themed activities
Wide Open School by Common Sense Media
Start with a Book – site for parents and teachers who are looking for book suggestions, reading activities, and practical tips for teaching kids to read
Camp Wonderopolis – free STEAM—science, technology, engineering, arts, and math—programs.
PBS Kids for Parents – free age-by-age tips, crafts, games, and activities to get you through summer.
UNICEF Kid Power Camp @ Home – videos about sports, cooking, crafts, and more
Khan Academy – a nonprofit with the mission to provide free, world-class education for anyone, anywhere.
WowArt – daily art videos and painting tutorials
BOND (Body + Mind Together) – An online tool for at-home physical activity and mindfulness skills for kids.
Kids Gardening – opportunities for kids to learn and grow through gardening, engaging their natural curiosity, and wonder.
#CampYouTube – summer camp topics like arts, sports, adventure, and STEM
Camp TFK (TIME for Kids) – virtual daily activities for the month of July
Metropolitan Opera – free weekly streaming of performances as well as arts and crafts lessons and live artist broadcasts
REI virtual family summer series – teaming up with Santa Clara Valley Open Space Authority to share activities and lessons about animals and the outdoors
Arm & Hammer summer camp – includes STEM, baking, and slime making starts late July.
Camp by Walmart – if you have the app, you get access to weekly fun games and things to make.
Pixemy Minis, a collection of 3 class bite-size courses with top educators, absolutely FREE!
My friend also shares these summer camp printables with summer at-home themes.
When other distraction methods fail, there's always screen time! We love ABC Mouse for educational screen time that my child can do completely independently while I'm focused on conference calls.
What are you doing to keep your kids busy this summer? Do share!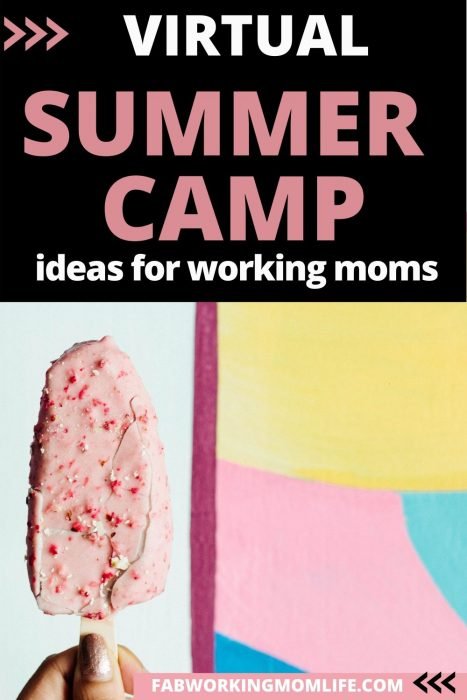 Join the Working Mom List
Join the Working Mom collective and get support and tools to help you thrive! Subscribers get access to my library of resources and printables.