Summer is a time of fun for the kids but soon enough it will be time for school to start again. That of course means it's time to get back into a school year routine. Part of that routine in many households is packing school lunches.
Packing a lunch every day doesn't do any good if your child doesn't eat it or ends up trading most of it away for junk food. The key then is to find things that your child loves and enjoys eating. This process is similar to these toddler daycare lunch ideas. So if you're looking for healthy cold lunch ideas or easy lunch ideas for kids I am sharing some great school lunch ideas today.
Packing School Lunches kids will eat
Benefits of a Home Lunch
A home lunch provides a variety of benefits for the child. Packed lunches are a great option when your child isn't too fond of what the school has to offer or you want a little more control over what your child is eating. Packing a home school lunch also allows kids to take along their favorite snacks and drinks.
If your child has dietary restrictions or food allergies, packing lunches is a must. Packing a lunch allows you to include healthy foods your child will actually eat and it doesn't have to cost any more than what you would be paying for lunch at school.
Getting Kids Involved in Packing Lunch
Getting the kids involved will help make sure that they end up with lunches they will eat. Kids are more likely to eat a lunch they pack themselves! Get in the habit of making lunches together the night before. Start by talking to your kids about what they want in their lunch box and make a list of options together. You might like the printable here.
Depending on the age of your kids, you could put them in charge of making their own lunches. Younger children can help level up their independence skills. Even your kindergartener can wash grapes and put them into a container, or pick a snack for his lunch box. This is the perfect opportunity to teach life skills like using a knife safely. Your young kids can even help slice up a banana, and older kiddos can work on slicing apples.
Over time you can give the kids more and more responsibility for their lunches. Along the way, you're teaching them independence and important life skills.
Fun lunchboxes or containers – Bento Box Ideas
Bento is a traditional way for the Japanese to pack single-serve meals they can take with them to work or school. There they often consist of rice, fish or meat, and cooked or pickled vegetables. The container is usually rectangular with compartments for each dish. This gives you a great canvas to get creative with food.
Our pick:
Bentgo Kids Children's Lunch Box – Bento-Styled Lunch Solution Offers Durable, Leak-Proof, On-the-Go Meal and Snack Packing
Bento lunches are great as they give you the opportunity to pack several small, snack-like items into one lunch. Come up with some fun and creative bento box lunches for the kids (or yourself). Plus what child doesn't love a bunch of colorful finger food for lunch. You may even convince your picky eaters to try new fruits, veggies, cheeses, and the likes if you cut them into cute little shapes.
Note: If you're still struggling with your picky eater and getting those veggies eaten is a constant battle, be sure you're giving your child the best vitamins! We love First Day gummy vitamins because they're made with over 50% less sugar and have more great ingredients like vegetables. Yes, vegetables! Every gummy is made with 12 organic fruits and veggies full of good-for-you antioxidants and phytonutrients. Real food. Real simple.
Another important note is things can get mixed up between the kids in school so it helps to have labels on everything! Label everything, backpacks, jackets, and lunch boxes need to have labels too.
Our pick for the best stamps: The Name Stamp and use Coupon Code FABMOM for 10% off
Our pick for name labels: School Label Packs from NameBubbles. SAVE 20% sitewide with code: BTS20
Offering Healthy Choices
When packing a school lunch, it's important to include a variety of healthy foods that will fuel your child throughout the day.
Each meal should have the main course which is usually starch and protein, fruits, veggies, a drink, and can include a snack.
Here are some tips for packing a nutritious and delicious school lunch:
Include plenty of fresh fruits and vegetables (and here's how to get them to eat more veggies). Try packing a salad, fruit cup, or vegetable sticks with dip.
Pack lean protein sources such as grilled chicken or turkey sandwiches, hard-boiled eggs, or yogurt.
Include whole-grain bread and cereals, as well as nuts and seeds for healthy fats.
Skip the sugary drinks, and pack water or unsweetened tea instead.
For a list of ideas for each category of starches, proteins, fruits, veggies, etc check out my toddler lunches post.
Of course, you want to encourage your kids to pack and eat healthy foods. However, insisting on all healthy, organic food options all the time may not be your best strategy. Your goal is to get them to make smart food choices, not restrict all access to junk food, causing them to trade with friends for forbidden Twinkies.
With these tips in mind, you can easily create a healthy and satisfying school lunch for your child!
Speaking of healthy choices, don't forget snacks can be healthy too! We've recently discovered Munk Pack bars, which are low in sugar and taste amazing! We love the Keto Nut and Seed bars (and no we don't otherwise eat keto, but enjoy the health benefits of a low-sugar chocolatey snack!).
Hot Lunch Ideas
Salads, wraps, and cold sandwiches are great late summer options, but when the temperatures start to drop, your little ones will appreciate a hot dish in their lunch box.
Soup And A Hot Sandwich
A family favorite lunch is tomato soup and a grilled cheese sandwich. Who doesn't love soup and a hot sandwich for lunch on a cool, crisp, fall day? All it takes is a small insulated thermos, some aluminum foil, and/or an insulated lunch box.
Our Pick: LunchBot thermoses (these thermoses keep food hot for over 6 hours).
Our pick: FlowFly Kids Lunch box Insulated Soft Bag Mini Cooler Back to School Thermal Meal Tote Kit
You can either make the soup the day before from a family recipe or heat up some canned soup in the morning, right before school. Get it piping hot, and if possible, run some hot or even boiling water in the thermos first to get everything as warm as possible. Pour the soup into the thermos and set it in the insulated lunch box. Don't forget to pack a spoon.
Lastly, make the hot sandwich. Grilled cheese or grilled ham and cheese are fabulous options! Wrap the sandwich it in a paper towel first to avoid the bread getting soggy, then wrap it in several layers of aluminum foil. Keep the sandwich in the insulated lunch box and everything should be staying toasty warm for hours. Mix and match the soup and sandwich combos for endless portable lunch possibilities.
Chili and Stew
Of course, you're not limited to just soup. A nice hardy stew or a bowl of chili with some corn chips or a side of fresh cornbread make a nice addition to any lunch box. And this is a great dinner meal plan with leftovers for school lunch! Another great option is to freeze it in smaller portions and take them out as needed to add to lunch boxes. This is also a great time for you to take lunch to work or keep a bowl at home to reheat at lunchtime.
Get a short thermos, run hot water in it, and then fill it with the piping hot chili or stew. That will keep the lunch warm until well past lunchtime.
Our pick: LunchBots 12oz Thermos Stainless Steel Wide Mouth – Insulated Container With Vented Lid – Keeps Food Hot or Cold for Hours – Leak-Proof Portable Thermal Food Jar is Ideal for Soup – 12 ounce – Pink
Leftovers Galore
Last but not least, don't forget about leftovers. They make for great lunch box additions. There are wide-mouthed thermos out there that can hold a variety of leftover food from pasta dishes to things like fried rice, or anything you can think of that would work well put in a bowl.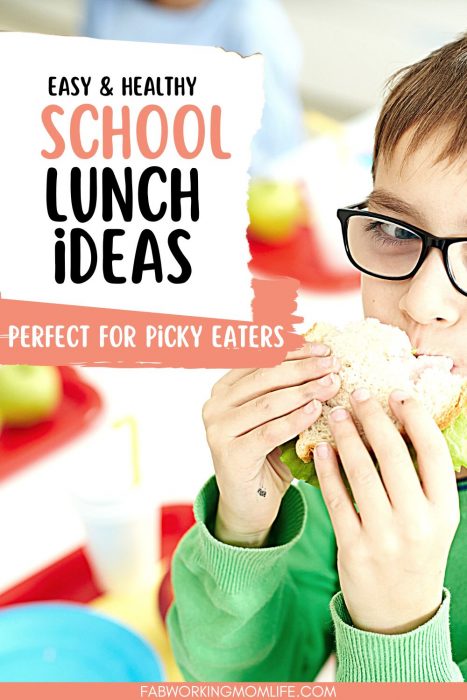 Simple Tips To Make Fixing School Lunches Easier
There is nothing worse than running late in the morning and then desperately trying to figure out something you can put in your children's lunch boxes. If you find yourself flustered, take a look at the tips below. They will help you get organized so fixing lunches becomes quick and easy.
Start With A List And Go Shopping
Start by sitting down with your kids and come up with a list of lunches they like. This could include sandwiches and wraps, or even homemade lunch-able. The key is to find lunch foods and snacks that your kids will eat that are also easy to pack.
Once you have several different lunch ideas your kids like and will actually eat, you can simply rotate through them and make the ingredients part of your weekly shopping trips.
My favorite mom hack is to have 2 weeks of meal ideas and rotate through them, especially having some tried-and-true go-to meals for those crazy busy days.
Prep What You Can As Soon As You Get Home
When you get home from the store, keep lunch foods out and see what you can do to prep things ahead of time. Instead of putting that bag of grapes away, go ahead and wash and store them in little bags you or your child can grab and toss in the lunch box. The same goes for things like carrots and even salads.
Splitting the foods into packable and grabbable containers lets your child help pack their lunch with ease. I would suggest even having a drawer or a bin in the refrigerator with portioned lunch foods to make this more streamlined for you and your child.
Pack Lunches The Night Before
Mornings are busy and not always the perfect time to have to worry about packing lunches. My favorite mom hack is planning and prepping the night before, including packing lunch the night before. You can store cold items in the fridge and have everything else sitting in the lunch box ready to go.
It won't take you long to get into a rhythm of preparing lunches while you're cleaning up after dinner. You'll appreciate this new habit in the mornings when all you need to do is grab a couple of things from the fridge and toss them in the lunch boxes.
Clean Lunch Boxes As Soon As The Kids Get Home
To make lunch prep even easier, get the kids into the habit of cleaning out their lunch box as soon as they get back from school. Even the youngest can help with this. Have them toss any uneaten food and bring the containers to the sink to be washed.
Older children can easily clean their own containers, while you'll probably have to do the washing for your youngest. Having everything clean and ready to go will make it easier to pack the new lunches later on in the day.
5 Fun School Lunch Ideas
We shared some easy ideas already in this post but here are 5 fun lunch recipes you simply must try out!
1 – Banana Burrito Lunches
Ingredients:
Whole-Wheat Tortilla
2 Tbsps. Peanut Butter
Banana
Choice of Topping:

Variety 1 PB&J: 1 Tbsp. Jelly
Variety 2 Nutella & PB: 1 Tbsp. Nutella
Variety 3 Fluffer Nutter Roll-Up: 1 Tbsp. Marshmallow Fluff
Directions:
Spread peanut butter over the tortilla. Peel the banana and put it at the edge of the tortilla. Spread the banana with your optional topping (jelly, Nutella, marshmallow fluff), and then roll up the tortilla. Fold the ends to hold all the ingredients inside. For a yummy alternative warm up the tortilla in the microwave for 10-15 seconds for an ooey-gooey treat.
Pair with these items to make a delicious lunch your child will love:
Carrots
Yogurt
Non-sugary drink like Water or Crystal Light
2 – Italian Sausage & Broccoli Egg Muffins
Prepare this one the evening before or bake it on the weekend for the week ahead.
Ingredients:
1 lb. Italian Sausage
8 Large Eggs
1 Cup Broccoli Florets
1/2 Tbsp. Vegetable Oil
1/4 Cup Milk
1/2 tsp. Baking Powder
Salt & Pepper to Taste
Freshly Grated Parmesan Cheese
Directions:
In a large pan, fry up the sausage until it's no longer pink. Remove from heat and add broccoli florets.
In a medium bowl whisk together eggs, milk, oil, baking powder, and salt and pepper.
Lightly spray a 12-cup muffin pan with oil. Spoon the sausage mixture evenly into each tin. Pour the egg mixture over the top and sprinkle with Parmesan cheese.
Bake for 15-20 minutes at 375 F.
Refrigerate lunch portions overnight and add to lunch box in the morning. It's portable and yummy!
Sides:
3 – Ham & Mozzarella Sticks
Ingredients:
4 Ham Slices
2 String Cheese Sticks
2 Green Olives (or Green Grapes if your child doesn't like olives)
2 Toothpicks
Directions:
Take two ham slices and wrap them around one cheese stick. Add the olive/grape to the seam and secure with the toothpick.
Sides:
Red Seedless Grapes
Mini Pretzels
100% Real Juice Box
4 – Mini Calzones for Lunch
Note this one can be prepared/baked on the weekend for use all week.
Ingredients:
1 Roll of your Favorite Biscuits
1/2 Ricotta Cheese
2 cups Shredded Mozzarella
2 tsp. Grated Parmesan Cheese
Dash Salt
Dash Garlic Powder
Directions:
Open the biscuits and roll each one out flat with a rolling pin. If the dough sticks to the rolling pin take a little bit of flour and sprinkle it over the rolling pin.
For each biscuit add a 1/4 tsp. of Parmesan cheese onto one-half of the flattened biscuit. Then add 3 Tbsps. of mozzarella and a tsp. of ricotta. Sprinkle with a little salt and garlic powder. Fold the biscuit over on itself. Crimp with a fork.
Cook at 350F for 14-17 minutes or until the biscuit is golden brown.
Sides:
Spaghetti sauce for dipping
Green salad with dressing
Iced tea
5 – Pizza Muffins
This is another meal idea to prepare the evening before since it requires baking.
Ingredients:
2 cups All-Purpose Flour
1 Tbsp. Baking Powder
1/2 tsp. Baking Soda
1/4 Cup Sugar
1 tsp. Each Salt and Dried Basil
1 cup Cheddar Cheese, cubed
2 Eggs
1 cup Yogurt
1/4 Cup Butter, melted
1/4 Cup Pizza Sauce
1/2 cup Mozzarella, shredded
Directions:
Line 12 muffin cups with paper liners. In a large bowl, combine flour, baking powder, baking soda, sugar, salt, and basil. Stir in cheddar cubes.
In a medium bowl, whisk together eggs, yogurt, and butter until smooth. Stir into flour mixture just until well combined and no dry spots remain. Add batter into muffin cups, dividing evenly. Spoon 1 tsp. pizza sauce on top of each muffin; sprinkle each with shredded mozzarella.
Bake at 400 F for 20 minutes or until golden and a toothpick inserted in the center of one of the middle muffins comes out clean. Let muffins cool in the pan for at least 5 minutes before removing, then let cool completely on a wire rack. (Freeze muffins in an airtight container for up to 1 month; defrost at room temperature.)
Sides:
Spinach salad with dressing
Fruit punch
Cucumbers
Stick to these tips and it won't take you long to get into an efficient school lunch packing routine! Don't forget to get the kids involved and put them in charge of much of the preparations. Not only will this make your life easier in the long run, but it will also give them a sense of ownership over their lunch. Getting the kids involved in lunch preparation is the best way to ensure they will eat the lunch they bring. Enjoy these additional ideas for school lunches your kids are sure to love!
What are some of your favorite go-to school lunches you pack for your kiddos?
Join the Working Mom List
Join the Working Mom collective and get support and tools to help you thrive! Subscribers get access to my library of resources and printables.