Summer temps may still be in full swing, but back to school is on people's minds. When do back-to-school sales start for you? Or has back to school shopping already begun? Are you gearing up and thinking about how to get ready for back to school?
Before becoming a mom, back to school for me typically meant my commute time gets a ton worse with more people being on the roads. It is important to remember that the back-to-school commute comes with added traffic hazards, and we need to remember these back-to-school driving safety tips when you're getting ready for back to school.
Of course, this year is so much crazier than any other back-to-school season. Right now we're dealing with the transition back to school after COVID. Are we even going to have more distance learning or will we see some areas reopening schools? Or are we going to see face-to-face classes? Will your kid need to wear masks at school (I share some places you can order kids masks in this post). That's been on our getting ready for school checklist.
Previously preschooler's schedule didn't really change for the back-to-school season since he was in child care all year. But now that he's grown and kindergarten came faster than expected, I'm getting prepared. And many of my readers are doing the back-to-school shuffle too. Keep reading for back to school tips for moms.
Back to School Planning for Parents
Here is your back-to-school planning checklist to get everything ready before school starts. Can you believe how much we have to think about to get those tiny humans ready for school? Better get a good working mom and school planner ready. Now we have to think about how to get ready to go back to school after a break (like a long summer break).
Here is your back to school planning checklist (getting ready for back to school tips):
Get your child's yearly doctor's appointments for checkups, vaccinations, and health assessments filled out for school. Also, stock up on elderberry gummies to help boost our little ones' immune systems.
Go back to school shopping for school supplies and clothing. (Lots of shopping on Amazon Prime right? And check out the Nasco clearance list!)
Review school materials to know all important dates (like school closures and events).
Figure out after-school programs since schools get out while parents are still working.
Come up with a child care plan if your child is sick.
Plan your meal plans and dinners to be back to school ready.
Plan for school lunch – decide whether you will be packing lunches or using the school cafeteria.
Figure out a homework station and after-school routine.
Start the school time bedtime routine early.
Plan and practice the school day morning routine early (and practice how to get ready for school fast).
Create a family calendar and review upcoming schedules weekly.
Discuss screen time rules for school time.
Help your child create goals for the upcoming school year.
What else would you put on your back to school checklist for parents?
After-school planning
Ivy Camps USA offers online after-school classes and tutoring for students ages 6-14. They promote learning through fun, hands-on activities and focus on helping students to discover an organic love for learning. They offer a variety of topics that students can explore. These topics include, but are not limited to, STEM, Business Leadership, and Arts & Media.
Here are some reasons you might consider after schooling.
---
I also thought I'd collect some great posts from fellow bloggers on the topic. Enjoy!
Back to School Printables
Grab your first day of school printables, including a chalkboard printable sign, an "all about me" interview, and after school routine for elementary school kids. From me 🙂
Getting your routines down is very important. Here are some amazing back-to-school printables from Twitchetts to help start off on the right foot.
This is a lovely DIY first day of school flag from Ali-ish.
Check out these morning routine cards from I Can Teach My Child.
Learn how a school planner can help your child stay calm and balanced from Happy Science Mom.
Not exactly a printable, but a back-to-school sign hack from The Very Best Baby Stuff.
Homework Routines
Having a routine for homework helps tremendously. A fully stocked homework station with supplies your child will need prevents wasting time getting up and looking for things. And here are tips to help your child study independently.
If your child is struggling with homework, maybe an online tutor/prep course can help! Try ArgoPrep for K-8 math and ELA. They also offer a great variety of free worksheets to help supplement learning.
Here are tips to help your child with math if you're are not good at it yourself.
I also really liked this tip from Mama in the Now to help with germs being brought home from school.
Here's a great post on organizing your homework station in the kitchen from Mom of 6.
I also love this dollar store homework caddy from Simple Made Pretty.
I like this idea from Pulling Curls on homework office hours. Puts the power and responsibility to the child.
Here is a great post from Living for the Sunshine on getting a child to practice their pencil grip for school readiness.
Here's a great list of STEM resources and activities for teens.
Back to school tips for homework time from Parenting in Real Life.
Tips to end homework battles with kids from Raising Kids with Purpose.
Here's a Homework 101 guide for parents and kids.
Back to School Evening Routines and Morning Routines
I have said before that the best way to get your mornings won is to plan the night before. Planning in advance makes the morning less crazy and reduces the risk of being late. Plan outfits, lunches, and set coffee the night before.
Here's a list of great back to school breakfast ideas, and toddler and preschooler breakfasts, also from me.
Here are some more great tips about routines and time management from The Work at Home Woman.
Make your school mornings less stressful with these morning routine tips from Mommy Knows What's Best.
Here are some great after school routines from The Organized Family Blog.
Getting Organized for Back to School
Some tips from A Modern Mom's Life sharing back to school tips from a working mom.
Here are some tips about labeling everything, including school uniforms, from Merith's Miscellany.
A school planner can really help you get organized and set routines as a family, from Happy Science Mom.
You also will want to grab some Custom Daycare or School Labels for keeping your child's stuff organized and identified.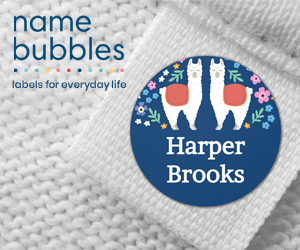 Here are 101 back-to-school tips from Care.com.
You might also like these fun ideas for 100 days of school shirts!
Here's how to prepare for the first days of school.
Back to School Lunches
How to pack school lunch your kids will actually eat, and healthy lunches and snacks from me.
Packing lunches can sometimes be an art form in itself (though who has the time?). Here are some tips to make packing lunch easier from Overstuffed Life.
Here are even more lunch box hacks from Real Mom Nutrition. I love the idea to soak apple slices to prevent browning.
Super Mom Hacks shares some great tips for better kids lunches.
Here's a great list of toddler lunches for daycare and school, from me.
Behavior and Personality Support and Health
Sometimes kids struggle with anxiety and worry about school starting up again. We as parents are tasked with trying to ease their fears and transition.
Here is a great list of behavior traits a toddler will need before starting preschool from Making Motherhood Matter.
A list of important topics to discuss with your child before kindergarten from The Everyday Mom Life.
Here are tips for what to do if your child is getting in trouble at school by Mama Manages.
Saying goodbye as kids start school can be difficult, some tips from Merith's Miscellany.
How to beat the back-to-school blues from Very Special Tales.
And be sure to be ready in case there's a case of lice (louse) in your classroom from Style Hair Magazine.
What are some of your favorite back-to-school tips and mom hacks? For more back-to-school ideas, check out my back-to-school Pinterest board.
Join the Working Mom List
Join the Working Mom collective and get support and tools to help you thrive! Subscribers get access to my library of resources and printables.