Thanks for grabbing my Nanny Interview Questions freebie! Check your email for the file.
If you haven't gotten yours yet, get it here!
Working parents have an important decision to make – who will watch our babies when we return to work?
Some will choose the daycare route, and some will decide to hire a nanny to stay with their children at home.
Are you planning on hiring a nanny to care for your kids? Then you need to have an agreement or contract between the nanny and your family, to protect both parties and outline expectations.
Why you need a Nanny Contract
A nanny contract or agreement is vital to ensure both parties understand the expectations, job requirements, compensation, and schedule.
The nanny agreement document outlines what you require the nanny to achieve and what responsibilities this nanny will have.
The contract specifies the pay, time off, and schedule as well as clearly states whether the family is providing health insurance and withholding taxes or whether the nanny is responsible for these items.
Anything special and unique to the family needs to be outlined and included as part of the expectations and responsibilities.
What this Nanny Contract Template includes
This Nanny Contract Template was developed by an attorney (my husband) when we first hired our live-in nanny. Now we are offering this contract as a template to assist others when hiring their nannies to care for their little ones.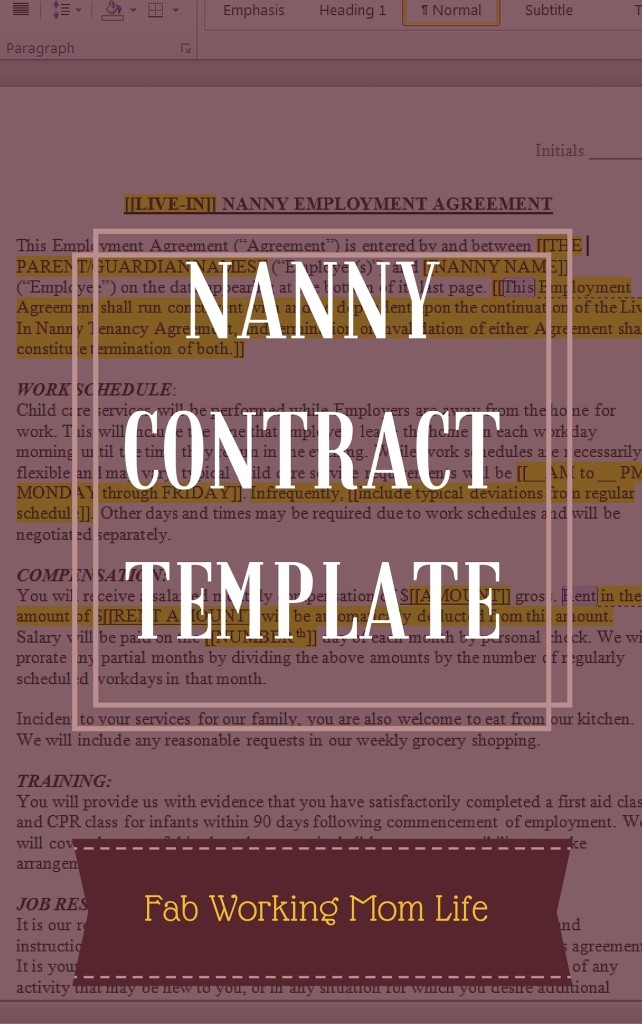 This document includes six full pages of formal language describing the agreement between the family and the nanny.
The sections outlined in this nanny agreement template document include:
Work Schedule
Compensation
Training
Job Responsibilities
Communication
Emergencies
Transportation
Vacation/Time off/Holidays
Taxes/Deductions/Health Insurance
Living Arrangements (applicable for a live in nanny contract)
Confidentiality
This template also contains standard legal jargon including termination of employment and notice, followed by a signature block.
This contract template document includes highlighted sections and comments to explain what needs to be added or changed. The sections for a live-in/tenant can be removed if your nanny is not a live-in. Other parts include brackets and words in ALLCAPS to explain what information should be included. For example: [[ NAME HERE ]].
Purchase your Nanny Contract Template
This Nanny Contract Template is provided in a zip file. The document inside is a .docx format Microsoft Word file to allow easy editing as needed for your family's specific requirements.
The document is for personal use only, not to be distributed or sold.
Because this is a digital item delivered via download, I generally offer no refunds.
I am not responsible for misuse of this document.
I am available to help in completing and customizing this Nanny Contract Template to your individual family's needs. If interested, contact me to discuss details.
---
Join the Working Mom List
Join the Working Mom collective and get support and tools to help you thrive! Subscribers get access to my library of resources and printables.