Money. Debt. Financial concerns. I know you have them because I have them too. We all have them!
Yearly budget planner – mom budget planner – wealth planner
Do you know how to make a monthly budget on Excel? Do you know how to track your finances?
I know you'll love this annual budget planner spreadsheet!
Get control of your financial journey by making a plan and getting organized.
You'll love this annual budget planner spreadsheet!!
Why you need this Annual Budget Planner Spreadsheet
You've set some wonderful financial goals for your family, but you still may need some help getting organized.
Maybe you already have an idea of how to make a monthly budget, but have not been keeping up with tracking it, and are not sure if you're actually sticking to your plan.
You love keeping your records electronically but haven't come up with a good system yet.
You're too lazy to keep writing stuff down. Just me then?
I hear you! Developing a budget that works for you and your family is not easy.
To start saving money you must track your income and expenses. That's the best way to actually see what your money is doing. Let the spreadsheets in this planner do all the work for you!
What's included in this Yearly Budget Workbook Planner?

In this Excel workbook, you get the following wonderful tabs:



Budget spreadsheet
Monthly spend tracker spreadsheets, with graphs!
Annual spend summary, with graphs!

Savings tracker
Financial goals spreadsheet
Debt payment spreadsheet
Bill tracker

Bank account tracker
Net worth calculator
Tax preparation checklist

The annual budget planner spreadsheet workbook contains one tab per month to track your monthly income and expenses. Did I mention graphs? I love graphs!
You will fill out your monthly spend and categorize it, and the workbook does its magic to visually display your finances that month! And for the year. Because spreadsheets rock like that 🙂

You will see which months you spend more and which months you are sticking to your budget better. This will allow you to make changes, and take control of your money!
The annual tab will show you a summary for the year, and the charts will show you at a glance where your largest amount of money is going.
Get your finances in order today! Only when you have your records and numbers together and in front of you, can you start to make changes.
Don't throw any more spaghetti! Know exactly where your money is going with this system!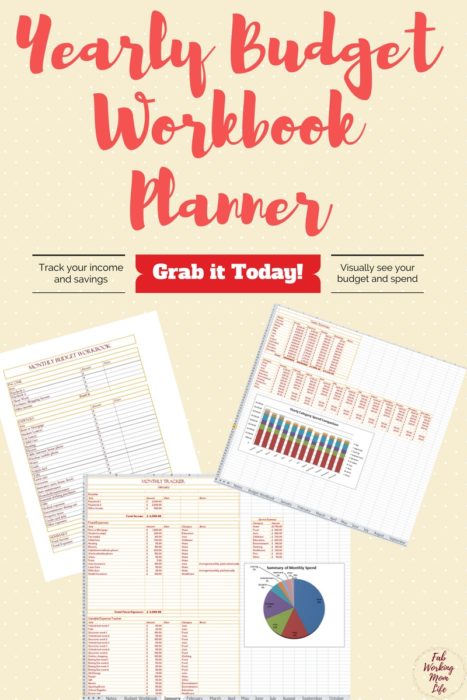 Get your Annual Budget Planner Spreadsheet!
Snag this annual financial budget planner workbook and get on top of your finances, today!
The download file is an Excel workbook ready to be edited by you.
The file is for personal use only, not to be distributed or sold.
Because this is a digital item delivered via download, I generally offer no refunds.
I am not responsible for misuse of this document.
Not sure yet? Don't leave empty-handed! You can grab my mom budget planner – free budget printable for now!
---
If ever there's an issue ordering from this shop – grab this item from my Etsy Store
---