Here for a freebie? Once you confirm it will make it's way over to your mail box! For now, enjoy these blogging tips!
Ultimate Blogging Resources List to help you run a Successful Blog
Blogging is a fun journey of self-discovery and connecting with readers. It is also full of learning and growth. I wanted to share my favorite resources with you so that they can help you in your journey. These blogger resources for beginners will help you start your own blog working mom so keep reading.
If you're thinking about starting a blog, check out my "So You Want to Start a Blog" free email course 🙂
Affiliate links are used where appropriate, earning me a small commission at no charge to you. Some information I am sharing is part of a sponsored brand relationship.
What you need to start a blog
The platform, Web Hosting, and Domain Name
Platform: WordPress
I thoroughly recommend WordPress as your platform and going self-hosted rather than using their service. You will need to purchase web hosting. There are many options out there, and everyone has a favorite. You can choose whatever company you feel has the best reviews or recommendations, or even deals, depending on your plans and situation.
I previously used the Jetpack plugin to manage much of my WordPress needs – like automatic social sharing when new posts are published, related posts, and so much more. Jetpack has free and paid options, so depending on what you need, you can find it all in one place. It is, however, a large plugin and can run slowly.
Web Hosting
This site is hosted on SiteGround because of its excellent reputation for support and site speed.
They also offer a free email course to help you Start Your Business Online in 2023.
SiteGround also offers an SSL certificate (which is now pretty much a requirement for any sites with an input field or even a search bar!), or you can learn how to install one on your host with this article: How to Install an SSL Certificate.
Domain Name
My domain names are all purchased through Namecheap. If you're struggling picking a website name, here is a great study on blog names.
Security
You also want to make sure your blog is safe and keep hackers away. I use Sucuri Malware Removal to monitor my blog, based on a recommendation from an advertiser who alerted me to a malware issue. They cleaned it up and now are continuing to keep me safe. They also have a free plugin you can use, as described in their article: How to Clean a Hacked Website.


Backups
It is also important to note that regular backups are critical. Should something go wrong, you can restore a backup from a previous save. Your host does regular backups as well, but not all hosts do website-specific backups and may be unable to restore your data. Here's a good resource on various backup options for WordPress. I have mine set to backup monthly using UpdraftPlus and do on-demand backups before making significant changes such as updating plugins and WordPress, or after writing several new posts.
Builder
If you'd rather use a simple builder to create a quick website, you might be more interested in Strikingly, an easy-to-use website and ecommerce builder for entrepreneurs. Strikingly is known for two things: being ridiculously easy to use and having the best customer support. Building a website or storefront with Strikingly is as easy as making a slideshow.
---
Design
Theme
The next thing you need is a nice-looking theme, and there are tons of free and paid options to choose from. Both my sites have used paid themes from NoseGraze because I love her style. Her Tweak Me theme is so customizable that I can really do what I want and make my blog look how I want it to. But there are great free themes to start with as well, and you can go with a preset theme or design a header and logo to go with it.
Logo
A good logo is also important for your blog to be an actual business and stand out. I had a friend design my logo, but there are other website that help you. Here's a website with free and premium options where you can design your own logo: DesignEvo. Here's another a great company, DesignBro, that makes custom logos and design at affordable rates.

Images and Design Elements
A great option for design elements and images is Creative Fabrica – a leading marketplace for designers and crafters with over 7 million fonts, graphics, crafting resources, stock images, classes, and more! They even have tons of freebies daily!
Access millions of high quality creative resources with the All Access Subscription with unlimited access to Spark – available at an unbeatable price!
The All Access Subscription gives you endless creative possibilities, and access to

12 million+ fonts, graphics, creative online classes

+

unlimited access to CF Spark

for

only $4.99/month

(billed yearly)!

With Spark, you can create your very own designs using the Spark family of AI tools. As an All Access member, you get

access to premium features

and can

generate your designs even faster!

Personal, Commercial and POD use of files included

100% risk free, cancel anytime.
I do most of my image design in Canva, which is free (you need to log in though), or you can upgrade to the pro version. I use the free version for now, and what I love about Canva is I can upload my own images and save my designs so I can make a copy and change the text and image but keep the same style for my graphics.
I also recently purchased Stencil because it has a collection of ready-to-use free stock photos, and you can customize all kinds of designs and easily resize and save. Stencil also lets you create a meme and immediately share it to social media. I caught in on an AppSumo deal and bought the lifetime license.
I have used PicMonkey in the past to design some of my images, especially photo collages and Bingo cards for my book blog. PicMonkey no longer offers a free option, however. Other image design options I have used (also have free and paid options) are Fotor and Snappa. They each have their quirks and cool features, so I would recommend trying them out and finding what you like the best.
Remember, it is essential to have great images in your posts, especially ones that are Pinterest-worthy. Pinterest is a challenging beast sometimes, and it helps to have great templates to work with for making new images for all your posts. I have a membership with Carly's amazing Pinterest mastermind group, where she makes 10 new templates for Canva and 10 new templates for Picmokney each month, plus coaching calls and support discussion in her group. You should definitely join!
If you're not taking your own photos, you can get some great stock photos to use for your images. Be careful about copyrights. You can stock search sites like Pixabay and Pexels for free to use stock images. You can also grab deals from Appsumo for paid stock photo sites like Depositphotos. They have great photos you can find that compliment your content and are not used as often as the free stock images. Depositphotos is a library with over 100 million high-quality and royalty-free stock photos and vector images. Grab their current deal: 100 Photo/Vector Downloads from Depositphotos.
It is also vital to have your images compressed to reduce site load time. I use Short Pixel to compress my images. There are free plans available, as well as upgrades.
You also might want to upgrade to fun creative and unique elements for your graphic design used on your blog. Creative Market has amazing options, and often has freebies you can use!


---
What you need to maintain a successful blog
Social Media Tools
There are too many social media platforms and tools out there. It is just not practical to be active on all of them because you'll be spread too thin. Pick your favorites, automate the rest, and don't feel like you have to use them all.
For Instagram, I started using Planoly and loved it so much I upgraded. But the free version is great to schedule Instagram as well! You will need your Instagram to be a Business account (switch if you have it as personal). Also, you might like this Instagram story maker.
I use Tailwind to schedule my pins to Pinterest. I usually schedule with Pinterest directly, but it only goes out 2 weeks into the future. If you want to schedule more Pins on a future and interval basis, Tailwind is good for that. Tailwind also recently released a Create feature where you can make new pins directly in their platform, and schedule them.

I use RecurPost to share to Twitter or Facebook from my library of set posts. You can read my tutorial on using RecurPost for more details. I love it because it is free (for a library of 100 items). RecurPost doesn't let you repeat a library Tweet, but you can set iterations.
I also use the free versions of Buffer and Hootsuite to schedule specific social media shares. I like Buffer because it grabs images from the link, but it only goes up to 10 free at a time. Hootsuite is only free for manual shares (and they have taken away all free scheduling options), and you need to upgrade for everything else. It is still great for sharing a one-time post to both Facebook and Twitter, and to view your Twitter feed (to view specific hashtags, searches, etc.).
I use dlvr.it (I use the free version) to read my RSS feed and share the latest blog post to Twitter and my Facebook page.
A great plugin to grow your social media following from your blog is MiloTree. It isn't invasive, and it reminds readers already on your page to follow you on social.
If you're using hashtags on Twitter (and you should be), you can search for popular and related hashtags using Hashtagify.
---
Writing and Editing
The biggest thing we bloggers do is write – blog posts or other "copy," social media posts, emails, etc. We want to make sure there are no errors. I love Grammarly because it has a free browser extension, and it catches my silly typos or comma misuse. I upgraded to the paid version because it is so powerful at fixing my tenses and suggesting better word choices.
Your post title is essential, and you need it to be grabby enough to get someone to click through to the post. Use the CoSchedule headline analyzer tool (it's free) to help select the best title/headline.
---
Email List
Having an email list is vital because it is the only thing you really own. I mean, we don't own social media platforms, and our followers there could go away at any moment. Our websites could also go down, but we still have our email list and can reach out to our readers. There are many options for email – I started out using MailChimp for free. It is free for up to 2000 subscribers, but if you want more features (like sending an email series), you do have to upgrade.
I made the switch to ConvertKit, which is a paid email service that is specifically designed for bloggers. It is so powerful! I love systems that have everything you need at your fingertips.
The best way to add people to your list is to offer them something. You can have one "lead magnet" on your page that people can opt-in to get after they subscribe, or you can have content upgrades to specific posts. I use ConvertKit since it contains powerful features that allow you to send content upgrades, series of emails, etc. to your list.
ConvertKit just opened a freemium option! You can build a landing page and start growing your list (and can send emails to up to 100) and give it a try before you upgrade to their paid plans. Use this link to sign up!
Another way to add readers to your email list is to serve up a fun quiz, and send the results by email. One way to do that is with Interact Quizzes. They offer a platform to create fun quizzes to use as lead generation. Of course, these work best when the quiz content relates to your product or service since it is a paid service, and you want to generate the right subscribers from it who may purchase from you in the future.
---
Video
Video is growing exponentially in growing an engaged platform. Between Facebook Lives, IG TV, and YouTube, if you're in the blogging world, you've seen that video is important and helps readers feel more connected.
I'm not ready for lives or creating a video of myself talking. But I have been dabbling with slideshow videos to include in blog posts and social media posts. One way I do that is with Lumen5 – it takes your blog post text, and you can convert it into a slideshow. It is a web-based option, so you don't have to download anything. There are free options available. Of course, you can't use the free version for any working with brands due to their logo being placed on free videos. They have a monthly fee, so you may consider that or may want to download a software video editor and pay once.
I recently learned about Movavi, which is a video software you download to your computer (PC or Mac) and can create lovely slideshow videos. Movavi boasts about being great for beginners – that you'll learn how to use the software in just 20 minutes and can start creating great videos to share on your channels. Movavi helps people to create professional-looking videos even if they have no video-making experience. With an intuitive interface and built-in media for you to use (music, images, etc.), you can create videos with ease. Movavi comes with a Montage Wizard to help make a fun slideshow video with ease. You can import your images and video and edit as you please. Blogging is storytelling, so you can create a story with this video software by moving unwanted fragments, moving sections around, adding titles and transitions, applying filters, adding music, add even your own voiceover!
Personally, I prefer to work on multiple devices and was looking for an online video editor. Particularly those with a free option!
Here's one option – Veed! Veed.io is an easy-to-use tool and stores your videos on the cloud so you can edit from any device. I also love that their servers run on 100% Renewable Energy, so we don't have to worry about environmental impact!
Here's another great online video editor from inVideo. InVideo also has a free option as well as Pro plans. There are also a lot of great templates you can use to create videos, making the process so much easier. Save 25% on ALL InVideo Plans! Code: InVideoOffer25
One more online video editor, this one also has free and Pro plans. Motionbox helps teams create & collaborate on video content and share ideas together in real-time. You can cut, crop, resize, add music, text, even add subtitles. Adding subtitles to your videos will not only help you reach more audiences but will also add value to your content.
Here is a great video editor that has a free option and you know I love those! FlexClip:
FlexClip is an all-in-one web tool for making videos, movies and slideshows in minutes, with more art resources:
– 4,000,000+ stock videos and photos;
– 74,000+ music tracks and sound effects;
– 3,000,000+ animated elements;
– 1000+ text animations and overlays;
– 1,000+ customizable video templates covering intros, outros, etc.
---
What you need to monetize your blog
Monetization with Ads
Once you start seeing some pageviews, it is good to start bringing in a little side income. This can grow as your blog grows and you can branch out in other monetization methods, but no reason not to start somewhere, right? The most common ad network is Google Adsense, and you can sign up with them pretty quickly. Then you may consider signing up with more companies.
I have also used Sovrn in the past, and they set up your ad code to use their advertisers first, and if an ad space was not purchased, to use Google Adsense. That way, you're always running some ad, but with only one code, and earning ad income through both services.
If you're using multiple ad services, you might want a plugin like WP QUADS (I use the free version) to specify which ad shows up where within your blog post. That way, you don't have to place code within each post manually.
Currently, I'm using Adsense and Gourmet Ads as my main ad networks. Gourmet Ads sounds like food advertising, but they do much more, so you don't have to be a food blog (I'm not!) to earn with them. They have a great plugin to streamline the placement of your ads within the post, and they can help with optimization.

The blogger holy grail of ad networks is Mediavine, but they are harder to get into. They require you to have 50,000 monthly sessions (recently increased from 25,000), so many bloggers use them as a goal (though that goal just got more difficult).
---
Monetization with Sponsored Posts
I have worked both with individual brands or marketing contacts, as well as through companies that connect brands with influencers. Below are some of the companies I signed up with as an influencer. This isn't a complete list, and I will be adding to it over time.
You can also create your own media kits and listings for your services:
The Brands Meet Creators newsletter sends regular emails with list of Sponsored opportunities and UGC (User Generated Content) opportunities. Check out the Brands Meet Creators newsletter here.
---
Monetization with Affiliates
Affiliates are other people's products that you help promote and get a commission if you help them make a sale. A lot of the links I use in blog posts are affiliate links (referral links), and if I refer someone to the product and they purchase it, I get credit and a small percentage at no cost to the user. Amazon Associates is the most popular affiliate program because it is everywhere.
There are other companies as well where you can apply to specific merchants to promote their products.
Flex Offers
Avantlink
Rakuten
Pepperjam
Impact
Many other affiliate options have specific sales and promos. These groups sell particular products based on the season or time of year, sometimes as a flash sale and sometimes evergreen.
---
If you monetize, remember to track your blog income and expenses. I have a handy workbook to help you out.

Grab your Blog Income and Expenses Workbook Now!
Join my list and we will send you this Blog Income and Expenses Workbook right away!
---
What you need to learn more about running a successful blog
Free eCourses
There are so many free e-courses out there, and one day I may round them all up for you. For now, here are some to get you started.
Influencers 101 free course has some great information on helping you grow your Twitter account. I recommend checking it out.

The Sticky Blogging Formula is an amazing free course (that is only open several times a year because the course author wants to interact with and lead the discussion in real-time). I have purchased several of the full courses because of how helpful the free course is.
---
eBooks, eCourses, and Memberships
There are tons of wonderful courses out there with so much information. Sometimes, it can be overwhelming. I suggest focusing on one at a time. Pick a topic and get to a comfort level with it before having squirrel moments with other areas of blogging.
If you're just starting and need to launch your blog (and have taken my so you want to start a blog free email course), you may be interested in this short course to help you finalize your launch!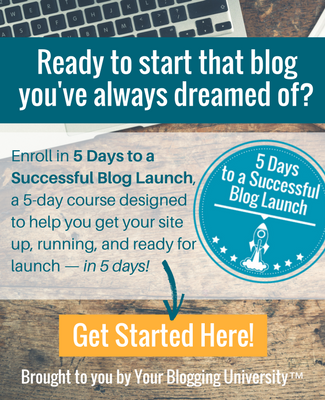 The Sticky Blogging System and the Sticky Blogger SEO courses have been a game-changer for me in the way I think about writing blog posts. I have taken all the free and paid courses she has offered because of how amazing they are.
I also took a fantastic course that steps you through affiliate marketing as a beginner from start to finish and teaches some great actionable methods and tips.
The course is called Making Sense of Affiliate Marketing.
The author of the course earns over $50,000 a month from affiliates! While I'd love to be her when I grow up, I'm hoping to use what I learned to at least begin to make a part-time income from my blog.
If you want to focus only on Amazon Associates for affiliate income and a full e-course is a bit much for you right now, check out this ebook: Cracking the Code on the Amazon Associate's Program.
---
I will continue adding to this page to keep it full of excellent resources for you! Let me know if you have a topic I haven't discussed.
Join the Working Mom List
Join the Working Mom collective and get support and tools to help you thrive! Subscribers get access to my library of resources and printables.