Baby cereal is a great ingredient to use in other recipes. Check out these baby cereal recipes using baby food like baby cereal pancakes and baby oatmeal cereal recipe ideas. These are great for leftover baby cereal.
I was hired by The Women Bloggers and Kendal King Group to participate in this #CookingWithGerber campaign to share Gerber baby food recipes and infant cereal recipes. Opinions (and excitement for the fun uses for recipes with baby cereal) are mine.
Gerber cereal recipes
Having children means life will continually change. The baby will grow and change so quickly, sometimes you just blink and your newborn is starting to transition to solid foods. Then that baby grows so fast that you end up with extra baby cereal as your baby moves on to more food options.
There's good news, though: Gerber baby cereal is a perfect staple to be used in other delicious meals and you can make quite a few baby cereal recipes. Keep reading for some fun and easy recipes using baby food and ideas for infant cereal recipes.
These four varieties of Gerber cereal can be picked up at Walmart, and have more uses than just as a first food for baby. They are full of great vitamins and can be utilized as a primary ingredient in various fun recipes – for kids and adults! Looking for recipes using baby rice cereal? Here are some ideas for using leftover Gerber baby cereal.
Let's explore some of these baby oatmeal cereal recipe ideas, shall we?
Frozen Dino Yogurt Bites
Frozen yogurt is a favorite dessert for just about everyone. I know my toddler is a huge fan whenever we go out and get some after dining out. I thought it would be fun to make some for him at home and add some extra enjoyment by making them in fun shapes. I made my little boy some frozen yogurt bites in the shape of dinosaurs – because dinosaurs!
Ingredients:
One part Gerber baby cereal (I used Lil Bits)
One part Gerber yogurt blends (any flavor of your choice)
A mold of choice, or container.
Directions:
Mix cereal and yogurt, fill the mold, and freeze.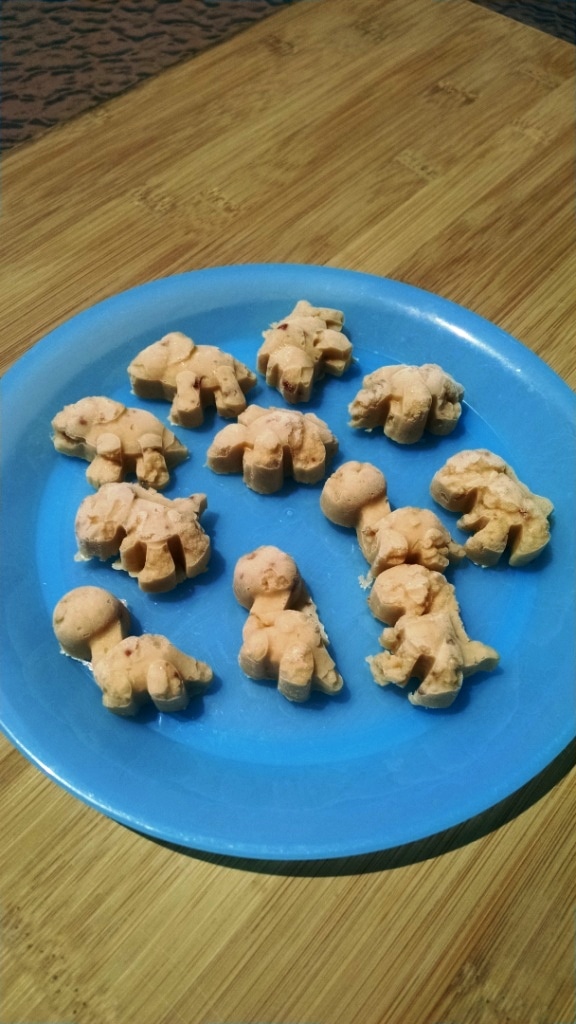 Peaches and Cream Baby Cereal Pancakes
One of my toddler's favorite breakfast dishes is pancakes. It is seriously one of the few things I know he will eat without fuss and won't toss on the floor. So while I'm not super talented at flipping them to make them extra pretty, I am happy to make them for his breakfast. So here's how to make baby cereal pancakes! I used oatmeal cereal but you can also make rice cereal pancakes.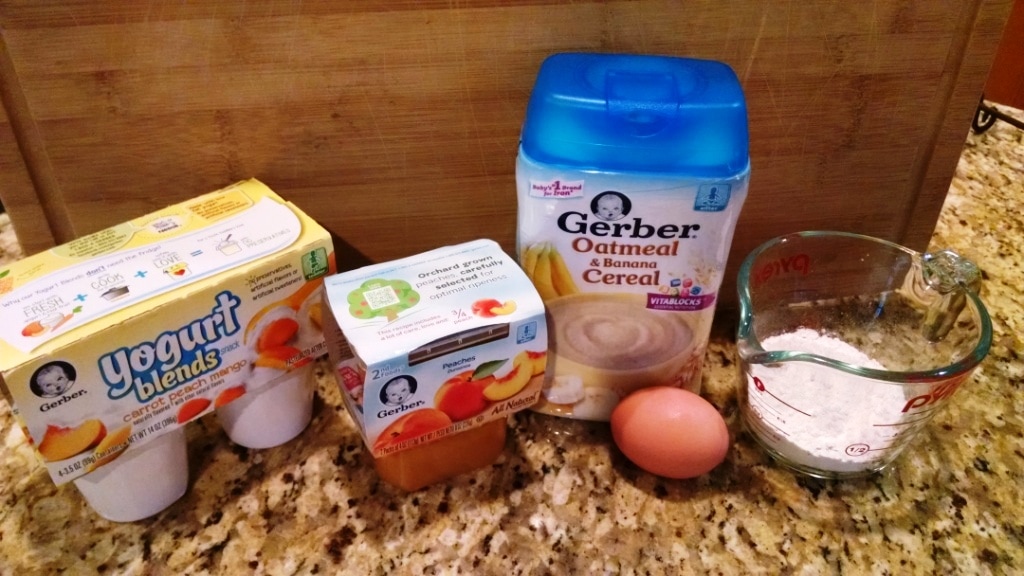 Ingredients:
1/4 cup Gerber Oatmeal and Banana Cereal
1 container Gerber Yogurt Blends carrot peach mango flavor
I container Gerber 2nd foods peach puree
1 large egg, beaten
1/4 cup flour
1/4 teaspoon baking powder
1/4 teaspoon baking soda
1/4 cup water
Directions:
Make the batter: In a bowl, mix cereal, flour, baking powder, and baking soda together. Stir in yogurt, peach puree, egg, and water until combined.
Make pancakes: Pour 1-1 1/2 tablespoons of the batter mix into the hot skillet for each pancake. Cook for 2-3 minutes, then flip and cook for additional 2-3 minutes.
Mini Veggie Muffins
As a parent of a picky toddler, I need to come up with unique ways to get my baby to eat healthy foods. Lately, meal times have been a bit (well, more than a bit) of a challenge. Will my child ever eat anything other than bread? I've learned that you can hide quite a bit of good stuff inside a muffin, and the silly boy will eat it. In order to get this one to eat his veggies, I've been hiding pureed vegetables inside other foods. We moms need to get sneaky. So I made him a batch of these yummy mini-muffins full of good vitamins.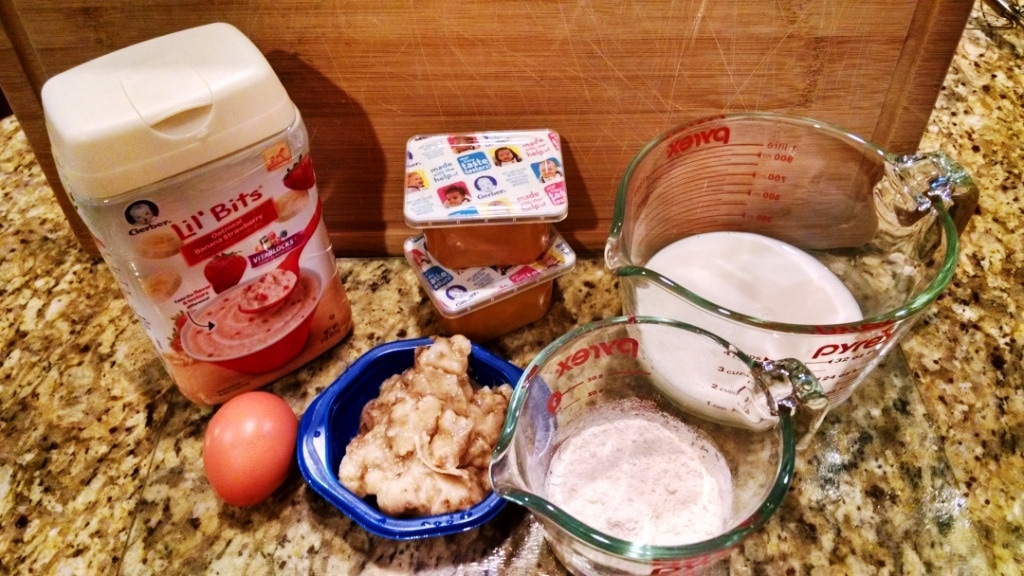 Ingredients:
1 cup Gerber cereal (I used Lil Bits)
2 containers Gerber 2nd foods vegetable puree
1 ripe banana
3/4 cup milk
1 cup flour
1 large egg, beaten
2 tablespoons baking powder
1/4 teaspoon salt
1 teaspoon brown sugar
mini muffin tray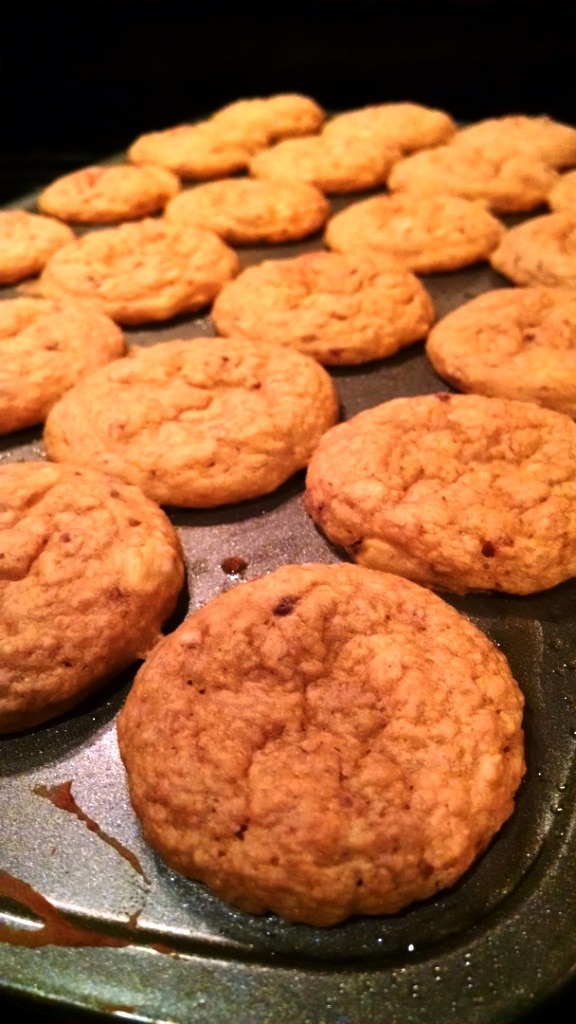 Directions:
Preheat oven to 400 °F.
In a bowl, mix cereal, flour, baking powder, salt, and sugar together. Stir in puree, banana, milk, and egg until combined.
Pour batter into the mini muffin tray.
Bake in 400 °F oven for 16-20 minutes.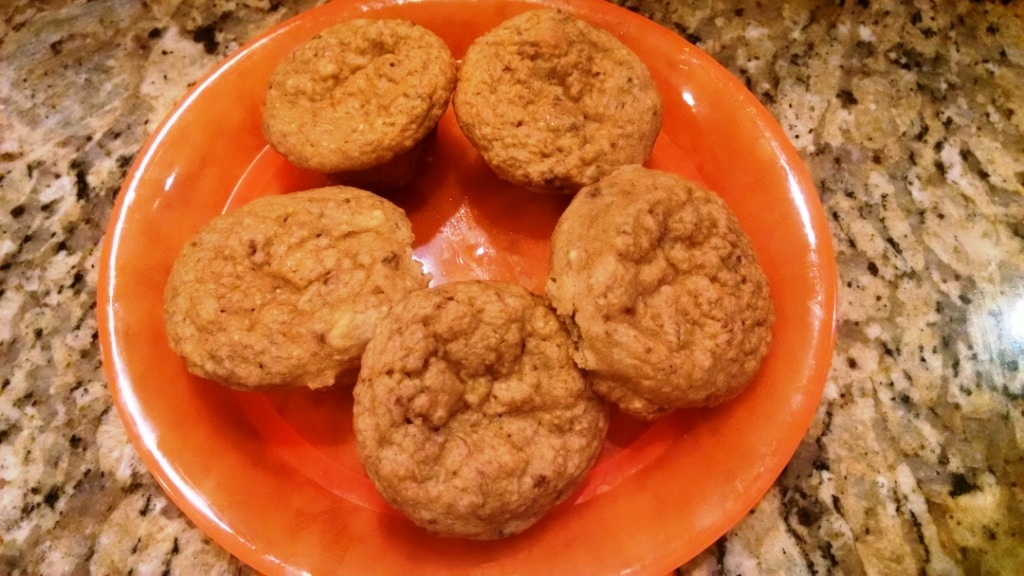 Teething Biscuits
This toddler of mine loves crackers, the crunchier the better. So why not bake my own batch of biscuits that have some great ingredients?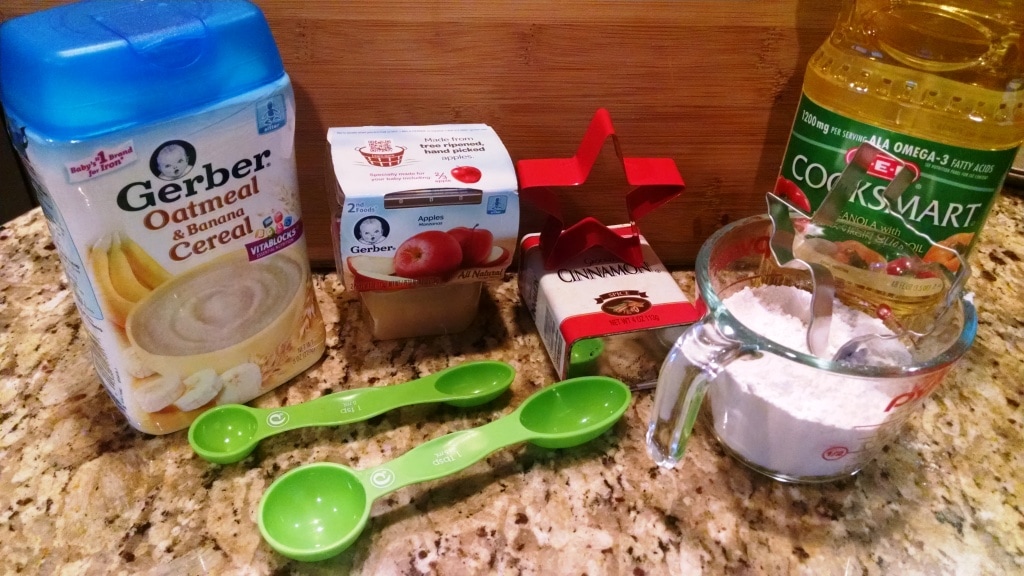 Ingredients:
1 cup Gerber Oatmeal and Banana Cereal
2 containers Gerber 2nd foods puree (I used apple flavor)
1 cup flour
2 tsp cinnamon
2 tablespoons vegetable oil
3 tablespoons water
cookie cutters
cookie sheet
wax or parchment paper
Directions:
In a bowl, mix together flour, cereal, and cinnamon. Add in oil, fruit puree, and water.
Mix until dough is firm and not sticky, adding water or flour (1 tablespoon at a time) if needed to get the desired firmness.
Preheat oven to 425 °F.
Spread wax or parchment paper over the cookie baking tray. Sprinkle flour over the paper. Roll out the biscuit dough on the wax or parchment paper and cut it into shapes.
Bake in 425 °F oven for 10-15 minutes, depending on thickness.
The great thing about using Gerber baby cereal is that it's packed with wonderful vitamins and minerals. I mean, it was great as a first food for babies, so why not continue using it in meals for older babies and even adults? Gerber cereals are iron-fortified and contain calcium, and vitamins C, E, zinc, and 6 B vitamins.
It isn't easy getting my toddler to eat something healthy, so any mom hacks I can have up my sleeve are a major win for me. Making something fun and yummy for him that's full of great nutrition doesn't have to be too difficult. Thanks, Gerber cereal for being so versatile and letting us come up with fun uses for baby cereal to make at home.
What fun baby oatmeal cereal recipe ideas will you create?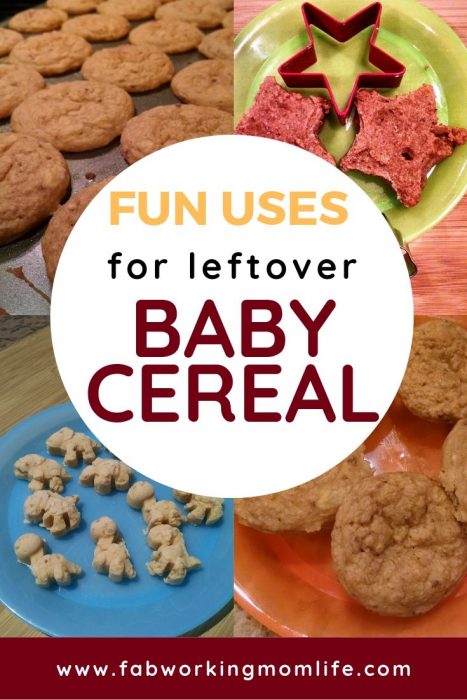 Join the Working Mom List
Join the Working Mom collective and get support and tools to help you thrive! Subscribers get access to my library of resources and printables.