Inside: How to deal with stubborn picky eaters and toddlers. Do you know how to get a picky toddler to try new foods?
"Mommy, can I have a raspberry?" my four-year-old asked me.
Picking my jaw off the floor, I attempted to be cool. "Sure, honey. Go right ahead!"
Why is this a surprising encounter for me? Because my 4-year-old is a picky eater and it is almost impossible to get him to eat new and healthy foods. He was stuck in his carb and dairy diet, and there was little we were able to do about it.
Until recently that is. Keep reading to learn how we are getting our picky eater to try new foods. Here I'm sharing the great tips we learned at feeding therapy for how to get a stubborn toddler to eat. Feeding therapy taught us how to end mealtime battles. It has helped us so much to learn tips for dealing with a picky eater toddler.
Dealing with picky eaters toddlers and How to end mealtime battles
How to get a picky toddler to eat is a topic parents struggle with. I struggled with my 3 year old picky eater and then 4 year old picky eater so much until we finally learned about and went to feeding therapy.
Dealing with a picky eater toddler? What is a picky eater?
"Picky" eating is when a child refuses foods often or eats the same foods over and over. Picky eating starts around age one and usually peaks in the toddler and preschool years. (Source)
Understandably, parents are concerned about their picky eaters because we fear our child is not getting enough nutrition. I tend to rely on helper products to ensure (see what I did there?) that my child gets adequate nutrition. Our favorite is Sidekicks. Because how do you get a picky 3-year-old to eat? How do you get a picky child to eat good food? It is possible!
We also focus on giving our child the best vitamins to help bridge the gap with any nutrients he is missing. We love First Day gummy vitamins because they're made with over 50% less sugar and have more great ingredients like vegetables. Yes, vegetables!
Every gummy is made with 12 organic fruits and veggies full of good-for-you antioxidants and phytonutrients. Real food. Real simple.
Do you know who are picky eaters? Toddlers! That's such a typical stereotype that we almost expect little tiny humans to eat poorly. But some toddlers are willing to eat certain foods, and some toddlers refuse to eat! So what do you do to get how to get a picky toddler to try new foods?
How to get a child to eat when they refuse? How to get picky eaters to eat?
It is so hard to get a toddler to eat when they don't want to. My picky eater is so stubborn he makes himself gag (sometimes even throws up) if he doesn't want to eat something. It is horrible! I would struggle with the concept of how to get picky kids to eat. I'm sharing tips we learned on getting picky eaters to eat!
As an infant, my son was a "food goes in here" machine. Open mouth, insert all the food. Shortly after his first birthday, he flipped a switch, and he suddenly wouldn't eat anything that isn't bread, cheese, and peanut butter. He became the embodiment of the "fussy eater toddler" monster we've heard about.
We recently started speech therapy for my child, and part of speech therapy includes feeding therapy. They began observing for sensory issues and checking his jaw strength for chewing and such.
You might also LOVE this challenge: No More Picky Eating Challenge: A Free 5-day Dinner Table Transformation to Banish Power Struggles in 30 Minutes a Day!
Do you have kids who are picky eaters, toddlers or preschoolers?
How to get 3-year-old or 4-year-old to try new foods
Here are some tips for how to handle picky eaters ages 3-5 and getting picky eaters to eat.
Here is what we did in our speech therapy class, the second part which was food aversion therapy.
I brought in several foods, some preferred (meaning he will eat them willingly), and some unpreferred (foods he won't touch).
Each week (our therapy class was weekly) I would try a change a little in the foods I would bring, but continue many of the same ingredients.
I would almost always bring a yogurt, he loves those, and later started bringing those cute Babybel cheeses (the little round ones you peel the red outer layer out). He loves opening them up, and always asks for them, so we started using them as a "prize" for trying other foods during therapy.
I also bring fruits and vegetables, since that's the goal to get him to eat. I'm starting simple, with items like carrots, raspberries, and blueberries. He's not willing to eat any of those at home.
Then the therapist leads us in food exploration and tasting.
Build with new foods
One thing that was kind of weird to me at first was the playing with the food part. The therapist would have us all (me, her, and my son) put some of each item on our plates. Then we talked about what we could build with the food.
Sometimes we built a little train. Sometimes made a face. The building process required manipulating the foods, sometimes biting chunks off to have smaller pieces for wheels or eyes, for example.
It was kind of strange, but I understand. Toddlers learn through play, and playing with food makes it less scary to them.
Use all the senses when trying new foods
Another tactic our therapist used was to taste, smell, and feel the new foods. This also helped with the speech therapy portion of our session. We talked about how the food item feels in our hands and how it smells. We discussed whether the food was salty or sweet, and soft or crunchy.
Focusing on answering the questions helped my child concentrate less on the taste of the food, and he was more receptive to playing along.
Play games and challenges with new foods
My four-year-old is already quite competitive. We started playing racing games. Who can eat this item the fastest? He can't handle being last, so he has to try it to win.
We also play magic tricks. Can you make this raspberry disappear? Abracadabra!
I also like the "if you can eat two raspberries, you can have a piece of cheese" challenge.
Most importantly, don't pressure a child to eat new foods
This one was the hardest for me in dealing with my stubborn picky eater. My gut feeling is stubborn kids need to be shown they are not boss. I've always been raised with the "you will do as I say" approach and I thought it made sense to do that with my child.
But that's when the gagging started. Why is my toddler gagging when eating? I still can't tell if he's doing it on purpose, or if it's truly an aversion or sensory reaction to the food.
But taking the pressure off is what helps. Letting the child have exposure and playtime with the foods. And then removing the fear and pressure to keep eating it.
Enjoying this post? Pin for later!
Toddler picky eater? What to feed picky toddlers
Wondering what to feed a picky toddler? During feeding therapy, it was important to provide many food choices, letting him eat what he is comfortable with, plus trying something new. How to get picky eater to try new foods is to take the pressure and fear out of the situation.
It's best to keep things simple and try realistic toddler meal ideas and allow the picky eaters and toddlers to control how much of the foods they are willing to eat and sample. In reality, foods for picky toddlers need to be the same foods the adults are eating. But smaller, and maybe presented in a more fun way.
If you've seen those fun feeding toddlers photos, you'll see divided plates with a variety of foods on them, touching most of the food groups and spanning many colors. These picky-toddler-eater food items are what we as parents want our kids to be eating, though it isn't always realistic for extremely picky eaters.

Back to the story. Why did my child ask to eat a raspberry?
I was getting out the package of raspberries to put in a baggie to take to speech the next morning. I got distracted and left the container on the counter. Suddenly my son notices the raspberries and asks to eat them. Of course, we agree, and he divides up the package between Mommy, him, and Daddy. It was such a wonderful win, and I praised him for his excellent choices and sweet sharing. I hope to see more of those moments in the future.
My goal is to get my little boy to enjoy eating berries and simple vegetables like carrots and peas. I know it is a gradual process, but we'll get there if we keep up with this feeding therapy and the tips we learned to help picky eaters try new foods. We're trying to get away from only eating picky foods and getting into a normal kid diet.
I hope these tips help you learn how to deal with picky eater toddler as well! It's a journey, for sure. But once you learn how to get a picky eater to try new foods and experiment with food games to make meal time less scary and new foods more fun, it gets better.
How are you dealing with picky eaters?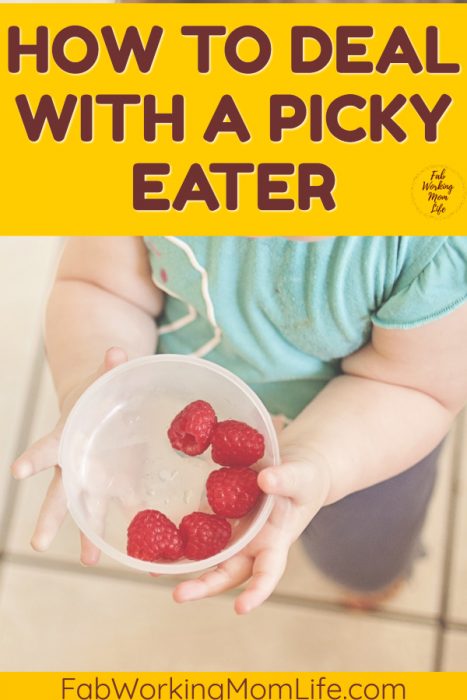 ---
Further reading:


Want more parenting advice? Check out this amazing Positive Parenting Solutions program!

Join the Working Mom List
Join the Working Mom collective and get support and tools to help you thrive! Subscribers get access to my library of resources and printables.