Inside: Are you a breastfeeding mom? Make this super easy overnight oatmeal lactation breakfast. Read on for the lactation oatmeal recipe, a healthy breastfeeding-friendly breakfast. You'll love lactation overnight oats!
I'm sure we can all agree that breastfeeding needs to be easier – on all of us. From baby having difficulty latching to struggling in maintaining supply, breastfeeding can be quite challenging.
We need to fill our bag of tricks with all the tools and life hacks available to us, and having a super healthy breakfast full of lactation-boosting ingredients is one such tool we need. Did you know you can eat oatmeal to increase milk production? That's right, oatmeal is wonderful for breastfeeding! I learned this during my breastfeeding support group at the hospital where I had my son. Our lactation nurse gave us some great ideas for galactagogues – which are foods supporting our breastfeeding and supply – and they mostly focused on oatmeal. Are you looking for an easy oatmeal recipe for lactation?
lactation overnight oats for breastfeeding moms
That's why I'm sharing how overnight oats for breastfeeding helps a ton in our breastfeeding journey. Want to know how to make this lactation overnight oats recipe for breastfeeding? Read on to learn how to make this lactation oatmeal breakfast in advance, and enjoy all its benefits in the morning.
Updated in 2023.
---
Welcome, Pinners! Thanks for eating up this post!
Be sure to look around for even more awesome content!

Don't forget to Join the Working Mom Collective and get this pumping bag checklist and more resources for moms!

---
Overnight Oatmeal for Lactation Recipe
Overnight oats for breastfeeding is a wonderful thing! I recently learned that you can make oatmeal overnight in the fridge. I've been struggling with making oatmeal in the morning – you know, the non-instant kind, to boost my breastmilk supply. I don't have the time to stir it on the stove as I'm getting ready for work in the morning, and it just explodes to death when I try to cook it in the microwave.
Overnight oatmeal make-ahead breakfast to the rescue! Rather than baking lactation cookies with all the calories, this is an alternative with similar powerful ingredients. I like to make it in a Mason jar and make more than one serving at a time. Then just heat up in the microwave and enjoy.
Lactation Oatmeal Recipe
Ingredients (one serving):
These are approximate. Please play around with the ratios to see what you like best. Add more milk if the ingredients do not absorb.
1/3 cup oats (our lactation nurse suggested using old fashioned oats instead of instant oats, but any oats will do)
1 tbsp flaxseed
1 tbsp brewer's yeast powder
1/2-1 tbsp brown sugar (or sweetener of choice)
1 cup milk (regular, almond, or coconut)
1/4 cup Craisins (or any fruit you like)
Did you know you can easily get your ingredients (and other groceries) right on Amazon With Prime? Try Amazon Prime 30-Day Free Trial
How do you make overnight oats for lactation? Directions:
Mix the oats, flaxseed, brewer's yeast, and brown sugar thoroughly in the milk, stirring to ensure an even mixture (you don't want the brewer's yeast to clump). Add in the Craisins or other fruit.
You can also add Greek yogurt for a creamier taste.
Place in a sealed container like a Mason jar overnight in the refrigerator. By morning, the oats will have softened and expanded with the milk and are ready to heat up and consume.
Are overnight oats eaten cold? No, I heat them up in the microwave in the morning.
You can add other ingredients to give it more flavor, like cinnamon, vanilla, etc. Chop up some fruit and toss it in there as well. Mix it up and make it your own.
I like to make several jars on Sunday to last me through the workweek because you know how busy mom life gets and remembering to make it every evening is not in my wheelhouse.
Lactation Oatmeal with Protein Recipe
Protein oatmeal is an excellent way to start your day, especially for nursing mothers. Lactation oatmeal is a popular breakfast option among breastfeeding moms as it helps in boosting milk production. Oats are rich in fiber, protein, and various vitamins and minerals. When combined with protein powder or other sources of protein, it can create a well-rounded meal that keeps you full and energized throughout the day.
Protein oatmeal can be customized to fit your taste preferences and dietary needs. Whether you prefer sweet or savory flavors, there is always a recipe that suits you. You can add fruits like berries or bananas to make it sweeter or nuts like almonds or walnuts for added crunchiness.
Protein Overnight Oatmeal Ingredients and Directions
The ingredients for overnight lactation oatmeal with protein are similar to the above, but more streamlined. If you get a protein powder mix specifically made for lactation, the blend will already include many galactagogues. The recommended product in the list below includes a special protein blend, antioxidant blend, greens and energy blend, lactation blend, and sugar craving blend.
These are approximate. Add more milk if the ingredients do not absorb.
Mix these ingredients together and store in the refrigerator overnight.
Lactation Oatmeal FAQs:
As a new mother or a mother-to-be, you might be worried about keeping up with your baby's milk supply. One of the easiest ways to increase your milk production is by consuming oatmeal regularly. If you're a new mom struggling with low milk supply, you might be surprised to learn that oatmeal can actually help. Oatmeal is known to increase lactation because it contains compounds that stimulate the production of prolactin, a hormone responsible for milk production.
Are overnight oats good for you?
Yes! Overnight oats are very good for you. Oatmeal and flaxseed have wonderful health benefits for us. Oatmeal is a good source of important vitamins and nutrients such as fiber, iron, magnesium, and zinc. Non-instant oatmeal is very healthy, and when you add the other great ingredients, like flaxseed, you're adding to the power of this breakfast. Instant oats has a lot of sugar content which is why we're told to limit that.
Brewer's yeast is a fungus typically used to make bread or beer and it can be taken as a probiotic to enhance gut health. It is a source of protein, B vitamins, and iron. Flaxseed is a good source of omega-3 fatty acids, ALA (Alpha-Lipoic Acid), and DHAs (Docosahexaenoic Acid).
What kind of oatmeal is best for milk supply?
Not all oatmeals are made equal when it comes to boosting milk production. So, what kind of oatmeal is best for milk supply? Let's look at what is the best oatmeal for breastfeeding.
Firstly, it's important to choose steel-cut oats instead of instant or quick oats as they have more nutrients and vitamins that contribute to better lactation. Additionally, opting for organic and non-GMO oats can help avoid any harmful chemicals that might interfere with the production of breastmilk.
Secondly, try adding other galactagogues such as flaxseed meal, brewer's yeast or fenugreek seed powder in your oatmeal recipe. These ingredients work together with oats to promote healthy lactation and boost milk supply.
Are overnight oats keto?
Sorry, overnight oats are not low carb. Oatmeal itself is a carb, but a healthy carb. But you'll find a lot of variations of an oatmeal recipe for breast milk production that are healthy carbs.
How to make oatmeal to increase milk supply?
To make oatmeal for lactation purposes, start by selecting whole oats instead of instant oatmeal. Whole oats contain more nutrients and fiber than the processed kind, making them better for your overall health and well-being. Next, cook the oats in water or milk according to package instructions. You can also add some sweeteners like honey or maple syrup to taste.
Another popular way to make lactation oatmeal is by adding certain ingredients like flaxseeds, brewer's yeast or fenugreek powder.
Can you mix protein powder into oatmeal?
When it comes to lactation oatmeal, many nursing mothers are looking for ways to boost their milk supply. One popular way of doing this is by adding protein powder into their oatmeal bowls. But the question on everyone's mind is, can you mix protein powder into oatmeal? The answer is yes! Not only does this provide additional nutrients for nursing moms, but it also makes for a delicious and filling breakfast.
When choosing a protein powder to add to your lactation oatmeal, opt for one that is specifically designed for breastfeeding mothers. These types of powders often contain galactagogues such as fenugreek and blessed thistle which help increase milk production. Additionally, look out for powders that are low in sugar and free from artificial sweeteners or flavors.
Does protein powder affect milk supply?
One common question that often arises is whether protein powder can have an impact on a mother's milk supply. While there isn't a straightforward answer to this question, some studies suggest that consuming protein powder in moderation may actually help improve lactation. Protein contains amino acids that are essential for building and repairing tissues in the body, including breast tissue. Additionally, protein is necessary for producing hormones that are vital for lactation.
On the other hand, excessive consumption of protein powders may lead to dehydration and could potentially harm milk production.
Conclusion
So if you're a breastfeeding mom and lactation cookies have worked for you, there's no reason why this shouldn't (the core ingredients are similar, after all). Even if you're not trying to maintain your breastmilk supply, this is a good option for a healthy breakfast (just maybe leave out the brewer's yeast, since we know that flavor is not ideal).
Do you make overnight oats? Share some ways you've made it.
---
If you liked this post, you may want to check out my Power Foods Boobie Smoothie post as well!
First-time moms: read my post about the 5 things you should know to prepare for breastfeeding.
Related: If you're struggling to breastfeed you may want to seek advice from a lactation specialist.
You might also like to use a lovely Breastfeeding planner to help keep track of your feeding and output.
You may also like: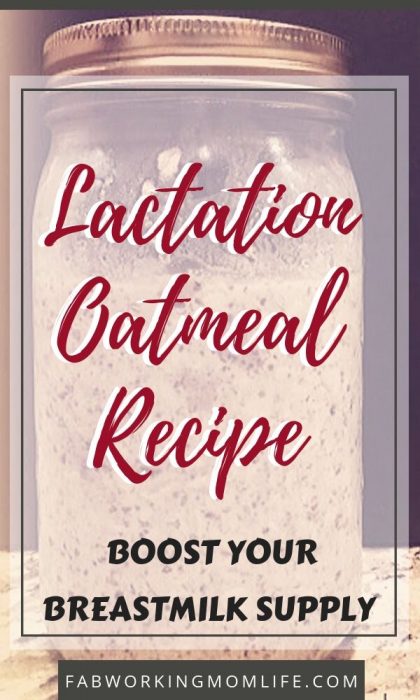 overnight oats for breastfeeding – Pin me!
Join the Working Mom List
Join the Working Mom collective and get support and tools to help you thrive! Subscribers get access to my library of resources and printables.