"Logic will get you from A to B. Imagination will take you everywhere." –Albert Einstein
In my life, I've worked retail, sailed for the US Navy, and even became a Children's Book Author. I have a unique approach to life, always imagining, and seeing solutions to problems differently. I credit my parent's sacrifices to the cultivation of my imagination. My life's ambition is to positively impact families with imaginative stories at a rudimentary level.
With that being said, here are 3 NO COST ways to stimulate a child's imagination with reading.
Me-time Reading
Dive in & out of worlds easily with the power of reading.
Books aren't cheap. Fortunately, there are libraries. I genuinely feel like this is an underutilized free resource.
Not only are there children's books to be enjoyed during valuable family time. There's literature for you as well. Decompressing with a good book is a great method of self-care.
Because of Covid-19 there have been lots of new procedures put into place to help protect you and your family. Feel free to contact your local library and ask.
Still unsure? Well, I'm happy to report that most libraries do have a digital collection. Download new adventures for every member of your family for free.
Read-Along
Some parents like mine, are not native English speakers. A read-along was the perfect way to bond as a family while they perfected their abilities.
Most libraries now are offering live streams to families to be enjoyed from the comfort of their own homes. I've also found that several books are available for read along on YouTube.
Animated Reading
This is something I love doing. Not all books are meant as bedtime stories. Get animated! Jump around! When a lion roars LETS ROAR!
Show them that reading is fun. Laugh with joke books, play with adventurous books, and sing with rhyming books.
Animated Reading can be done post-dinner. Acting out stories will help burn extra energy before your bedtime routine.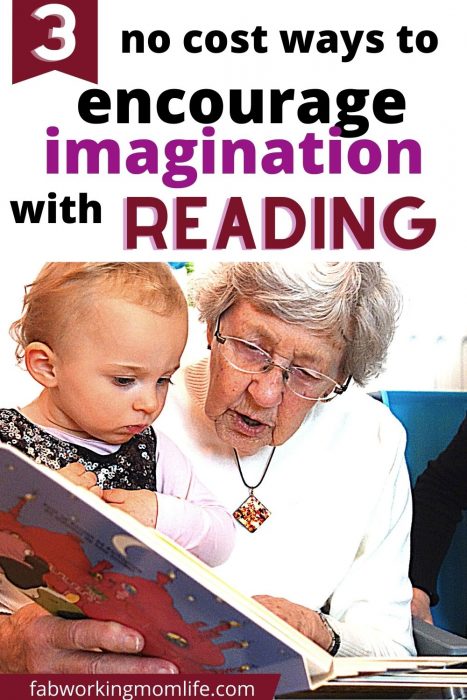 I understand there is no tailored path for a family to encourage imagination. There are plenty of creative ways to connect with reading.
No matter your mood or family life, try any of these and see if they bring your life as much joy and happiness as they have mine. Your kids may one day credit you as I have credited mine for my reading passion.
From my family to yours, may imagination take us everywhere:
Maggie the Moose Runs Loose!
Julie's review: Sweet children's book about a moose who visits the zoo, learns what makes each animal special, and what makes her special too. The book is told in lovely rhymes with pretty illustrations. Great pick.
Bao the Sleepless Panda
Julie's review: We loved reading about Bao and his fear of a monster under his bed. The story is told in lovely rhymes with beautiful illustrations. Our friend the Panda gets help from his wise friend, and faces his fear. I love that the other book we just read about Maggie the Moose plays a cameo. Great read for preschoolers and kindergarten age kids.
Interested in receiving one of my books for free? DM me on Twitter @Victoria_R143 *Limited Quantity Available*
Author Bio

Victoria is a 31-year-old Navy Veteran, and Self Published Author. Her dream is to impact families with fun, affordable, and educational books worldwide.
Her book "Maggie the Moose Runs Loose!" was recently selected by Indie Author Project to be added to BiblioBoard's Digital Collection for the state of Arizona! She was also recently interviewed by the local radio show 93.1 Today in Yuma to discuss her recent and upcoming projects.
On her off time, she enjoys hiking, traveling, home-cooked meals, and of course family.
Join the Working Mom List
Join the Working Mom collective and get support and tools to help you thrive! Subscribers get access to my library of resources and printables.