High Five!
Thanks!
Check your email to confirm your download of the budget PDF.
But wait, what if you had a better budgeting tool?
You will love this Wealth Planner:
Money. Debt. Financial concerns. We all have them!
Let's get control of our financial journey by making a plan and getting organized.
I hear you! Developing a budget that works for you and your family is not easy.
To start saving money you must track your income and expenses. That's the best way to actually see what your money is doing. Let the spreadsheets in this planner do all the work for you!
What's included in this Yearly Budget Workbook Planner?
In this Excel workbook, you get the following wonderful tabs:
Budget workbook
Monthly spend tracker worksheets, with graphs!
Annual spend summary, with graphs!
Savings tracker
Financial goals worksheet
Debt payment worksheet
Bill tracker
Bank account tracker
Net worth calculator
Tax prep checklist
The workbook contains one tab per month to track your monthly income and expenses. Did I mention graphs? I love graphs!
You will fill out your monthly spend and categorize it, and the workbook does its magic to visually display your finances that month! And for the year. Because spreadsheets rock like that 🙂

You will see which months you spend more and which months you are sticking to your budget better. This will allow you to make changes, and take control of your money!
The annual tab will show you a summary for the year, and the charts will show you at a glance where your largest amount of money is going.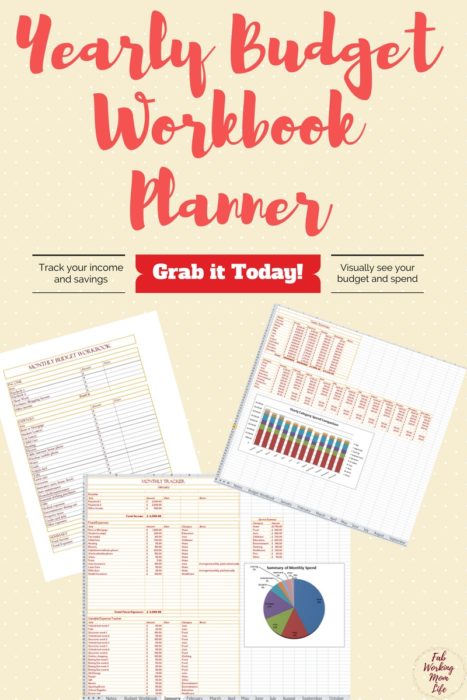 Get your Yearly Budget Workbook Planner
Snag this yearly financial planner workbook and get on top of your finances, today!

The download file is an Excel workbook ready to be edited by you.
The file is for personal use only, not to be distributed or sold.
Because this is a digital item delivered via download, I generally offer no refunds.
I am not responsible for misuse of this document.