Whether you are currently working or beginning your search for a new career, you may have noticed some new terms around changes in the workforce. Some of these include: remote, hybrid, and flexible workplaces. These changes started to become more popular for companies to incorporate in recent years. These new ways of working have opened doors to working moms. You may wonder if it is possible for you to be both a great mom and a reliable employee.
After reading this article, you'll better understand what the different types of flexible work schedules mean, which one is right for you, and other benefit opportunities available to you.
The Difference Between Remote, Hybrid, and Flex
Companies are starting to understand that some employees can work from home and still maintain productivity. Because of this, people currently seeking new roles are including this in a list of "must haves" for to prospective roles. In addition, many job search websites include filters for people to look through remote, hybrid, and flexible jobs. So what are some of the differences between each style of work?
Remote Work
A fully remote position means working from home every day of the week. Working remotely allows employees more freedom to live where they want, avoid driving and traffic into the office, and ultimately a little more time back in their day for personal tasks.
Hybrid Work
As for a hybrid style, you'd work a few days at home while working in the office the remainder of the week. You still have the flexibility to wake up a little later before work and be home as soon as you get off. While still having that time at home, you'll also be able to experience a few days in the office surrounded by your coworkers. With this type of work schedule, you get the best of both worlds!
Flexible Work
Along with both of these options, companies are starting to incorporate what they call a flexible schedule. An example of taking advantage of the flexibility would be to take 30 minutes to an hour to make a trip to the grocery store. The, once you're back online, you'll make up for that time lost at the end of the day.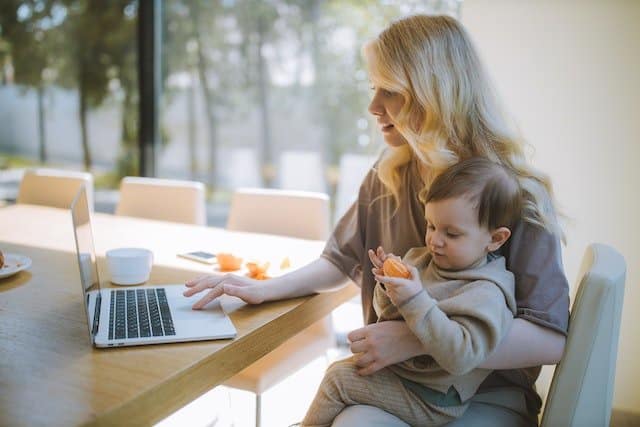 Determining Which Style is Right for You
Kids ages and care needed
When figuring out which style suits you best, start by considering your current schedule of taking care of your babies.
As a mom with young kids, having a job that is fully remote could make it challenging to get things done. You might consider a hybrid work schedule if they are still too young for school and require much of your attention. This option could help you cut some of the cost of daycare or a babysitter while still having the opportunity to work from home some days.
Getting back to work with a new baby can be extremely hard – look into some resources for working moms with babies to help ease your mind.
Maybe your kids are a little bit older, making your everyday schedule a little more demanding. If you have to take them to school in the mornings and then to some practice in the afternoons, a fully remote position could be a great fit for your life and schedule. Many companies that offer remote work schedules also allow the flexibility to choose your hours. This doesn't mean you can work a half day whenever you want, but it does allow you some breathing room between working and tending to your kids.
From running your kids around and getting them where they need to be to taking care of errands such as grocery shopping, you might feel as though there is not enough time to do it all. With a flexible schedule, you have the ability to slightly adjust the hours you work in a day.
How you work best
Another very important thing to consider is how you work. If you get distracted easily or find that you can't keep up with the tasks given to you, a fully remote position might be difficult. However, if you work best in a quiet, uninterrupted space, you may prefer working remotely to having a shared workspace with coworkers.
Also, consider your personality type. If you thrive when you're around other people, you may find yourself extremely bored or losing interest in a fully remote job. On the other hand, some companies have done a great job of creating a remote working environment that feels less distant through company calls and events. Either way, these are all things to consider when looking for your next opportunity.
Additional Benefits to Ask About
Being a working mom can be tough! Don't be afraid to ask about additional benefits you can receive through your company. Even though the open enrollment period is once a year, knowing what changes you might want to make is important. This period of time allows you to change the benefits you are receiving through your company.
Before you begin your job search, compile a list of wants and needs for additional benefits. Even write down some non-negotiables such as different types of savings plans, maternity leave options, or any other benefit you think of. Asking questions about what the company can offer will help you better understand if it is the right fit for you.
Conclusion
It can be hard balancing life, being a mom, and growing in a company, but it is not impossible. If you are starting a new job, know you are not alone. There are many ways to find support as a new working mom – and it could save you from new stressors and anxieties that come with going back to work.
Knowing what companies can offer you and what works best for you will provide you with harmony and balance in your professional life and your personal life. Once you know which work environment is right for you, you will start to see a light at the end of the tunnel. Speak with your manager or human resource department to discuss what will benefit you and your company. Don't stop chasing your goals! You can be both a fabulous mother and a great employee.
Join the Working Mom List
Join the Working Mom collective and get support and tools to help you thrive! Subscribers get access to my library of resources and printables.