Working mom status? Congrats! Welcome to the "feeling torn, overworked, exhausted" club. The TOE. "I've got the toe, sis." – I hear you. Am I not participating enough? Am I doing a good job? – Both of them. Juggle for eternity? – I can. I have to.
Let's be brutally honest. Working moms experience a thing we call a chronic "YES." Yes to all questions. Here to please and serve. I'm a woman; I'm a mother. I'm your superhero. What else? – I'm able. I'm never tired. Nothing distracts me. The stand-alone narrative sounds good; a little too good to be true. (And where's the shame in that?)
A universal truth: women have got a lot on their plate. Transgenerational heritage? Whatever it may be, it's real. And it stings. Finding that perfect life-work balance is quite challenging for the working XX chromosome force. The innate people-pleasing aspect in women can, indeed, hinder their sense of existential balance. Time for a lesson: setting boundaries.
Boundaries protect your professional sanity
Professional sanity? – Yes. We need that. We want that. Being a working mom, you're probably (when we say probably, we mean 10/10) already working a double shift at home. Being a mother is a full-time job, night shifts included. Five hours (give or take) of sleep leaves us with 19 hours (68,400 seconds) of sheer, absolute mayhem. Daily.
Still manageable? Yes, all is plausible before burnout unfolds—time for some mental spring cleaning. Shift the tide. Learn to say NO. Don't take your work home – into your bed. Don't put it on your kitchen table or serve it for dinner. Boundaries. Yes, the times we live in are, in a word, impossible – for everyone, especially for the ones cherishing motherhood.
Remember: motherhood is no side gig. It's THE gig. On the other hand, women perpetually have to prove themselves to assert their position within a company, often leaving them exhausted, frustrated, and drained physically, mentally, and emotionally. Is that how we want our kids to remember their mother figure? A well-rounded yet absent mother archetype?
A happier home
Times do change; we can finally see tangible progress within the male-female dynamic. The traditional roles have officially opened their doors to versatility. Women today can pursue their careers, and men can take paternity leaves and bond with their newborns. Versatile and all-encompassing at first glance.
However, the thread of transgenerational heritage says otherwise: women who decide to pursue both paths (maternal and professional) are likely to experience double the amount of external (and internal) pressure. Quadruple. Failing is not an option. Get up at 6, make your picky eater the heartiest breakfast, and it's off to the races. And, as we all know, ladies, our men, too, like the attention. That's where the people-pleasing momentum kicks in. Serve the people.
However, establishing clear boundaries with your spouse and agreeing to split the chores can significantly help any working mom. Equality starts with setting healthy boundaries. Don't be afraid or too proud to say: I can't do this alone. I'm not a superwoman, after all. Share the burden with me.
Guilt tripping? No, thank you.
"I'm a terrible mother." "My career is stagnating." "I'm a failure. A complete mess." "I can't do anything right." The good, old guilt-tripping. A woman's existential coordinate system is a complex and, alas, encrypted apparatus. Nobody on the outside could ever possibly understand the intricate interconnectedness of a woman's heart-brain axis.
A tireless machine, calculating the fastest routes to make everything alright and everyone happy. But what about setting boundaries? A woman (especially a mother) is a finely attuned being. As such, there's a danger (professionally and personally) of being taken advantage of – primarily due to one's looming, bare sense of guilt. "I'm not giving my 100%." – But you are.
Know your worth. Understand your professional responsibilities. Do well. Go home. Boundaries can help separate the two. As with the professional plane, parenting can also benefit from team coordination. Responsibility distribution. Who's up for appetizers?
Setting boundaries: mental health
As we all know, all aspects of health are equally important: everything must thrive. Especially when you're a mom, you're their support beam, guide, source of unconditional love, and all things innocent, wise, and beautiful. The most important figure in our universe. A mother.
That said, working moms have it tough. Juggling between family life and professional growth, many find that self-care is beyond their earthly attending powers. Without setting necessary boundaries (personal or professional), we're bound to experience mental and, thus, physical exhaustion. We fall ill – and that's a luxury a successful, thriving woman and mother simply can't afford nowadays.
If you, as a mother, go down, the whole system collapses with you. Are you planning on moving long distance with kids? How will you prepare for the long trip with your kids? – By working on establishing healthy boundaries and painting your physical, emotional, and mental health green.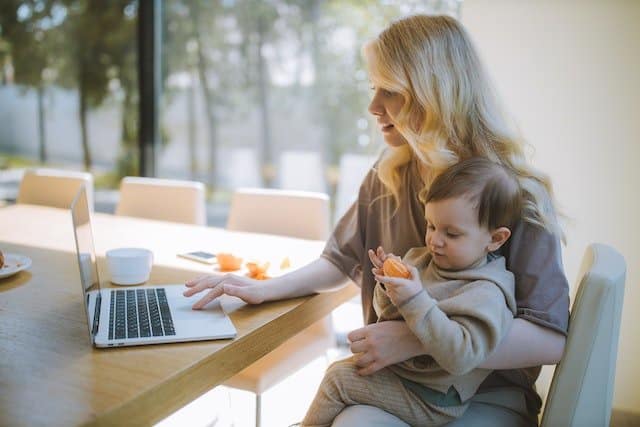 Embracing all layers
Healthy boundaries give us the invaluable: freedom of expression. All women are spectacular, delicately layered beings with more than one definitive role. A mother. A woman. A wife.
More often than not, society portrays women one-dimensionally, leaving no room for nuances and layers. To work, to nurture, to please. And to wish for world peace. But those days are gone.
Empowered and awake, women today can live a multifaceted life, explore their identity below the constructed societal surface – and enjoy life to the fullest. Teach yourself self-compassion. Remember, you're a mother, but you're also a wonderful human being, a friend, a lover, a professional, an artist, and a healer – you're so much more than just a mom. You're an entire micro-universe deserving of admiration.
It's never too late
If we're happy, they are happy. It's as simple as that. Setting boundaries, whether our high-stress work environment or personal life, impacts our children's growth positively. Set an example. Teach them self-love and self-care from an early age.
Join the Working Mom List
Join the Working Mom collective and get support and tools to help you thrive! Subscribers get access to my library of resources and printables.