*This is a sponsored post.
You might be provided with life insurance through your employer. It's a nice benefit that you can get on board for open enrollment. This might seem like enough to you. Who would turn down free life insurance? In reality, you might need more protection.
A lot of people think that as long as they have some type of life insurance, they are in a good place. People need to be aware of their coverage and what their life insurance actually offers. Unfortunately, it's not always enough when it's offered through your employer.
These are the reasons you should consider why your life insurance through your job may not be good enough and you may be considering between several term life insurance quotes.
Your Coverage Ends If You Leave Your Job
If you ever leave your job that you're covered at, you lose that life insurance you had. If this happens, you will need to get a new life insurance policy through a new employer or independently.
This means that you have little security with your life insurance. It can be useful to have a policy outside of the one offered through your job. Then, no matter where you might be working, you can have that policy.
It's also worth noting that you would be without a policy temporarily if you were in between jobs. If you lose a policy from one employer, you will be without life insurance until you get one yourself or find another employer who offers life insurance.
Life Insurance Through Your Job is Probably the Bare Minimum
When your employer offers life insurance to all of their employees, they cannot offer huge policies. These policies often do not have the value that you really need. The policies are fairly generic and not based on individual needs.
When an employer offers life insurance, they may offer a flat amount. This is typically around $50,000. Other employers might choose to offer a policy that is one or two times your salary.
This simply isn't enough for anyone who has a family or dependents. That $50,000 or a couple of years' worth of your salary isn't sufficient.
You Won't Have a Range of Policy Options
When you get a life insurance policy on your own, you can choose from a variety of options. As mentioned, your employer is going to choose a basic policy to offer to everyone. The problem is that everyone has different needs. Life insurance is very personal and should depend on your life and your needs.
If you have specific needs, you will not likely have those needs met when you get life insurance through your employer. If you want more options, you will need to get a policy on your own. Then, you can speak with a life insurance agent and discuss what you truly need.
Most employers offer a basic term life policy. Term life insurance is the right choice for lots of people. But, not everyone should get term life insurance. You might be better off with a whole life or universal life policy instead. If you're only covered through your employer, you might be missing out on a different option that can better fit your needs.
Your Employer's Life Insurance Policies Don't Cover Your Spouse
If you are married, you know that your spouse is covered under your health insurance. So, you might be wondering if the same is true of your life insurance. Your spouse is not covered under your employer's life insurance policy, which may mean that you need a new policy anyway.
It's worth noting that the breadwinner isn't the only member of the family who should be insured. Even if a stay-at-home parent passes away, coverage is needed. A stay-at-home parent or homemaker brings a lot of value to the family. If the homemaker passes away, life insurance can come in handy for numerous reasons including keeping the home clean, transporting the children, and childcare.
When Might Life Insurance Through Your Job Be Enough?
If you have a small life insurance policy through your employer, as mentioned above, you might be okay. In some cases, those policies are enough. Many people need something more, so be sure to keep that in mind.
If you are single and have nobody depending on you, you don't necessarily need life insurance. In this case, the policy from your employer would be enough. You could even do without it until you have dependents, if ever.
If you do have dependents, then your life insurance policy from your employer is not enough. You will need to get an additional policy. This will ensure that your kids are provided for, that your spouse can pay for the house, and that your kids can go to college.
Should You Ever Buy Coverage Through Your Employer?
Buying life insurance coverage through your employer can be a great deal. It's convenient because your employer has likely already researched the companies and their policies. This saves you time.
If you are going to buy a life insurance policy through your employer, you need to make some careful considerations.
You should make sure that you can buy a large enough policy to cover the needs of yourself and your family. As mentioned, some policies through your employer may not be large enough to truly protect you.
You will need to check and see if you can keep the policy if you leave the company. You never know what will happen in the next five or ten years. If you're going to buy a policy, you should make sure it's going to last.
You should ask about the payment. Some life insurance premiums may be paid via payroll deduction.
Closing
It's essential that you figure out what kind of coverage you have through your job. While having life insurance is a good thing, it may not be enough to protect your family. Consider the reasons listed above and determine whether you might need an additional life insurance policy. For a lot of people, getting another policy is the right choice so you can have the coverage you and your family truly need.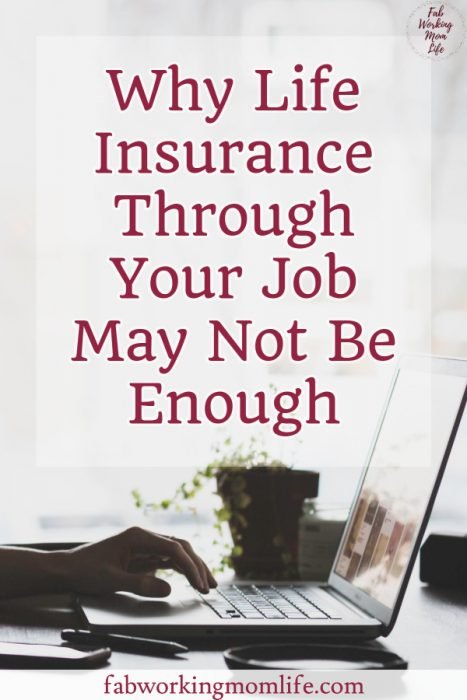 Author Bio

Mack is owner and life insurance expert at InsureChance. On a mission to create a way everyone can understand, afford and attain the right life insurance coverage to protect their financial responsibilities.
Join the Working Mom List
Join the Working Mom collective and get support and tools to help you thrive! Subscribers get access to my library of resources and printables.