We live in a "yes" culture, where we are constantly expected to take on more responsibilities, more work, and continue to attempt to climb to the top. But with limited resources (time, energy, mental capacity for more load), saying yes to everything is not an option. So we need to learn to say no.
But are you used to saying no? Every yes is a choice. Let's focus on learning to say no! Let's normalize hearing mom saying no! Read on for tips on how to say no at work and at home as well as how to say no to family and friends.
Updated in 2023
Working Moms Should Learn to Say No Like a Pro with These Tips
You have to decide what your highest priorities are and have the courage—pleasantly, smilingly, nonapologetically, to say "no" to other things. And the way you do that is by having a bigger "yes" burning inside. The enemy of the "best" is often the "good."
– Stephen Covey
Why we have a hard time Saying No
Why is it hard to say no as a mom? There are quite a few reasons why we always want to say yes. It's something we're conditioned to do, right? To be responsible, helpful, useful people at work and at home, we do what we are told or asked to do. What part of motherhood and/or being a working mom is the most difficult for you to say "no" to?
If you're thinking "when I say no I feel guilty" then you're not alone! But what other reasons keep us from saying no?
Guilt – we actually feel bad for not wanting to/being able to/being willing to help. We're too much of a team player to want to let others down. This is also known as being a people pleaser.
Rejection – if we stop saying yes, so will others to us, right? Maybe. Maybe not.
Confrontation – we really don't want our boss or significant other to get pissed at us for not wanting to do something. And if you're like me, a type 9, you're afraid of confrontation.
Opportunity loss – if we say no, we don't get to do that thing, and whatever the next thing that leads to. Could it cost us? FOMO and all that.
Genuinely want to help – I mean, we're good people. We really do want to help and if someone asks for our support, it kind of makes us feel good and wanted, right? I'm a type 9 anyway.
Lack of Boundaries – boundaries on our time and energy matter!
These are all valid reasons for our "yes culture" but that doesn't mean it has to be this way 100% of the time. This is why learning to say no is so vital for our to-do lists and mental load!
Why is it important to learn how to say no in a yes culture?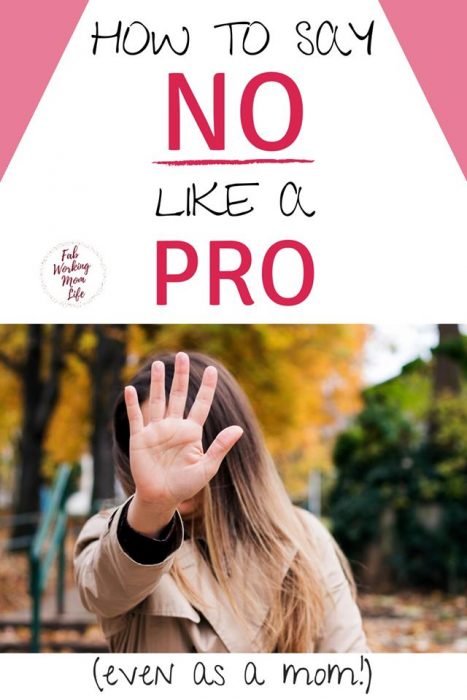 Importance of learning to Say No and Reasons for Saying No
Here are a bunch of reasons for you to learn how to say no without feeling guilty! This includes say no to work. Below are reasons why you need to learn to say no at work. Here are Benefits Of Saying No At Work!
Saying no puts you in control of your career.
How do you say no at work and still get ahead? While saying no to your boss or co-workers seems scary and wrong, it can actually help show your commitment to the quality of your work. Don't be afraid to say no at work! By saying no to some things, and expressing that you don't want to sacrifice quality and optimal performance on your other projects, you're showing that you can accurately maintain your workload and you are dedicated to producing good results.
Saying "no" shows you are not afraid to make decisions that are better for your clients and therefore your job. It also shows you are not a pushover who just wants to please everyone even when it isn't possible.
Also, saying no helps us build the courage to ask for what we do want. When turning down something that isn't a good fit, we can then clarify what project would be more exciting and more in line with our career goals. That's the why and how to say no at work to your boss.
Saying no demonstrates that you value yourself.
Saying no is a way of respecting and valuing your time and space. We can't be everything and everywhere at the same time, so we need to carefully select where we put our efforts. Or we risk being stretched too thin.
When your gut tells you something isn't right for your energy or time, respect your energy. What better way to practice mindfulness as a busy mom?
You can't please everyone.
When we allow ourselves to become stretched too thin, we're no good to anyone. We can't help ourselves, our loved ones, or perform well at work. Valuing our energy and time should be a high priority! We're not responsible for other people's reactions of us and we're truly responsible for only a few people's happiness. What part of motherhood is hard to say no to?
Saying no as a mom can sometimes make us feel left out, that is true. But remember we need to be selective with how we fill our schedule or we may end up not enjoying anything and being in a lousy mood during events that are important to us. Yes, you can learn how to say no at work without feeling guilty!
Learn how to say no without feeling guilty as a busy working mom.
Saying "no" gracefully but assertively
When people expect things from us, we always want to please. But we've discussed that it isn't possible to do all the things and so we need to learn to gracefully say no to some things and some people. We want to learn how to say no without hurting someone's feelings. Let's look at these how to say no at work examples.
Here are some simple examples of a gentle and respectful way of saying no without guilt:
I have other priorities currently and cannot commit to this project. Why don't you ask X?
Let me think about it first and get back to you.
I'm in the middle of something right now, let's chat at X time instead.
I bet X would love to help you with this, but I'm not the right person for the task.
I'm swamped right now with this project, but I can help you next week, would that work?
I'm already committed to X, it's a shame I can't help with Y right now.
I'd love to help with X, but that means I won't be able to get Y done by the deadline. Which would you like me to prioritize?
That's so sweet of you to ask, but we already have plans that day.
Unfortunately, my availability is limited and I will not be able to participate in X. Thank you so much for thinking of me.

Work Situations to say "No" to
There will be plenty of work situations that you might want to say yes, but you need to consider that "no."
Unreasonable last minute projects or deadlines – push back with your current workload and suggest a reasonable deadline instead.
Interruptions on your projects – it helps to keep your door closed, ignore emails and Teams meeting pings when you're doing focused work on your main project.
When the task isn't even in your skillset – if it isn't something you need to learn/want to learn, say the task is outside your expertise and suggest a co-worker that might be able to handle it.
The task is not your responsibility – Have task roles changed in your department recently? Let the requestor know and definitely toss it to the person who is responsible.
You're taking PTO – make sure you set your out of office message and don't reply to emails during that time. If something is going to be scheduled when you have PTO set up, let people know you are scheduled to be out and unavailable for that task/meeting.
Unethical or unsafe tasks – point out the task is against the company code of conduct and stop work.
How do you say no like a pro?
You do not have to fulfil every request that comes your way! Do you not deserve to manage your time and energy? That's why saying no is so important. Learn to say now like a pro without the guilt.
"No" might not be a word you are used to saying often, but if you find yourself stretched far beyond what you can handle, or even reaching that limit, then saying no is a must. Next time you feel a "yes" coming on when your whole heart is screaming "no," honor that and set your limits.
By leaving more space for yourself to focus on what you have already said "yes" to, you will be able to bring your best.
Learning to say no at work and how to say no to family is a huge help for us moms!
Thoughts on saying no as a mom
As a mom, saying no can be one of the most challenging things we face on a daily basis. We want to be our children's everything and fulfill their every desire, but sometimes that means sacrificing our own needs and boundaries. The pressure to always say yes comes from society's expectations of what it means to be a good mother—always available, selfless, and giving. It's like we're expected to have an unlimited supply of energy and resources.
Another reason saying no is so difficult for moms is the fear of disappointing or hurting our children. We don't want them to feel rejected or unloved, so we often say yes even when it goes against what we truly want or need. We are constantly battling with guilt because we worry that by setting boundaries or saying no, we are somehow failing as moms.
But here's the thing: learning how to say no is not only vital for our own well-being but also teaches our children valuable life lessons. By seeing us set boundaries and prioritize ourselves occasionally, they learn about respect, self-care, and the importance of balance in relationships. Saying no doesn't make us bad mothers—it makes us human beings who have limits and deserve happiness just like anyone else.
How to say no book suggestions:
---
This post is part of the 31 Tips for Working Moms series. See the rest of the posts here:
Join the Working Mom List
Join the Working Mom collective and get support and tools to help you thrive! Subscribers get access to my library of resources and printables.