Inside: Do you know what to look for in a home daycare? This article discussed things to look for in a daycare and especially an in home daycare.

What to look for when choosing a daycare for working moms
A few years ago, I took the leap into starting my own "daycare". I never call it that. To me, I always "just babysit" a few kids to make some extra cash while being a housewife.
As our family grows, the number of kids I take on has decreased. I now only work for one other family. She's off on maternity leave right now (we had our second kids at the same time), which means so am I.
Since I've had my own kids, I think a lot about what I would look for if I were needing child care. Truth be told, I thought about that before I even had kids. It's how I run a successful business.
You see, I try to find what I would want for my own kids and emulate that in my home so that other parents feel comfortable leaving their children here. Then I strive for perfection. That's how to run a successful in home daycare.
Slacking off is not an option when it comes to children. Do not accept sloppy behavior in the care of your children.
Your kids are your top priority and it's of the utmost importance to find them the best care you can afford. Don't settle for less than the best. Make sure you do thorough research and background checks on any and all candidates. Especially if you're looking for someone to come into your home or nanny your children exclusively.
Read on for what to look for in a quality childcare provider when you're looking for daycare for working moms.
Here's what to look for in a home daycare or home babysitting service:
Not spotless because, well, that's near impossible. But the home/area should be free of filth and cleaned on a regular basis. Constant dirty dishes, trash, and debris are breeding grounds for bacteria, but also cause accidents and trip hazards for caregivers and children.
If your prospective child tender seems off-putting or rude he/she doesn't need your business. Likewise, if he/she doesn't seem to like children!
Kids need routine and structure. By having a plan and a set of rules and routines your child(ren) will thrive in his/her environment.
Healthy and planned meals and snacks. Be sure to ask about this when you interview your options.
Talk to other parents. Testimonials and experience are the best gauges of what the place is really like.
Daycare Red Flags
If the price seems too good to be true, it probably is. Speaking as a babysitter, it's really hard to make money as a caregiver. There's a lot of expense and you can't charge anywhere near minimum wage. Make sure the facility is offering proper meals, activities, and programming, if applicable. However, a higher cost doesn't necessarily mean better, either.
He/she won't let you past the front entrance. If you're feeling like there are some hidden issues, back away slowly. I have total transparency with my families. There's nothing I would be ashamed of or have trouble explaining in our home.
Over-eager. If the caregiver is too willing to take your children, it might be a red flag. He/She may just need the money and is looking for an easy job (haha, it's not easy!), or he/she could even be a predator! But it also might be a good sign. He/she might just be an over-zealous person and really love kids. Do your research.
Shady part of town/house. I know you don't want to be judgemental, but when it comes to the safety of your kids, you need to be cautious. If you wouldn't feel safe there, don't go.
Last, but certainly not least, trust your gut. If something just doesn't seem right, it probably isn't. If your kids don't like going to daycare or the babysitter's house, there's likely something going on. Do a surprise visit to ease your mind or confirm your suspicions.
Don't forget your Custom Daycare or School Labels Pack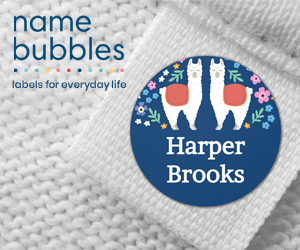 P.S. If you are looking at hiring a nanny, I have prepared a Nanny Contract Template to help you hire your own nanny.
Read other posts from this childcare and nanny series
Author Bio

I'm Katelynn, an (almost) 27-year-old stay-at-home-mama to 2 precious miracles – Sweet Girl (20 months) + Pip (3 months), as well as our fur baby – a Blue Heeler x Great Pyrenese, Silver. I'm married to my best friend & love of my life (how cliché, right?). Together, we live on a very special yard, close to the family farm and my husband's home "town" of about 25 people. We're part of that community, as well as the one I grew up in (300 people), about 10 miles from home. I enjoy a simpler way of life – getting back to nature, reusing + recycling, gardening + preserving. My hobbies are sewing, dirtbiking, reading, spending time at the lake cabin, hunting and watching my kids learn and grow.

https://www.hampersandhiccups.com

https://pinterest.com/hampersandhiccups

https://twitter.com/hampsandhiccs
Join the Working Mom List
Join the Working Mom collective and get support and tools to help you thrive! Subscribers get access to my library of resources and printables.