Moms who travel weekly for work are often juggling many balls. They are trying to be good employees, good mothers, and good wives. Often, they feel like they are failing at all three. These moms are not superwomen, they are just like any other working mom. They just have to travel for work.
Do you travel for work? Traveling is fun and exciting but requires special planning. Traveling as a mom, especially a working mom, includes extra layers of complication. Here are some must-have items for working moms who travel for work.
Do you travel for work?
Do you hate traveling for work? First, let's clear one thing up. Do you have working mom traveling guilt? Let's nip that in the bud right away – you are amazing and are doing great by juggling a career and children and you'll get the hang of balancing work travel and family needs.
While I agree traveling for work with a baby is tough, it is doable with your support system in place. Whether it's your first business trip away from your toddler or you've been traveling since you returned to work, keep at it, mama! The business world is full of parents who travel for work and the world keeps spinning! Your kids will be fine, you just enjoy the trip!
If you travel occasionally or if you're one of those moms who travel weekly for work, enjoy this list of tips moms traveling must know and items you can't leave home without!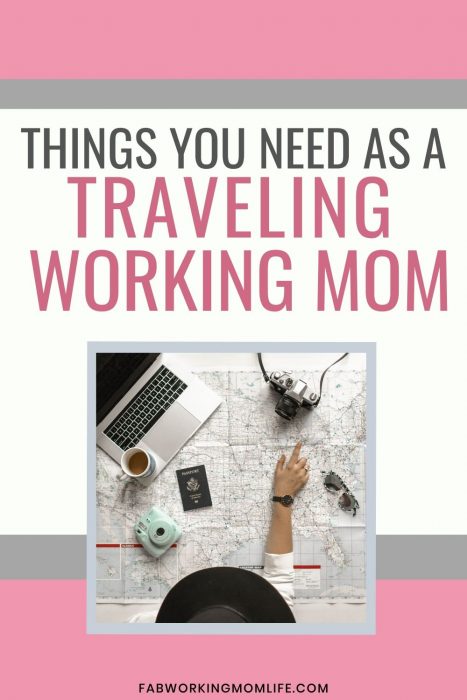 Tips for The Traveling Working Mom
As a working mom, it can be difficult to find the time and energy to travel for work. However, there are some tips that can help make the process a little easier.
Plan your trips in advance so that you have time to prepare both mentally and physically. This means packing your bags ahead of time and making sure you have all the necessary documents and items with you. If you're breastfeeding, find out the airline rules for traveling with breast milk and where you will pump and store the breastmilk during the work trip. Making to-do lists and staying organized with everything you need for your trip, as well as who is covering for you at home, your work trip will be smoother.
Also see if you can find hotels or Airbnb accommodations that offer childcare services. This can be a lifesaver when you're trying to balance work and child care and you're traveling with your children. If your children are staying at home with a caregiver, you can spend some time telling them about your work trip and sharing fun tips and souvenirs from your travel location.
Finally, don't forget to schedule some "me" time into your trip. Enjoy the time you have free, guilt-free! Just get rid of that mom guilt already!
Enjoy the rest of the tips below!
TSA Pre-Check
TSA Pre-check is amazing! For the annoyance of one appointment, a fee, and a background check you get to breeze by the security lines! The check lasts for 5 years.
Don't have to stand in the long line like a peasant (my husband's words)
Don't have to take off shoes or jackets
Don't have to pull out your toiletry bag
Don't have to remove the laptop from the bag
No bins! Just put it all on the belt. You do get a small bowl for your small items (keys, phone, etc).
Entertainment
When you're traveling child-free, a great book is a must for a long flight. I mean, I suppose you can have your laptop out and be working, but travel is stressful enough. Pack your tablet or kindle and load it up with some good reads. Maybe download an audiobook or two and don't forget your earbuds.
When traveling with children, all of that entertainment becomes super important too. You'll also need toys and snacks and other activities to keep toddlers busy on an airplane.

Portable WiFi Hotspot
Traveling can mean limited access to the internet. But if you're always on call, having a portable wifi hotspot is such an important and valuable tool to have. heck out DuoTurbo by GlocalMe.
Dual modem will allow you to have one modem in operation while the other is always on standby to provide backup. This robust function allows WiFi continuity with seamless 4G failover. Together with CloudSIM technology, supporting pay-as-you-go, multiple network best connection and roaming free services, DuoTurbo reduces the risk of dropped connections and gives you the comfort of having that added security at home or on the go.
Power Bank
Having backup power for your mobile devices is a must when traveling! We can't always plug into a charger, but a ready-to-go portable charger is a lifesaver! Check out the Crave power bank. Crave PLUS Portable Charger with QC 3.0 + Type C
– 10000 mAh Capacity
– Quick Charge 3.0
– USB and Type C Ports
– Thin Aluminum Design

Comfort Items
Travel tends to be uncomfortable. Having items that help improve your comfort levels are important. This could include an airplane blanket or heck bring a snuggie!
A travel pillow is also a must.
While you're at it, don't forget to bring a refillable water bottle that you can fill up after security.
Blue Light Blocking Glasses
Pack a pair of blue light blocking glasses like these from Sapphire Eyewear to help avoid eye strain while working on the laptop or phone on the plane, in hotels, and at the office.
Return Reward Tags for lost items
Did you know?
In the US alone, 12K laptops are lost weekly in airports (according to Computer Science Zone).
The most commonly forgotten items in an Uber are your phone, camera, wallet, keys, purse/backpack, glasses, and ID/license (per Uber's 2019 Lost and Found Index) —all of which can be protected by discrete and virtually weightless SPEECHEE Return Reward Labels.
I'm partnering with SPEECHEE to help us all out with that travel mental load and relief. I always wonder, what if I accidentally leave this behind somewhere? Or my child does? Hey – everyone loses things.
SPEECHEE's Return Reward Tags are sleek, virtually weightless labels that you can place on any important item and register with the free app, providing peace of mind that your item can be found should you misplace it. Whoever finds it can send a picture of the label to the number provided, you'll be notified, and then you can reward them for finding it.
Use my code Getjulie10 to get 10% off!
Travel Tote
A fabulous travel tote is a must for working moms. Do you need to be able to store your laptop, the essentials, maybe a change of shoes? We recommend the Ella Tote by MinkeeBlue, a large travel/work bag made of nylon and vegan leather. So if you're looking for the best travel bag for working mom this is it!
Features:
Folding panel transforms bag
Key fob
Back slip panel for handles of suitcases
Expandable side pockets for water bottle, umbrella, phone
Two inside patch pockets
One inside zipper pocket
Top back zipper
Padded inside slip pocket fits up to 15″ laptop
Protective metal feet
Two points of entry to access bag contents
Insulated Lunchbox
Get this gorgeous Modern Picnic Backpack with insulated interior, vegan leather exterior + a padded laptop sleeve. Modern Picnic is a female-founded brand that offers high-end, vegan leather, insulated lunch bags for women. These make a perfect lunch box for work!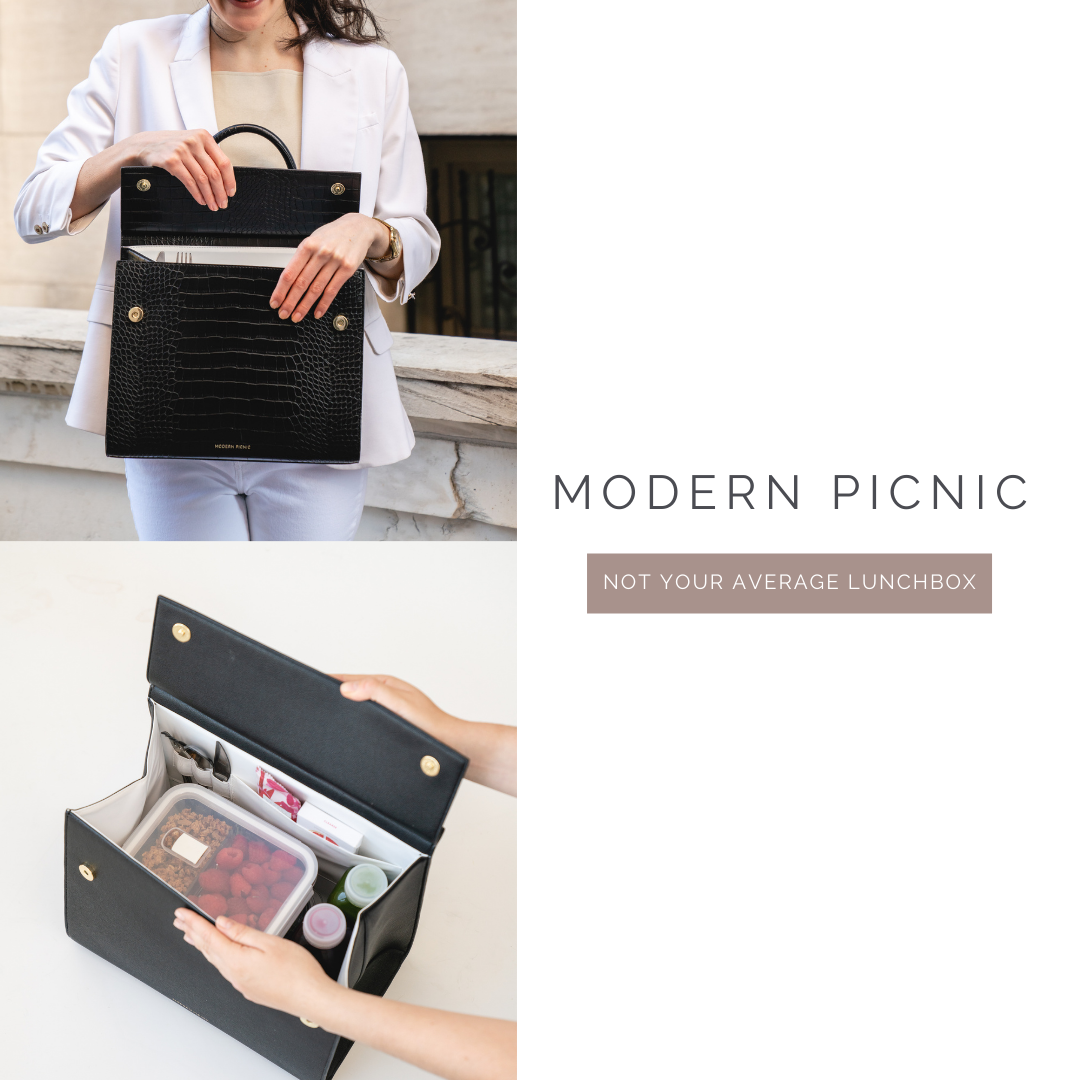 Travel Suitcase
For the working mom who travels for work, a great carry-on suitcase is a must! And when traveling with family, it is definitely helpful to have a separate suitcase for kids!
Chester was created to meet the needs of the modern traveler and make the journey better for all. Chester offers a beautiful, high-quality, and functional carry-on at a fair price.
Sleek 100% polycarbonate hardshell to balance durability, flexibility, and weight (7 lbs)
Perfectly sized (21.5" x 13.5" x 8.5") to fit overhead bins of all airlines and 3-to-5 outfits
Thoughtful compartments, featuring three interior organizers and removable laundry bag
Four silent, multi-directional wheels for a smooth roll in any direction on any terrain
TSA-approved lock to ensure safe belongings
100% aluminum telescoping ergonomic handle with two lock positions
10-year warranty
Seven colors: Black, Ocean Blue, Sky Blue, Charcoal Grey, Aluminum Grey, Sand, Pink

Use my code FWML at checkout to get a 10% discount!
RFID Travel Wallet
The Zoppen Mulit-purpose Rfid Blocking Travel Passport Wallet is a lovely option for both travel and everyday use. It folds up nicely and can fit many important documents. And you know us Moms carry a lot of cards and items in our wallet!
RFID blocking shield material under frequency 13.56 Mhz – protect your personal information

The wallet organization consists of 1 passport pocket, 1 boarding pass compartment, 3 credit cards slots, 1 ID slot, 1 sim card pouch, 1 coupon ticket slot, 1 cellphone pouch (max 5.8 inches), 1 money & coins zippered pocket, 1 key holder and 1 pen holder, 1 slim pocket

Made from high-quality ECO-Friendly PU leather

Trifold closure

Vintage looking, Chic style, Multi-functional design, Soft, comes in various colors
Compression Socks
Compression socks are a must for travel! They keep your circulation going and help avoid the pain and discomfort caused by long trips.
COMRAD | Premium and Stylish Compression Socks for Multipurpose Wear
Improve and boost circulation – graduated compression technology (15-25mmHg) provides the ideal compression to provide the maximum boost to your blood circulation and increase stamina. This helps reduce lactic acid build-up and aids muscle recovery in your calf, ankle, shins, feet, and legs.

Multi-use – Travel, Pregnancy, Athletics, Recovery, Business, and Casual!

Anti-Odor and Anti-Static – Comrad's unique fabric stops the growth of bacteria and fungus, while wicking moisture/sweat away from your feet. Deodorizes and keeps you dry.

Prevent/Recover from Circulator Issues – Designed to support blood flow and muscle fatigue. Get the relief you need while increasing energy, preventing swelling, or recovering from shin splints, varicose veins, and other common medical issues.
Scarf with Secret compartment
Shop Pop Fashion – Chevron Scarf for Women – Zipper Pocket Storage for Phone and Keys is great for traveling moms. Since we all know women's clothing is lacking in the pockets department, this keeps all your important possessions safe and close, without overflowing your tiny pockets or being obvious.
This zipper scarf features a white hidden pocket to carry all the essentials making it the best-selling clothing accessory for any woman on the go!
Carry all the necessities including passport, money, keys, cell phone, or wallet.
First Aid Kit
When traveling, it is always a good idea to have emergency supplies on hand. Of course, it is vital to bring your medication on any travel so you don't lapse. But it is also important to have other supplies should there be an injury or illness while away from home.
These bicycle first aid kits from SJ Works are a great option for travel as well since they are sleek and can fit in a suitcase well. Always good to be prepared.
Hand Sanitizer
Travel has lots of opportunities for germs. Don't forget your hand sanitizer! A good quick way to kill germs on your hands when you can't do a full soap hand washing.
You can fill this lovely bracelet with your favorite hand sanitizer and can easily sanitize on the go!
Masks, because we're still in a Pandemic
Pandemic life is weird. Things are opening up but it's still germy out there. The best way to keep each other safe is to wear face masks, to keep from releasing sickness droplets while we're talking and breathing. Because many carriers are asymptomatic, you might be sharing the virus with your fellow working moms on an airplane. So wear your masks and show kindness to others.
This one is lovely and positive:

They also have kids masks!
Iron in a Bottle
I hate ironing. I tend to stick with easy-to-care-for fabrics but even those can come out wrinkly in the laundry pile. So travel with Tom & Sheri's Iron in a Bottle – a spray and smooth solution to ironing. It's the ultimate solution work travel with clothing getting wrinkled in the suitcase before a big meeting.
Dustlabs Bedphones
These Bedphones are great for travel so you can listen to your favorite music, audiobooks, podcasts, and soothing sounds. These are on-ear, incredibly thin, adjustable headphones. Bedphones come in a convenient travel case, and won't hurt after being worn for extended travel. The patented, lightweight design means you'll hardly feel them.
Conclusion
In conclusion, being a working mom and traveling for work can be a difficult juggling act. However, it is possible to manage if you are organized and have a good support system. If you are a working mom who travels for work, make sure to take advantage of any resources that your company offers, such as backup child care. And when you are on the road, try to find ways to connect with your family back home, even if it is just through a quick phone call or video chat.
It can be difficult to find the time to spend with your family and also complete your work tasks. However, it is possible to manage both if you are organized and have a good support system. If you are a working mom who has to travel for work, remember to take care of yourself and make time for your family when you can.
What other travel must-haves can you share with us? Drop a comment!
Join the Working Mom List
Join the Working Mom collective and get support and tools to help you thrive! Subscribers get access to my library of resources and printables.