Every night there are tears. Every night a battle. I find myself repeating the same phrases.
"Please go to sleep," I say pleading.
"Lay down" and "stop jumping" I beg, as I am worried he may hurt himself.
I may not want to admit it, but it is time. My son has informed me that he no longer intends to sleep in his crib, and now I must face a scary milestone: transitioning my toddler from his crib to a bed.
Tips on switching child from crib to toddler bed.
Crib to Toddler Bed Transition
This is a scary milestone, isn't it? Taking a child from a confined safe place like a crib and letting him freely roam his bedroom is something I was hoping to postpone for quite a while. I even tried putting sippy cup in crib to keep him sitting or laying in it and not trying to jump out.
But I'm not really in charge here, am I? I'm stuck with my 18 month old climbing out of crib!
The baby leads the way to his milestones, without asking me for permission. So now we're wondering about the process of transitioning to a toddler bed at 18 months!
So how do we go about helping our toddler transition from crib to bed? We look for signs your toddler is ready for a big bed.
How I knew When to Switch my Toddler from a Crib to a Bed
So at what age do you transition from crib to toddler bed? Do you know when to transition from toddler bed to twin bed? It's important to notice signs your toddler is not ready for a bed and signs your child is ready for a toddler bed.
My answer? When the child is ready!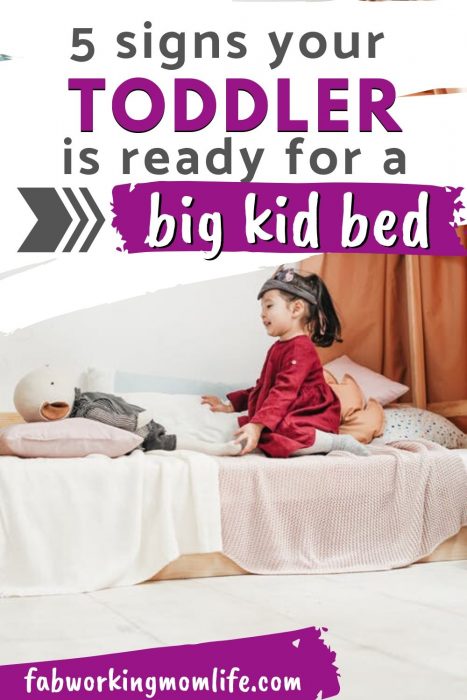 Signs your toddler is ready for a big bed
There are signs to look out for that help us realize our children are ready to move out of the crib. These are the signs I noticed that informed me it was time.
When standing up, his armpits are above the horizontal bar on the front of the crib. This shows he could climb out.
He jumps and bounces in his crib. One good bounce and he could launch himself out of the crib.
Throwing himself against the crib rail. Yes, one time hard enough to give himself a bloody nose. That was fun.
Immediately starts crying and protesting upon being laid in the crib. While not an indicator by itself, combined with the others is compelling.
He likes to climb onto our beds and cuddle with us.
How I Transitioned my Toddler from a Crib to a Bed
Transitioning toddler from crib to bed
We already have a bed in my child's bedroom. I've slept on that bed many nights when he was an infant, and I nursed him on that bed. We also sleep on that bed together when he wakes in the night and can't go back to sleep without me holding him. So he is very familiar with this bed and often crawls onto it by himself.
If I were going to introduce a different bed, a toddler bed maybe, I would have it in his room for a while and let him get familiar with it before making the change. If you don't already have a bed, you might like to read these reviews of organic mattresses for kids.
Babyproofing toddler from crib to bed
Having the bed idea already planted in his mind, what I had to do next was to ensure his room was safe. He rarely spends any time in his room alone, so there were still a few things we needed to baby-proof.
Here's a list of the baby proofing we did in his bedroom, either before or as part of the out of crib transition:

When do you transition a toddler from crib to bed?
Toddler Transition from Crib to Bed: Success
Check him out, playing on his bed before bedtime. He's got a lot of what he had in his crib – some toys, his blankie/burp cloth, a book, his pacifier, and a sippy cup with water. Now he has a lot more room to sleep and roll around, and if he wakes he can play with all the toys in his room and not feel caged in.
Sharing my transition from crib to toddler bed advice
Hopefully, this will help him sleep more peacefully.
Maybe there will be no more nightly battles and fewer tears.
Well, a mom can dream, right?
Over to you: Share your toddler crib to bed transition wins and tips with me!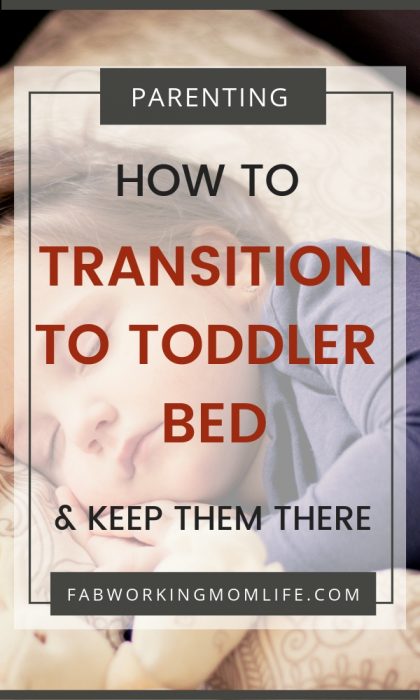 Join the Working Mom List
Join the Working Mom collective and get support and tools to help you thrive! Subscribers get access to my library of resources and printables.