Inside: Is your Toddler Obsessed with The Itsy Bitsy Spider song? Try these itsy bitsy spider activities for toddlers and spooky fun itsy bitsy spider craft ideas.
There was a time when my toddler would cry out: "Mommy, spider!" and I would scream "where??"
Now, I know he is demanding the song, and not informing me that a creepy crawly is about to get me.
But what do you do when your toddler is obsessed with the Itsy Bitsy Spider song? You give in and play along, of course!
Itsy Bitsy Spider Activities for Toddlers
First I want to give props to my friend for her inspiring post, what to do when your toddler is obsessed with the Daddy Finger song. Mine is crazy about that one as well, see? But nothing is more exciting than the Spider song, so I thought it would be fun to write a post like this.
It all started out with this simple short video when he asked us to sing itsy bitsy spider song, that later exploded into recommendations of a variety of spider songs for kids leading into hour-long nursery rhymes! So what do you do when your child is obsessed with itsy-bitsy spider song?
Embrace the Itsy Bitsy Spider Toddler Obsession
I actually now have a special playlist on YouTube for my son, and most of the songs are variations of Itsy Bitsy Spider (and itsy bitsy spider variations such as Incy Wincy Spider because apparently, we can't decide what the song is actually called). He now sometimes asks for a spider of a particular color, and I have to find the right video. It's always exciting to have a toddler who rules over you.
So with the obsession, comes fun ideas for itsy bitsy spider props, crafts, and activities to do something other than watch YouTube for hours.
You can read the book together! Finger puppets for the win! I love the soft sensory experience with this Itsy bitsy spider book! Don't forget the itsy bitsy spider finger play!
This singalong book is from Little Baby Bum, which is one of the channels my toddler LOVES!
Here's another interactive one where you can touch and trace! I love that!
How about this wonderful activity book from our favorites at Melissa and Doug?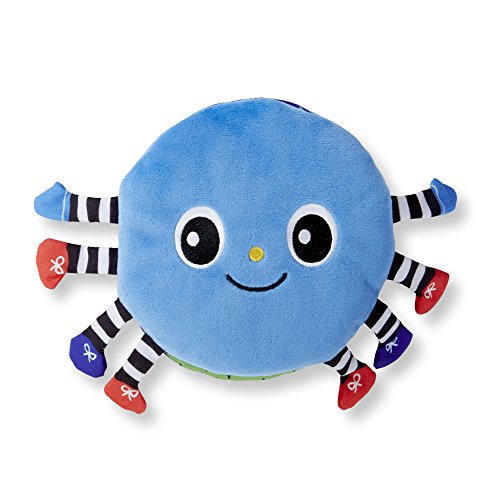 Do Itsy Bitsy Spider Craft time Together
Here are some great itsy bitsy spider activities for toddlers you might like to try.
You may remember my fun craft stick spider craft post I made for fall. And if you don't, you should totally check it out. This craft was inspired by the obsession that my son was starting.
Easy Paper Plate Spider Craft
Well, we recently did another craft -this time with paper plates! Well, just one plate.
Supplies:
Directions:
My preschooler loves to cut, so I let him cut up a green piece of construction paper (his current favorite color), while I made the legs.
I made the legs by folding up a piece of construction paper in half three times and cut the folds to make 8 pieces. Then, I folded them up from one side back and forth (accordion style) to make it wavy like that.
I glued the legs to the back of the paper plate and let my kiddo glue the cut up paper on the front to make the face/body of the spider. Don't forget the eyes. Fun and easy. Yes!
More Spider Crafts
I've seen quite a few paper plate spider crafts, like this paper plate spider puppet, and I think we need to do one for sure!
I want to make this climbing spider craft so bad! I mean, for my toddler of course. You can also get really active and make a giant spider web.
Itsy Bitsy Spider Playful Learning Activities
I want to do this STAT! This – wonderful itsy bitsy spider window activity. I just know my son would love it.
I stuck this project under learning because the craft itself looks complex for this novice (read: toddler-level skills) crafter. But the post talks about language development and it has some really good points. The fun part is the craft allows the spider to move up and down the "spout" so that allows for activity and language learning.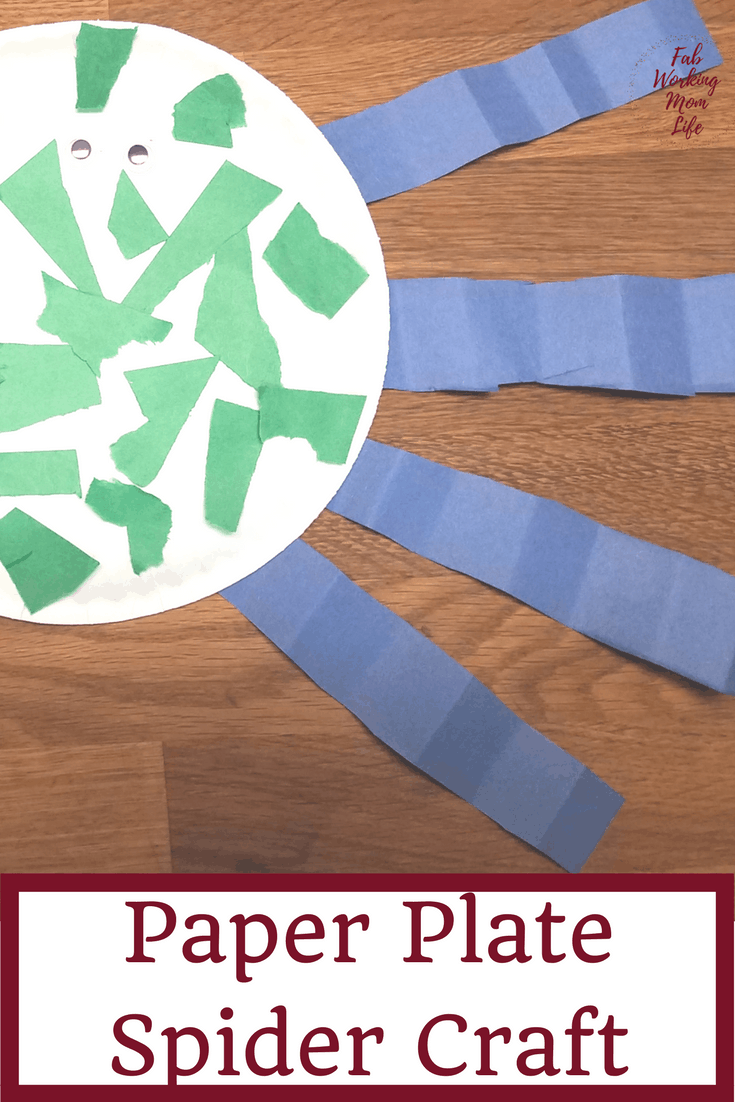 Is your little one obsessed with spider songs for preschoolers like the itsy bitsy spider? Hope you make some of these spider crafts!
What nursery rhyme songs are your kiddos obsessed with? Can you turn it into something fun?
Join the Working Mom List
Join the Working Mom collective and get support and tools to help you thrive! Subscribers get access to my library of resources and printables.