A few weeks ago I had my very first drive-in movie experience. We went to see Jurassic World at the Houston-area Showboat Drive-In with another family.
I was super excited about this because Hubby and I can't go to a movie together without having to pay for babysitting, so we haven't gone to a movie together yet. This way, not only could we see a movie and bring the baby with us, but I could even nurse during the movie from the privacy of my car. Score!
But, being inexperienced with this type of movie viewing style, we definitely learned a few things to do differently next time.
So here are some tips based on our experience going to a drive-in movie that I wanted to share.
Drive-in Movies with a Baby
Bringlawn chairs, or sit in the back of your truck.
We took my SUV thinking we would need to idle during the movie to have A/C (I mean, even in the evening, it is HOT in Texas). So we didn't bring hubby's truck since it is a diesel and in high idle, we thought it would be too loud.
As it turns out, the theater does not allow vehicles to sit idle. So, we had to sit with our windows open to allow for a small breeze, which really didn't work that well.
Baby and I ended up overheating and I watched most of the movie standing up next to my car holding him. If we had taken Hubby's truck, we could have parked it backward and sat in the bed on some blankets or lawn chairs with his car seat next to us.
Bring snacks/food.
Since you're driving in your own vehicle, you are able to bring your own snacks with you.
We actually grabbed some drive-thru fast food and brought it with us to eat/drink during the movie. That was fun.
Get there early to get a good parking spot near the screen.
The movie starts at dusk, but people start arriving way early to hang out, tailgate, eat, whatever. If you end up getting there late and park near the back there might be issues with visibility (since the parking lot is not stadium seating like a regular movie theater).
Plus, every time someone decides they want to move their car or leave early, everyone behind them gets bright lights in their eyes. Although if you arrive in a tall vehicle you may be asked to park in the back anyway.
Bring a portable radio if you will not sit inside your car.
To listen to the movie you have to tune to a specific radio station. Next time we plan to sit outside the car or in the bed of the truck so we can bring a portable radio to have the speakers right next to us.
Follow general etiquette.
Even though you can watch a movie in your own car, you are still out in public and do not want to ruin the experience for others.
Turn off your headlights so when you turn your car back on you won't immediately shine bright lights on people while you're waiting to be able to exit.
Don't tap your breaks – it is really annoying to the people behind you.
Keep conversations to a minimum.
If you eat, throw your wrappers into the garbage.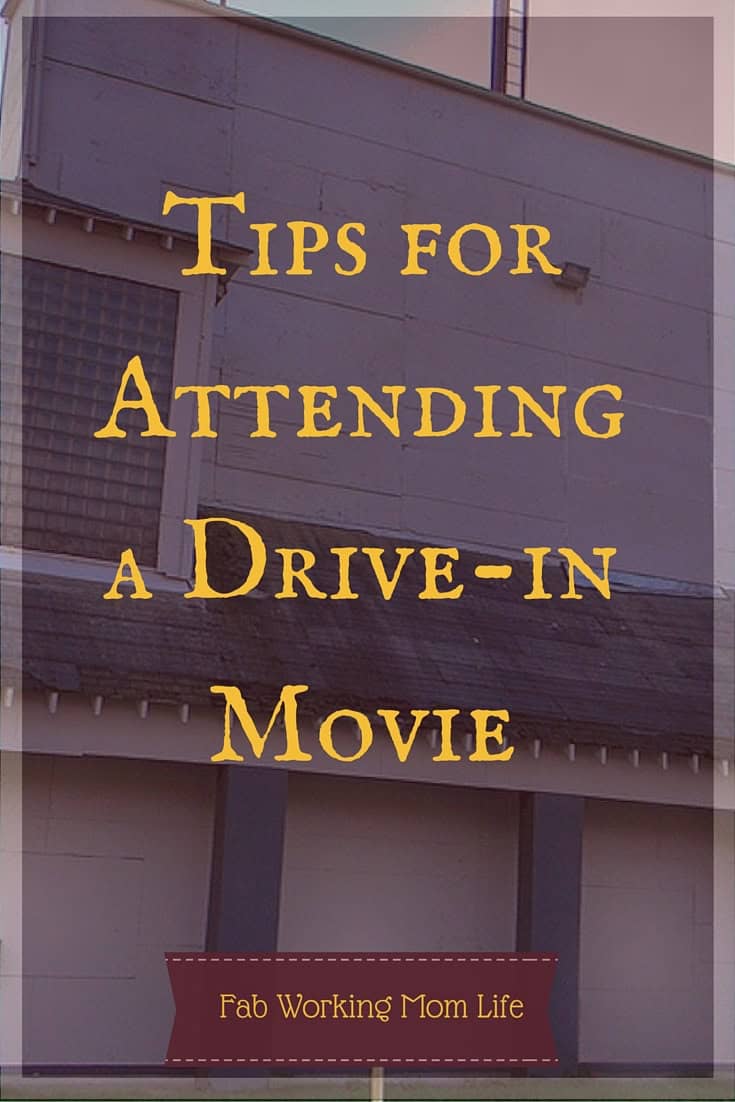 Do you have any drive-in movie tips to share?
This post is about going to a drive-in movie with a baby. You might also like my post about going to the movie theater with a toddler.