Do you know how to defrost breast milk? Inside is a Q&A: how to thaw frozen breast milk.

This post shares valuable information to help new breastfeeding moms learn how to thaw breast milk.
10 Tips on How to Defrost Breast Milk
Being a working mom is not easy nowadays. And in the case of breastfeeding, working moms choose to combine direct breastfeeding and breast pumping. So, you tend to pump and feed your baby from a bottle. Consequently, you are going to freeze some of the pumped milk for later consumption.
Now, your baby is hungry and you are going to defrost some of the frozen milk. Let's learn how to unfreeze breast milk. Our friends from Breastfeedo provide us some Q & A about the breast milk thawing process. Keep reading to find out how to warm breast milk from fridge.
And if you want some additional support and a chance to get ready for pumping before you go back to work, check out this fantastic pumping class!

If you're thinking about traveling, read my post about flying with frozen breastmilk.
Now onto the Q&A to teach you everything you need to know about how to defrost frozen breast milk.
Why is microwave not suitable to thaw (unfreeze) your breast milk?
Wondering how to unthaw breast milk? Don't do it in the microwave. Here's why:
Generally, the microwave is not suitable for all types of liquids.
Plus, using the microwave in thawing the breast milk could scald your baby or damage the vital components of the breast milk.
Not only that but the breast milk bottle may explode due to the high pressure of heating.
Can I apply direct heat to thaw frozen breast milk?
How to thaw frozen breast milk with heat. You can't use direct heat in thawing breast milk. It has the same effect as the microwave in destroying breast milk components.
Instead, hold the frozen bottle or bag of breastmilk under lukewarm running water.
How long does it take to thaw breast milk? How can I thaw breast milk properly?
Thawing frozen breast milk can be accomplished in several ways. You might also wonder how do you defrost breast milk quickly?
First way is slower for defrosting breast milk:
In the refrigerator: leave the milk to thaw for 8-12 hours. After that, you have 24 hours to consume all the defrosted milk.
Thawing breast milk in warm water:
Under running tap water
Faster way: use a warm water bath or a bottle warmer (but not hot water)
How long does it take to defrost frozen breast milk in warm water? Typically about 20 minutes.
How long is breast milk good for after thawing?
Discard any residual after the 24 hour period. It is no longer good or safe after 24 hours.
(Remember, don't try to refreeze again, or add any unused portions to frozen milk)
How to make the breast milk thawing process easy, smooth, and quick?
Simply follow the next two tips before freezing breastmilk:
Avoid filling the bag or bottle to the very top. Always, leave 2 oz space between the surface and the top, as the frozen milk expands.
Use a tray to get the breast milk in small cubes. The smaller the size, the lesser the effort/time to thaw.
Even if you are using a bag, fill only a few ounces per each bag.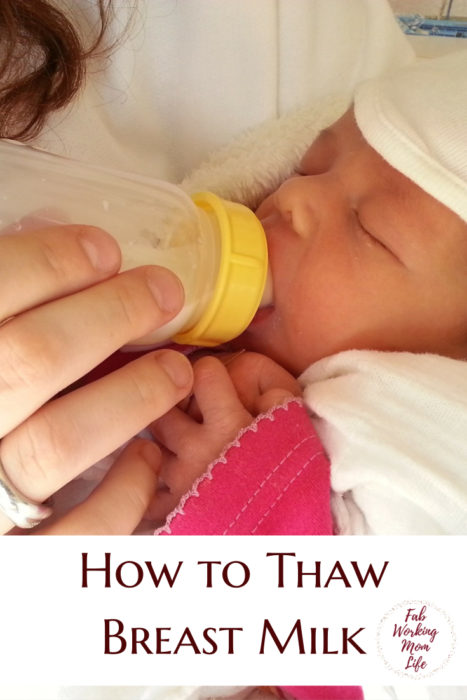 Can I leave thawed breast milk at room temperature?
How to defrost breast milk at room temperature. If you're wondering why can't you thaw breast milk at room temperature, technically you can.
The maximum time thawed breast milk can be left at room temperature is 2 hours. Discard any remaining amount after this time.
We will note here that if this is freshly expressed breastmilk not previously frozen, you can store it at room temperature for up to 4 hours. There's a great chart here.
Can I put breast milk back in fridge after baby drinks from it?
If you're wondering can warmed breast milk be refrigerated again here's your answer.
Yes, you can put the thawed breastmilk back in the refrigerator if the baby doesn't finish the meal, but only for up to 2 hours.
Per the CDC, after 2 hours the leftover breastmilk should be discarded. After 2 hours bacteria can start to grow in the milk.
Is It better to refrigerate or to freeze the breast milk?
It is better to refrigerate to avoid losing some of the golden components in breast milk. However, this decision is based on when you plan to use breast milk.
If you tend to store only for a few days (4-8 days) before consuming, it is better to refrigerate.
But if you want to store for months (up to 6 months), you can use the freezer attached to the refrigerator.
Also, breast milk can stand for up to one year in a separate deep freezer.
Here are some thoughts on the best freezer for breast milk.
Is it normal for breast milk to be divided into two layers after thawing?
Yes, it is normal for breast milk to divide into two layers.
Note that breast milk is a mixture of the fatty and watery layers. Upon freezing, the layers detach from each other.
Be sure to never shake breast milk to mix the two layers, as some components would be broken down.
Instead, gently swirl using a spoon, that is more than enough to mix the layers.
(By the way, your breast milk is not homogenous like cow milk.)
After thawing my breast milk, it has a rancid or abnormal taste. What should I do?
Don't worry. Breast milk contains the Lipase enzyme which is responsible for that change.
If your baby does not like the taste, try to scald the milk before freezing to mask the action of lipase.
(Note: don't scald when thawing.)
Check out this infographic that summarizes the tips above teaching you how to thaw breast milk.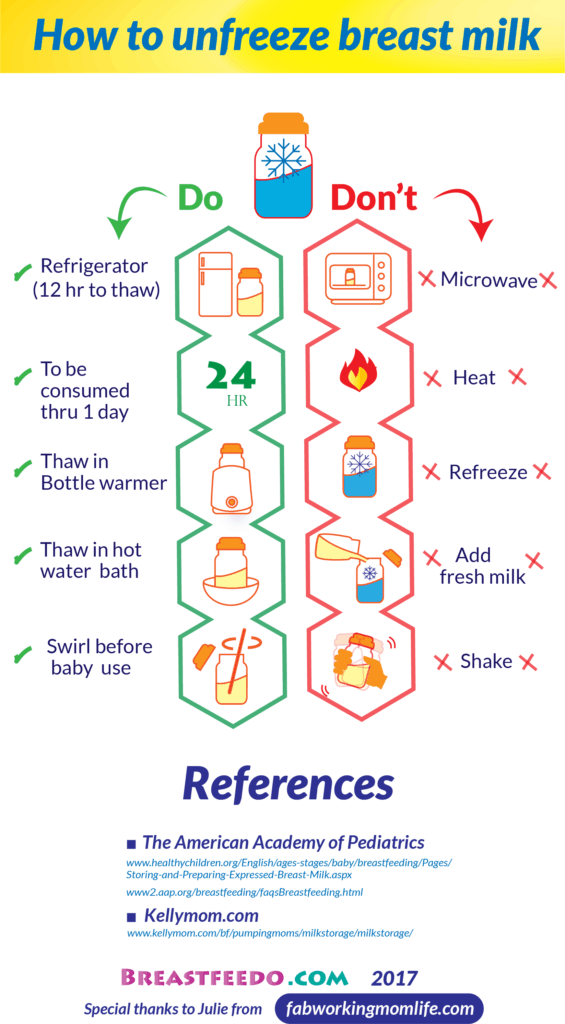 Author Bio

Ahmed Fawzi has a Pharmacy BSC from Alexandria University, Egypt (2004). Then, in 2016, he started the digital marketing journey with digital marketing institute of Dublin, Ireland. He and his partner Amr decided to launch Breastfeedo to provide visual and evidence-based breastfeeding advice to all moms in our busy, crazy world.
Join the Working Mom List
Join the Working Mom collective and get support and tools to help you thrive! Subscribers get access to my library of resources and printables.