Inside: Parent tips on how to teach a kid to ride a bike without training wheels.

Bye-bye to Training Wheels: Best Way to Teach Your Child To Ride A Bike
Do you remember how you first felt when you rode down the neighborhood street without the training wheels? That sense of freedom and independence is something one can never forget. For me, It almost felt like an accomplishment of the first level of adulthood.
However, taking out the training wheels of your kid's bike for the first time is quite a scary experience. And you would probably be more nervous than your kid.
That is why here we are sharing some tried and tested tips and instructions that will help you to teach your child to ride a bike without training wheels.
Preparing Your Kid For This New Experience
When do kids learn how to ride a bike without training wheels? Removing the training wheels isn't always convenient for kids, and they will be scared. Honestly, removing training wheels is going to be a tedious and intimidating process. Kids will often tip over and throw tantrums, but it's still important to give them this sense of freedom.
However, if you have motivated your kid to take on this new milestone, we are sharing some preparation tips, so you and your baby are ready for the change. Now, let's check out the details!
First of all, make sure that your kids are wearing protective gear. i.e. properly fitted helmet (these are so fun), shin guards, elbow protectors, and gloves.

Secondly, you must check the bike tires and brakes before you take out the kid for practice sessions. Generally, the tire should be inflated, ranging from 40 PSI to 65 PSI, depending on the tires. To be sure, check the tires since it generally has information about the correct inflation level.

Lastly, make sure that you stay calm during the process because there will be crying and tantrums, so be ready for it and be patient.
Starting The Teaching Process
These tips will help you with how to teach your kid to ride a bike.
–
Begin With Walking The Bike
To begin with, walking the bike need to be done without pedals. Since bikes have their pedals pre-installed, you need to remove them yourself. So, remove the pedals and lower down the seat. And of course, you'll be taking off training wheels.
So your kid can put their feet flat on the ground and walk their bike while they sit on the bike's seat. Lastly, you must select a flat surface since it eases the steering and balancing. Once your kid master these points, you can move to the next step.
–
Glide With The Feet Up
For this, you may select a slopey surface since it is an easy way to learn how to balance the bike, while the bike gets its momentum from the slope. Secondly, you should stand at the slope's end because it gives them peace of mind that their safety blanket is right there.
Moreover, when they feel secure, they will be able to focus on riding rather than eyeing you. The last step is to time the kids when they start gliding down the slope with balance and proper momentum – when you get fifteen seconds of consistent performance, move to the next step!
–
Attach The Pedals
Kids might complain about a strange feeling when you attach the pedals, but it's the ultimate step. Once the pedals are attached, ask your kid to sit on the bike, hold them from the side, and ask them to pedal the bike from the 2 o'clock / 10oclock position. With some tries, they will be able to harness pedaling.
–
Teach Them How To Pull The Brakes
With cycling, kids must learn how to stop and where to stop. For this purpose, they must understand the concept behind brakes and how these brakes work. The best option is to buy the bike with a SureStop braking system. Such brake systems have single lever brakes that evenly distribute the braking function across the wheels. In addition, the SureStop brakes help prevent head injuries in kids.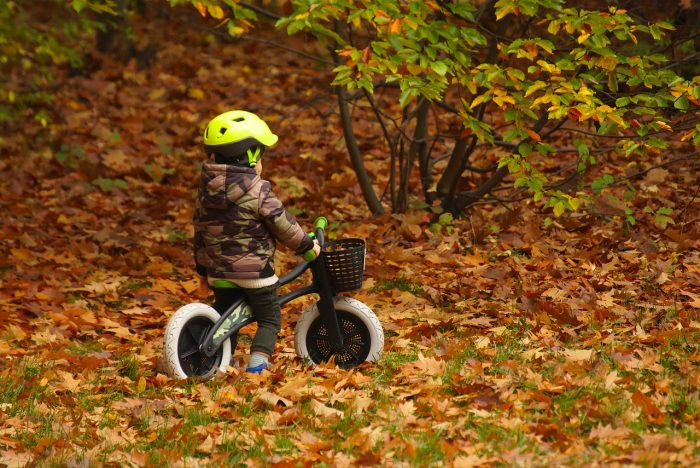 More Tips For Easy Biking Experience Without Training Wheels
You might be trained in riding the bike with your hands off the handles and without training wheels, but your kid is still new to the idea. For this reason, you must understand that your kid will take time to adjust to a new way of riding the bike, but the following tips can help ease the bike-riding experience, especially when training wheels are removed. So, let's check out the tips!
Never push your kid to start riding the bike without the wheels because "you" want them to grow up. Remember that every kid has a different pace, so you must have your kid's willingness to learn. Also, let them make this choice on their own (nope, no pushing)

If your child plays other sports, such as karate and ice skating, they will be better at balancing. So, try to encourage those activities for better results.

Always choose the bike according to your child's height. Sure, a bigger bike will suffice even when they grow up, but it hinders control over the bike, and they won't be able to balance a bigger bike.

Select a grassy ground for these practice sessions. This is because even if kids fall while practicing, they won't hurt themselves since grass makes a softer surface.

Lastly, take things slow and remain patient.
Conclusion
Riding a bike is a new experience for kids, especially when they ride without training wheels. So, like the good parent that you are, help and motivate your kid during this transition and watch them embracing this healthy activity. To summarize, are you ready for this exciting change?
Author Bio
Ned Anthony Taylor is an editor in chief of Passionate Outdoor. Being born and raised in Toowoomba 'The Garden city of Darling Downs region, Queensland, Australia' outdoors was always a big part of my upbringing. Be it mountain biking, fishing, hiking, camping, or hunting. Later when I moved to the US, I found that in the age of Netflix and other forms of digital media in abundance, nature is not getting its due appreciation. Passionate Outdoor is a resource portal to guide and encourage all people to make the best out of their outdoor trips.
Join the Working Mom List
Join the Working Mom collective and get support and tools to help you thrive! Subscribers get access to my library of resources and printables.