Inside: Which coffee is best to keep you awake? Read about the best coffee to stay awake in this article.

For busy moms, coffee is a morning savior. So many of us can't even think about beginning our day without consuming some caffeine. You may not have gotten enough sleep due to the never-ending to-do list, the baby that kept you up all night, or you may be getting up early to get the kids ready for school. All of it can leave you exhausted.

Being exhausted is actually a normal aspect of the working mom life. Many of us look forward to having coffee because of its unique aroma, flavor, and sound of brewing. It also has some incredible health benefits, which might surprise you. Looking for the strongest coffee for working moms? Wondering which coffee is best to avoid sleep? We got you covered!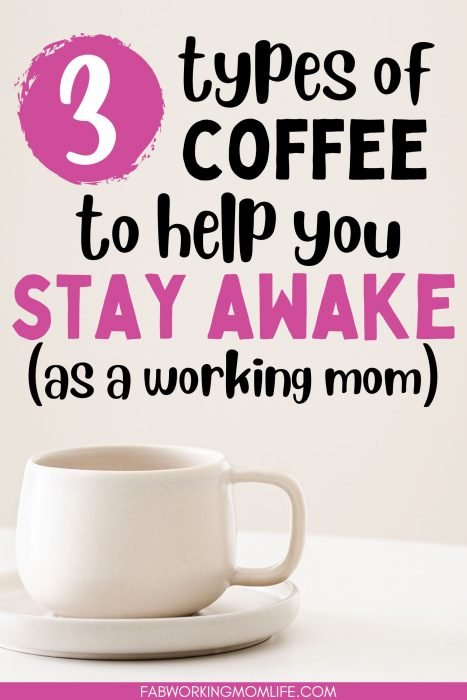 Short answer: An espresso shot will give you the most energy and help you stay awake. For a stronger caffeine kick and more energy, you can always double the shot.
Which is the best type of coffee to keep you awake?
#1: Espresso
Espresso is the ideal coffee type if you want to stay up late.
Coffee from the grocery store will do. However, an ounce of espresso has 45–75 mg of caffeine, compared to 20 mg in an ounce of drip coffee. Caffeine boost increases with the amount consumed. The effects will also increase if you take multiple shots of espresso.
Espresso can be diluted with water to lessen its sharp taste if you cannot tolerate its strong flavor. Additionally, an espresso becomes an americano when water is added.
Macchiato and Cappuccino are also both espresso-based drinks that are best enjoyed in the morning after waking up because they are believed to be heavy drinks that can keep you full for a longer period of time. The caffeine content of these espresso variations is the same. The only distinction is the addition of milk, which increases the calorie and fat content of your beverage.
If you regularly drink espresso but find that one shot doesn't give you the maximum boost of energy and alertness, try bumping it up or drinking two shots, especially if you have to stay up late.
#2: Regular Coffee
Depending on the type of coffee beans used, the degree of roasting, and the amount of coffee you drink, a regular cup of coffee contains between 70 and 140 milligrams of caffeine.
The most often consumed type of regular brewed coffee is filter coffee. You can add milk, cardamom, cinnamon, or any other flavoring to it to make it more energizing and delicious.
Choose Arabica beans for a stronger, more flavorful cup of coffee. Go for Robusta, which has twice as much caffeine as Arabica, if you just need an extra boost to stay awake.
#3: Instant Coffee
Typically, instant coffee is brewed, dried, and then ground into granules.
Instead of having to make coffee every time, just pour hot water on it, and it will be ready whenever you want it. Dairy and sugar can also be added to taste, but it's preferable to omit sugar or any other additional sweets to prevent any negative effects.
When you feel fatigued, instant coffee gives you a boost of energy and keeps you alert.
However, it contains a little less caffeine than regular coffee. One teaspoon of instant coffee powder contains between 30 and 90 mg of caffeine, whereas a cup of regular coffee has between 70 and 140 mg.
Which Coffee Brands to Buy?
There are so many coffee brands out there which market themselves as "strongest". However, which one should you buy? As a working mom, you'd rather make an informed decision than try all for yourself. To make your life easier, we've shortlisted 3 brands which we think will serve the purpose. Choose as per your discretion.
#1: Death Wish | The World's Strongest
This is the "Strongest Coffee in the World," claims the producer. The focus of this product is on strength and high levels of caffeine. Death Wish does its magic by fusing the aforementioned intensity brought on by caffeine with a flavor that is properly bitter and muscular.
Due to the genuine energy boost it provides as well as the subdued flavors of cherry, chocolate, and almond, this product leaves every consumer happy.
Most significantly, it is entirely natural. Since Death Wish doesn't utilize artificial flavors, sweeteners, or fragrances, you always know what you're getting in every cup of wonderful liquid.
#2: Napalm Extra Dark Roast
The description of napalm is "Extra Dark. Extra Bold. Extra Strong." This essentially says everything.
Because most extra strong coffees are manufactured from a blend of Arabica and Robusta beans, napalm coffee is one of the few alternatives in the strong coffee game that is made exclusively from Arabica beans.
Napalm's Extra Dark Roast is a widely available, highly caffeinated beverage. The earthy flavor and buzz definitely speak for itself with this one.
To continuously guarantee you a black, full-bodied mug of caffeinated pleasure, premium beans are expertly hand-selected and precisely roasted.
This product was roasted in the USA in limited batches. Smaller batches are simpler to monitor and, as a result, are of considerably higher quality.
Get Napalm Coffee Dark Roast Ground Coffee
#3: Shock Coffee
Finding the ideal taste to caffeine content ratio was the main focus of this product. This all-natural coffee contains no additives, but it still tastes great and has a strong caffeine kick that will keep you awake all night.
The emphasis on balance stands out above anything else. A perfect amount of punch is combined with notes of chocolate. It's safe to state that this is the most alerting coffee that isn't too bad for your health (and digestive system).
Get Shock Coffee Ground, The Strongest Caffeinated All-Natural Coffee.
Conclusion
Let's face it, sometimes life demands more wakefulness than our bodies can muster. If you're a mom, then chances are that sleep is a precious commodity in your life. Whether it's late-night feedings or early morning activities with the kids, finding an energy boost becomes essential. But with so many coffee options out there, which one should you reach for to avoid sleep? When sleep seems like a distant dream, many of us turn to that warm cup of heaven: coffee. But which coffee is best to avoid sleep?
You can stay awake with any caffeinated coffee, but espresso shots are the finest in my opinion. If you already lack sleep, caffeine will only temporarily increase wakefulness; as the effects wear off, you'll resume feeling drowsy.
However, it should be mentioned that consuming too much caffeine has negative side effects. The key to enjoying the health benefits of caffeine while avoiding its negative effects on your health is moderation, just like with everything else in life.
Grab your Master Agenda now!
Join the tribe email list and we will send you this Master Agenda Workbook right away!