When to Stop Swaddling Baby
Swaddling is a great way to get your baby through those first few months, but when should you stop doing it and move on?
Having a baby is one of the most wonderful experiences you can go through, but it is also one of the most traumatic and stressful. As it develops, your baby will go through various stages, and it can sometimes be confusing to know when to move from one stage to the other. Here, we'll answer one of the most common questions new parents ask: when should they stop swaddling a baby?

Why swaddle?
First, let's look at the process of swaddling itself, why we do it, and how it can keep your precious baby calm and collected.
When you have a newborn baby, you will have been taught to wrap them up snugly in a blanket. It helps keep them snug and warm in those delicate few days before their own internal thermostat kicks in and they can start to regulate their own temperature, and it will also calm them down.
None of us can remember those early days and weeks, but they must be extremely traumatic for any new baby. From the safety and warmth of the womb, they are thrust out into the strange, cold, and unfamiliar environment of the outside world. Swaddling them up in a nice warm blanket will calm them down and may remind them of the womb.
This is one of the big problems babies have in the early weeks. For example, if your newborn struggles to adapt to sleeping in the crib one of the reasons could be that it is simply not used to having so much space. Remember: it has spent nine months in the warm tight space of the womb. It has never been able to move its arms and kick its legs as freely as it can in the crib. The entire experience will be strange and wholly alien. That's why they may struggle to make the transition.
When you leave the hospital, the staff will probably give you a quick lesson in swaddling. Make sure your child isn't hungry or recently gone to the toilet, and above all do it correctly. If you choose to swaddle but get it wrong you can cause an injury.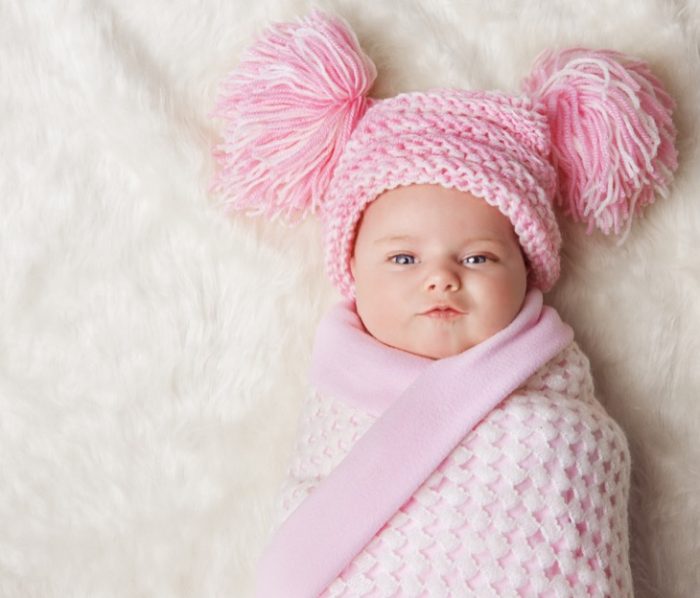 When swaddling stops?
Everything has its time and swaddling is no different. The main reason for this is that babies should never be swaddled when they are face down, so when your baby starts to roll over, it's time to stop the swaddling to avoid any health problems. As much as swaddling can help your infant, it can also be dangerous if done incorrectly.
It can also become a habit. It's a bit like giving your baby a pacifier. You do it for much the same reason as swaddling – to calm your baby down and keep it quiet. However, if you go on too long it can become habitual and you might have the devil's own job getting it to quit. Have you ever seen a child in Kindergarten who still has a pacifier? That's a sign that a parent has let the habit go on far too long.
At the same time, you don't want to stop too early. Many babies are born with a startle reflex which means you won't want to stop swaddling too early. If the reflex is too strong, they may startle themselves awake and then your night will well and truly be ruined.
There is no hard and fast rule about when to stop – it's mostly about the development of your baby, but, as a rule of thumb, it's time to move on when they are between three and four months old. The timing is as important as it is delicate. Just as you don't want it to go on for too long, stopping prematurely can cause a lot of stress and pain.
Babies tend to let you know when they are not happy – often at the top of their voices. Much of the timing will be down to you. Nobody knows your baby better than you which means you're in the best position to judge when they are ready. Some parents keep babies swaddled for much longer. Some babies will still sleep better if they are swaddled well past the age of six months and it's not unknown to see parents still swaddling their babies as old as nine months.
As always, you know better than anyone else when it's time to stop. But here are some signs.
Your baby is big enough and strong enough to break free of the swaddle. If they only do this occasionally, you might be okay, but if it becomes a regular occurrence it's time to stop.
Your baby is rolling over. The moment your baby rolls over can be dangerous if they are still swaddled. They should never sleep face down when swaddled so for safety's sake it can be a good idea to stop.
Your baby tells you. Sometimes the baby tells you it's time to stop swaddling and will start to resist. Listen to the message it's telling you – give it space.
How to stop swaddling the baby
This may be painful or surprisingly easy depending on the nature of your baby. Let's imagine you have a child who isn't too dependent on swaddling or the pacifier? That's a sign that the baby might be relatively happy when you remove it. Perhaps it's starting to show signs of breaking free, in which case you should go with the flow.
On the other hand, if it is highly dependent you may want to do it in stages. Try un-swaddling a leg or an arm first to get them gradually used to the concept of freer and looser sleep. There are also lots of products on the market designed to help. Do some market research, read the user reviews, and see which one you think will work best.
It's worth stressing that the advice here is just that – it's only a guideline. The best person to know when to stop swaddling is you, the parent. Listen to your infant, read the body language, and work out what it is trying to tell you. When you think it's ready and the time has come to move on, it's time to start the transition.
Author Bio
Hi! My name is Sarah, founder of SarahsLovelyFamily. I love sharing tips and tricks I learned about raising my own family, helping parents like me raise their children healthily while enjoying. You can follow me on Twitter at @SarahsLovelyFam.
Join the Working Mom List
Join the Working Mom collective and get support and tools to help you thrive! Subscribers get access to my library of resources and printables.