You know what's fun? Kids' activities are fun. Especially for this working mom who often feels like she doesn't spend enough quality time with her child. So that's why I love activities and super easy crafts I can do with my son.
Let's dive into these fun and colorful St Patrick's day crafts for preschoolers and St Patrick's day crafts for toddlers!
Rainbow Sorting St. Patrick's Day Activity
This activity is super easy. Bonus points: it turns into a snack and that makes the preschooler super happy.
We start with Froot Loops cereal and colorful stacking cups.
Supplies:
Fruit Loops Cereal
Tongs
Bowl
Steps:
Pour the colorful cereal in a bowl and put a stacking cup of each color around the bowl. Give the toddler or preschooler a set of tongs and tell him or her to sort by color.
Then, for additional fun and learning, do some colorful math!
After he sorted a few around, I started to change the game. I asked him, how many yellows do you have. Once he counted them, I would ask him "add five more" and then I'd ask him to count what he has.
I also would ask him how many are in the blue cup. Then I'd say "add more so there are ten in the cup" and he'd have to add until he counted to 10. It's great for interaction and learning and super easy!
Coffee Filter Shamrock St. Patrick's Day Activity
My son's favorite color seems to be green lately, and it used to be yellow when he was a younger toddler. So the holiday of St. Patrick's day is quite perfect, with the green and gold theme, for us to do a fun craft together. Add this to your list of four leaf clover crafts for preschoolers!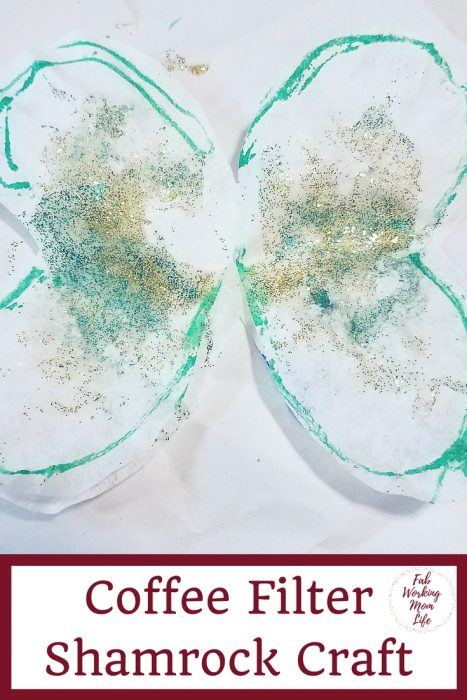 Since we had such a fun and easy time making Valentine's day craft using coffee filters, I decided we'd do something similar for our St. Patty's day craft. My son loves to glue, and so I figured glitter glue would really get him excited. I was right!
Supplies:
Steps:
I free-handed cut some four-leaf clovers out of coffee filters. In retrospect, I should have drawn them first. They look a bit more like butterflies than clovers, but we'll go with it. I never claimed to be an artist.
Then I laid the shamrocks down and let him pour glitter glue of green and yellow colors. Then we folded and squished the coffee filters around to create glittery shamrock art. For fun, I outlined them in green marker to help define the shape a bit.
---
And now, a roundup!
St. Patrick's Day Crafts and Activities for Toddlers and Preschoolers
Here's a fun activity – you can make a little shamrock man! And these little marshmallow shamrock stamps are cute. Don't forget to make your Leprechaun trap!
Here are some great St. Patrick's day books for preschoolers! And more ideas of what to do with toddlers on St. Patrick's day.
Can't forget to have a rainbow rice sensory bin!
See? We did a rainbow rice sensory activity too!

St. Patrick's Day Decorating and Party Ideas
This is a lovely decoration to make: a diy shamrock with fringe. Here are some fun printables for your St. Patrick's day decor.
Here are some ideas for simple things to do on a St. Patty's party day. And here are some fun recipes including a St. Patty's day drink.
There must be cupcakes, always. Here are some fun St. Patrick's day cupcakes.
What St. Patrick's day crafts and activities are you doing with your toddlers and preschoolers?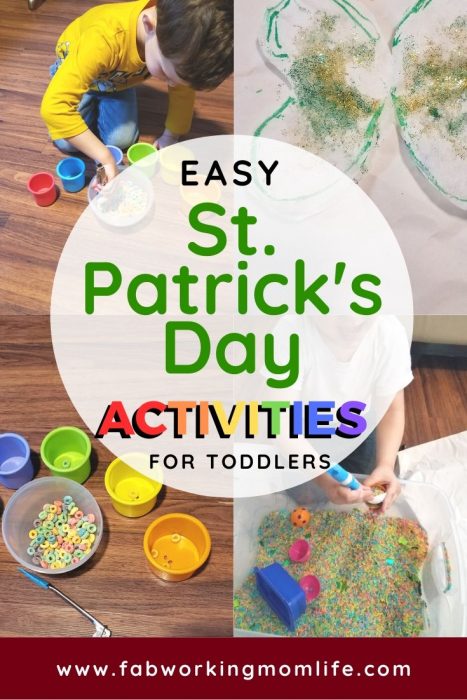 Join the Working Mom List
Join the Working Mom collective and get support and tools to help you thrive! Subscribers get access to my library of resources and printables.