Are you a sleep-deprived mom who often wakes up with nagging back pain? If so, this article is here to save the day (or rather, the night)! We all know that being a mom comes with its fair share of sacrifices and discomforts – but your precious sleep shouldn't be one of them. In this guide, we'll delve into the world of sleep positions specifically designed to alleviate back pain for moms. Say goodbye to restless nights and hello to rejuvenating slumbers as we explore these magical sleep positions that will have you waking up feeling refreshed and ready to conquer the day.

5 Sleeping Positions That Can Alleviate Lower Back Pain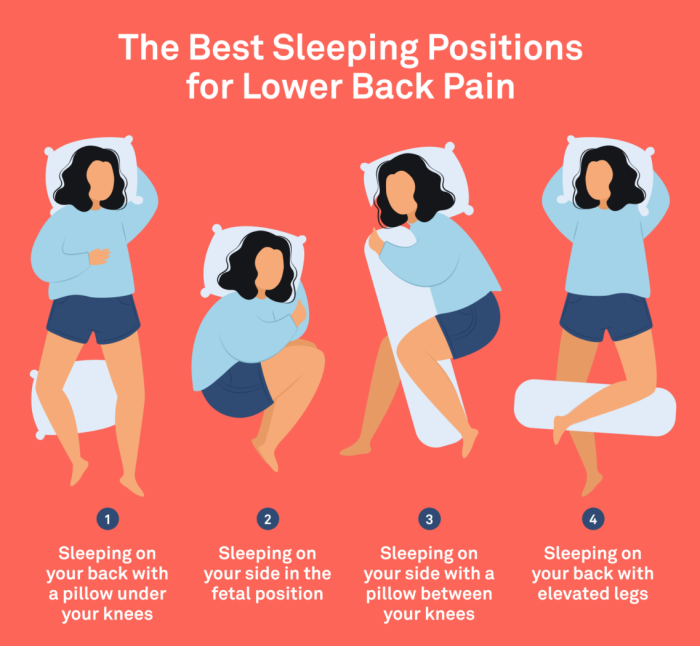 Sleep is an important biological function that contributes significantly to our health and well-being. However, numerous factors can inhibit your ability to get a good night's sleep. A noteworthy mention is pain.
Not only does pain increase sleep latency, but it can also cause repeated sleep disruptions, leading to a host of adverse effects like mood swings, grogginess, and impaired judgment.
Fortunately, there are various sleep positions you can try to alleviate pain. This article looks at four sleep positions for back pain relief.
1. Sleeping on Your Back
The back sleeping position is undoubtedly one of the most effective sleeping positions for lower back pain relief. That's because it allows your spine to make a larger contact area with the bed, helping maintain the natural alignment of your spine,.
Back sleeping can also improve digestion and reduce the likelihood of waking up with a stiff neck or sore muscles.
One way to make the most of the back sleeping position is to select a firm mattress that can equally hold your lower back in place.
You could also place a small pillow or roll a towel underneath your knees to boost spinal alignment.
2. The Fetal Position
Second is the fetal position. As the name suggests, this sleeping position resembles the position of a fetus in a womb.
In the fetal position, you lie on your side with your knees closer to your chest. It reduces the strain you'd have otherwise placed on your pelvis if it were fully stretched out.
This position can aid in reducing snoring and alleviating symptoms of sleep apnea. By sleeping on your side rather than on your back, you open up your airways, allowing for better airflow throughout the night.
Additionally, it can help prevent acid reflux as it keeps your head elevated and discourages stomach acid from flowing back into your esophagus.
For optimal results with the fetal sleeping position, you might consider curling one arm under your pillow to support your head.
3. Sleeping On Your Side With A Pillow Between Your Knees
Most people prefer to sleep on their sides for better comfort. It turns out that this sleeping position may also alleviate back pain.
Consider sleeping on your left side if you are struggling with gastrointestinal complications or the right side if you have heart problems.
Placing a pillow between the knees may also improve comfort by keeping your pelvis, hips, and spine properly aligned.
A recommended sleep position during pregnancy is sleeping on your side, particularly the left side. This position improves blood circulation to the placenta and helps prevent swelling in hands, feet, and ankles.
Additionally, lying on the left side reduces pressure on major blood vessels that supply oxygen and nutrients to both mom and baby – enhancing overall blood flow.
4. Sleeping On Your Back with Elevated Legs
Another common sleeping position for back pain relief is lying on your back and elevating your legs on a platform. Consider raising your legs slightly above the heart level, improving blood circulation while reducing lower back inflammation.
Elevating your legs while you sleep can help alleviate the discomfort and swelling often associated with poor circulation or certain medical conditions such as varicose veins.
This sleeping position boosts pain relief by relaxing the pelvic and lower back muscles. This position helps to distribute weight evenly along the length of your spine, reducing the risk of developing unwanted pressure points and potential discomfort.
It also allows for optimal alignment of your head and neck, contributing to improved breathing and reduced likelihood of snoring during sleep.
Bonus 5. Sleeping On Your Stomach With Pillow Under The Abdomen
Stomach sleeping is often considered unfavorable for back pain, primarily due to potential neck strain. However, if you naturally prefer this position, you can make it more comfortable and supportive.
Place a pillow beneath your pelvis and lower abdomen to alleviate some of the strain on your back. Depending on your comfort, opt to use a pillow under your head.
This position can be particularly beneficial for individuals with degenerative disc disease. This sleeping position also helps reduce pressure on the spaces between your spinal discs, potentially offering relief.
While stomach sleeping is generally less recommended for back pain, using a pillow strategically can mitigate some of its drawbacks. Ultimately, finding the right sleeping position that minimizes discomfort and supports your specific needs is crucial for a good night's rest and spine health.
Wrap Up
Finding the right sleep position can make a world of difference for moms experiencing back pain. The mentioned sleep positions can make a considerable difference in alleviating back pain. By adopting positions such as sleeping on the side with a pillow between the knees or using a pregnancy pillow, moms can alleviate pressure on their backs and promote proper spinal alignment.
Additionally, investing in a supportive pillow can further enhance comfort and provide relief. It is important for moms to prioritize their sleep and take proactive steps to address their back pain. Consider implementing these sleep positions alongside other pain management interventions for maximum benefits. So, next time you hit the hay, remember to choose a sleep position that supports your back and wake up refreshed and pain-free!
Join the Working Mom List
Join the Working Mom collective and get support and tools to help you thrive! Subscribers get access to my library of resources and printables.