I am enjoying interviewing professionals and women bosses about their line of work or their side hustles. Today I am sharing an interview with Sarah of Maison de Macarons.
Tell us a little about yourself and your business. Why did you select it and how did you get started?
Being a military spouse it is not always easy to find a job every three or four years. I have been a consultant for a direct sales company and even when that worked at that specific duty station, coming to a huge military community such as Fort Hood, direct sales consultants of all kinds are everywhere. Our previous duty station was in Kaiserslautern, Germany and we were so close to Paris that I went as often as I could. One long weekend in Paris, I decided to learn how to make macarons. I've loved them for years, so why not? I never imagined while being taught by the charming French pastry chef that I would turn this into a business.
Describe what you do and what you sell for those of us not familiar with your line of work or product. 
Admittedly I spend a lot of time explaining what a French macaron is. However, being in such a big military community where many have been stationed overseas, a lot of military members and families know what they are! So when I say macaron, many people think of the macarOOn (two o's), which are the little shredded coconut drop cookies that are also very delicious but not as much skill is required. A French macaron looks like a little delicate sandwich. The shells are made with three ingredients, almond flour, powdered sugar, and egg whites. The filling can be a buttercream, a chocolate ganache, or a jam. While the ingredients are simple, the technique to get them right is why these are special. It took me many attempts, more than I even remember in my failed macaron filled rage, to "master" them. They are so temperamental and very susceptible to their environment. Humidity will ruin a batch, you have to really get to know your oven (because each one is different), and most importantly you have to nail your macaronage technique. Macaronage is the French term for folding the meringue into the rest of the ingredients. Why not just say folding the ingredients? Because macaronage sounds cooler, of course. Say it, which your best French accent! It's fun.
I have a Facebook page and a website. Either of those avenues will work to get a request to me. Per Texas Cottage Laws, I cannot sell them directly over the internet, such as Etsy. But honestly, I like when customers pick them up from me, or I get to deliver to them personally.
What are some of your favorite things about what you do?
I love my business because it feeds all aspects of my personality. Of course, coming up with flavors and colors and ways to display macarons, even ways to market my brand feeds my creative and artistic side. Then the logistics of running the business feeds my need to be super organized and plan. And I would say that creating something that elevates a clients event of special day feeds my need to serve people in my community.
What are some challenges of this business?
The biggest challenge for me is how the business ebbs and flows. I was insanely busy for weeks before Christmas and the week of Valentine's Day. Then orders will kind of drop off, and I will only get one or two here and there. However, I will say that it might not be a bad thing because I use the downtime to create new flavors, marketing my business, joining forces with other businesses, and have my "big ideas."
For someone interested in what you do, can you share what to expect as far as earning potential and effort?
Well, this is a home baking business. Luckily Texas Cottage Law is really pretty flexible. I have the potential under this law to earn up to $50,000 per year. Um, that's not going to happen anytime soon though. I started this business as a labor of love, and all the earnings go back into the business at this point. Would I love to have a storefront one day, yes! But that is a BIG financial step down the road. I think the next step would be to get my commercial license and start renting out commercial kitchens so that I can partner with and sell through retail stores in the area.
What does it take for someone to get started with their own side hustle in your line of work?
Drive. A skill or service that you can provide your specific community that is unique. Most importantly, patience with yourself. Allow your business time to grow and start out small. Challenge yourself but don't bite off more than you can chew. That's when you feel overwhelmed, and it's not fun anymore.
Anything else you would like to tell us about your business?
I am partnered with the #1 wedding planning website, The Knot, for the Austin area, but also service Waco and everywhere in between. Each order is customized, a macaron can be any color and any flavor. This is a big reason why they are so popular for weddings.
If you're interested in learning more about Maison de Macarons, contact Sarah at her website.
If you would like to be interviewed for my side hustle series, please fill out this form.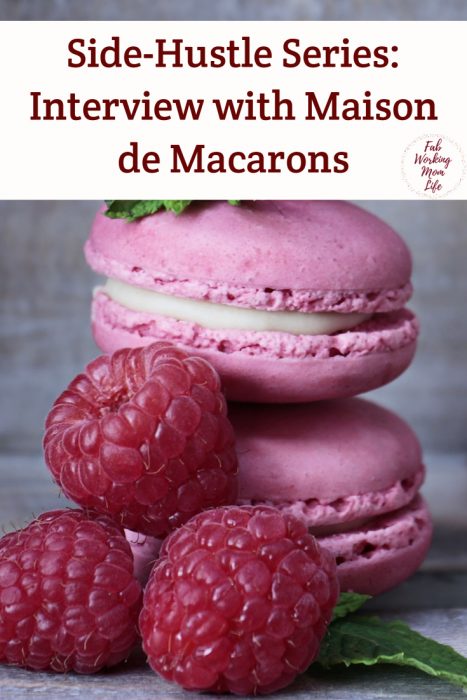 Join the Working Mom List
Join the Working Mom collective and get support and tools to help you thrive! Subscribers get access to my library of resources and printables.