I am enjoying interviewing professionals about their line of work or their side hustles. Today I am sharing an interview with Jeanetta, owner of La Terraza Guest House B&B. She started the Bed and Breakfast in Costa Rica with her husband after he retired from the Army. She currently still runs the B&B with her son.
Tell us a little about yourself and your business. Why did you select it and how did you get started?
I own a wonderful B&B in Costa Rica. During our travels after retirement, we stayed at this wonderful B&B twice where on both visits the owner offered to sell. After a second offer a year later we decided to purchase. My husband has passed but I still run the business with my son.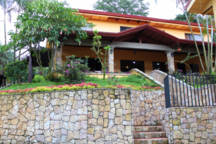 Describe what you do and what you sell for those of us not familiar with your line of work or product.
Tourism travel and accommodations.
What are some of your favorite things about what you do?
Most of all I enjoy communicating with people from all walks of life especially vets and their spouses. Helping those who simply want to travel to Costa Rica and learn the diverse cultures and also assists those who are thinking of retirement in this country.
What are some challenges of this business?
Staying on of technology changes which always affects competition and marketing.
For someone interested in what you do, can you share what to expect as far as earning potential and effort?
This is a business where you can work as much as you want. It's easy for me because meeting, greeting, and helping people while sharing information is my passion. But it's not a get-rich-quick idea.
What does it take for someone to get started with their own side hustle in your line of work?
You don't always have to purchase a property. Some people rent or lease first and try the market. I would suggest that anyone starting a business have a strong business plan and do plenty of research. Research is never-ending.
Anything else you would like to tell us about your business?
I am one of the very few Military Vets who own this type of business in Costa Rica. My business is not simply about accommodations, it's about turning guests into family.
Side note: I am visually impaired so it's easier to communicate with me by telephone 786-363-9036.
If you're interested in learning more, visit the La Terraza Guest House B&B, website.
Join the Working Mom List
Join the Working Mom collective and get support and tools to help you thrive! Subscribers get access to my library of resources and printables.