Side hustles from home are getting more popular these days as busy parents yearn for more flexibility and a better work-life balance. Many of us have accumulated quite a bit of debt and are working on paying it down (student loans anyone?) and balancing our budgets. Being able to earn some extra money from home is wonderful and can help in so many situations.
Read on for some great side hustle ideas for moms and side hustle business ideas you can start right away! These side hustles to make money are amazing when you can work from the comfort of your home in your pajamas! Keep reading for this epic list of side hustles you can start today!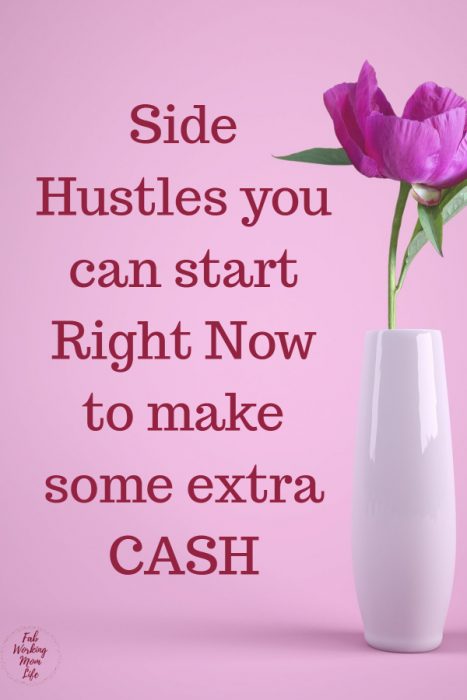 Some links in this list are sponsored or affiliate, meaning I may be compensated for their inclusion or if I refer you.
Side Hustle Ideas for Moms – start side hustles from home
These are all ideas for side hustles you can do from home and start in your spare time so you can earn side money from home.
Did you know you can search for remote work on FlexJobs? Sign up for FlexJobs today and use promo code FLEXLIFE to save up to 30% off! Join FlexJobs for less than $7 and access 25,000 work from home or flexible schedule jobs today!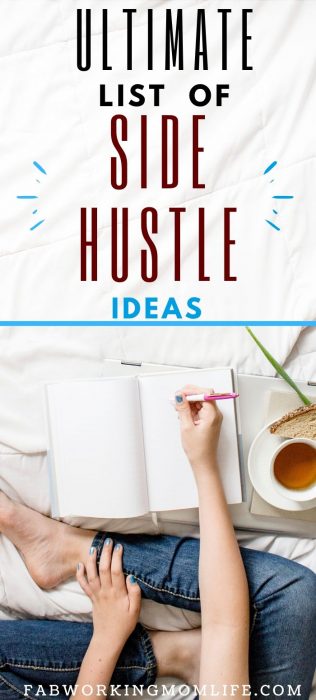 Side-Hustles Online
Starting a biz online is the easiest and quickest way – there are so many ideas to make money on the side with an internet-based business.
Like this one! Blogging is a wonderful way to express yourself, make connections with others, and make a difference. It allows you to be super creative with honing your writing skills, learning photography, and sharing your adventures!
Affiliate marketing can be an incredible side-hustle. It can be partnered with blogging, or just in social media or email (per the terms of the affiliate company, of course). You promote products you already use and love and get a commission if someone snags it up with your link.
Starting a part-time Digital marketing and SEO consulting business from home can be amazing because consulting hourly rates are quite lucrative, so the hours of work required to reach a goal can be much lower than a full-time job.
You can even turn your freelance work into a full digital agency. Here is a list of all types of consulting businesses.
Being a digital consultant is one of the more popular work-at-home business ideas. You can sell all kinds of services based on your expertise. There are many different ways to be a social media consultant, and you can even be very specific in your niche! I recently interviewed a social media consultant who specifies in helping military and spouses!
Online surveys can be easy and quick. You get to sample products, share your thoughts, and get paid! Here is a list of survey companies you can join to earn yourself some extra spending money:


It has become a popular tip for blog owners to get a free test of their website to get an idea of how a new user understands and navigates your site through User Testing.
Translation Services or Teach a Language
Do you speak another language? If you're fluent, you can apply for translation services.
You can also teach Spanish online! In fact, you can also teach English to kids in other countries online.

If you enjoy listening and can type fast, you can do transcription. That means you can listen to audio and type out what is being said. There are also options for subtitling and captioning, and voiceovers.
You can become an independent contractor agent with Liveops. Liveops is a virtual contract center that provides many flexible customer service or sales opportunities for independent contractor agents. They offer a variety of call center-type contracts for top brands, that you can do on your own terms, on your own schedule.
You can learn to become a Digital Project Manager from my girl Mollie's course and find out how to land contracts where you manage teams and work your own hours.

Side-Hustles from your Car
Some side hustle ideas from home don't force you to stay indoors. You can run the biz from home but get out and drive around as the biz.
Do you like to drive around? Are you just fine with passengers in your car? If so, you might like to drive for Uber. Pick someone up from the airport and take them to their home. Be someone's designated driver home from the bar to avoid drunk driving issues on the road.
Uber EATS works with the best restaurants in your city to deliver local food. There are 3 types of couriers on Uber EATS: 1) Biker 2) Driver 3) Scooter. Wouldn't it be a great side hustle gig to deliver meals to the elderly, or to new moms who seriously have no time to cook or drive around?
Be a Grocery Shopper with Shipt
Did you know you can get paid to shop for other people? Some of us hate to grocery shop with our toddlers. I use a service called Shipt to shop and deliver my groceries from my local store. Get paid to shop with Shipt. Earn money while you shop and deliver from your favorite local stores.
Be a Grocery Shopper with Instacart
And there's also Instacart for grocery delivery. You can be a shopper and grocery delivery driver for either of these businesses!
Read more about becoming a full-service shopper with Instacart.

Shipt Driver – Delivery only
Want to be your own boss? Picture this-you're cruising down the road with your favorite playlist or podcast. You get paid to drive and drop off Target packages – no shopping required. The best part? You only work when you want to.
Delivery Driver for Take-Out Food from Restaurants
You can also drive for restaurant take-out services, like Door Dash. DoorDash is a food delivery service that has partnered with local restaurants in over 300 cities across the US. Busy or lazy people like myself order food via the app, and as a driver for Door Dash, you would go to the restaurant and order and pick up the food, and deliver it.
Here's information on how to deliver food with GrubHub.
If you don't have a car you wish to use for your Driving side-hustle, you can download the HyreCar Driver App and rent a car to drive for any rideshare or delivery service (Uber, Lyft, DoorDash, InstacartPostmates, Amazon Flex, etc.). You can also list your own car for others to rent for this purpose.
Car owners can signup for free, create their listing, and start watching the requests come in from highly qualified gig workers. On average, car owners earn up to $720/month for each car they list with HyreCar!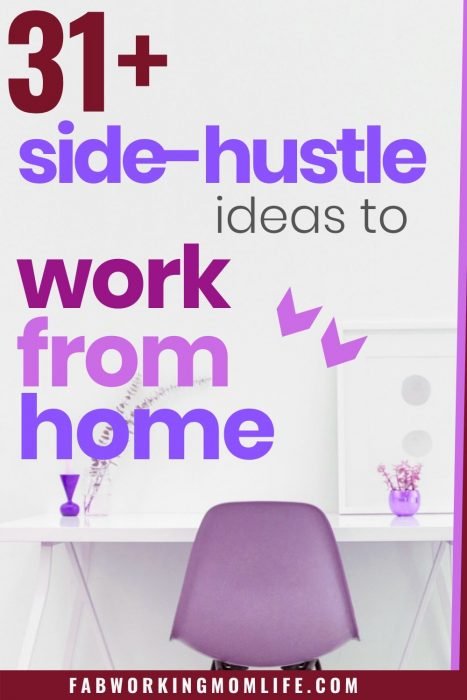 Side-Hustles selling a Service
You can become a photographer if you already have amazing photo-taking skills! People are always looking to memorialize important events – weddings, new baby, etc. If you have the talent and are good at capturing emotion in a click, this might be the gig for you.
Being a business coach to other aspiring business owners has gained a ton of popularity lately. If you're amazing at motivating and teaching someone how to simplify their business model, you can really take off on this avenue. You can read about becoming an Executive Coach here.
You can create gigs for just about anything on Fiverr – social media, graphic design, ebook design, editing, etc. the list goes on. Decide what you're good at and can do quickly and set up a gig.
You can also list yourself as a tasker on AirTasker and do tasks for people that they want to outsource. Examples include home cleaning, handyman jobs, admin work, photography, blog writing, graphic design, etc.
Ever thought of owning a hotel and running a bed and breakfast service? It is a pretty interesting idea, and I have an interview with a B&B owner.
You can also turn your property into an Airbnb! Put your extra space to work for you! Earn money hosting with the safety and support of Airbnb.
I have a lovely interview with a pet sitter about the business of playing with cats and dogs. Yes, get paid to pet animals. One such company is Rover.
Tired parents seek help with their baby sleep issues, so sleep consulting is a great service to provide.
Teaching people is a great side hustle if you have some knowledge you want to share. For example, here is an amazing Breastfeeding course to help new moms!
Organize Luxury Sleepovers
Organizing and helping busy parents host luxury sleepover events for their kids is a wonderful business opportunity. Elite Teepees creates luxury sleepover experiences in your own home. It was formed to recreate the essence of childhood, where the magic of friendships happen, bonds grow tighter and life-long memories are formed.
Elite Teepees sets up a chosen sleepover collection on the day of the client's party at the selected location, then returns the next day to pack it all away.
Side-Hustles selling a Product
Some great side hustles you can do from home include selling a product, whether digital or physical. These side hustle business ideas are below.
Being a direct sales consultant is a very popular way to sell a product without having to create your own. This is also called network marketing.
Wine lovers can share the love of wine by working as a Wine Guide. In fact, here is another wine direct sales option.
I recently interviewed a Norwex consultant who shared how to get started in direct sales and also chatted with an It Works distributor.
You can even start a fitness motivation business via a direct sales company.
If you make handmade products or even digital printables, you can start a shop on Etsy and sell your goods. I knew someone who sold festive hair tie bows for young girls. A former neighbor has a handmade woodworking business. Etsy makes it easy to start a shop and only charges $0.20 per listing, and a small percentage of every sale.
Did you know I also started an Etsy shop for printables? Give it a visit!
Start your own clothing line
You can even start your own website to sell your designs. I have an interview with an industrial designer who started her own clothing line. I also interviewed an Amazon seller with her own shop.
You can also start a sustainable tee shirt line with Teemill! Check out my shop! They use renewable technology to sell tee shirts meant to be returned to them for recycling and have a special drop shipper print shop so all you do is upload or create a design with their editor and the rest is taken care of for you! Read more about Teemill on my side hustle interview.
A handmade business to make home decor is a great option if you have the skills. You can make signs, for example. My neighbors have a custom woodworking business. Here's another woodworking gift business interview I did.
Writing, whether being an author or a freelance writer, is a great option. You can even self-publish your book on Amazon KDP and use print on demand.
Here is my interview with a children's author and another with an author helping working parents.
Create a Journal to sell on Amazon
Did you know that people can easily create journals to sell on Amazon? These books are called Low Content or NO content books. As the name implies, the books have little to no content. They are notebooks, Planners, and Journals.
Book Bolt will help to do the research, find the top-selling niches, create these books quickly, easily, and in a fun way.
Check out Book Bolt and use my Coupon code: fabworkingmomlife (20% OFF at checkout)
Selling baked goods would be more of a local business, but you can be really creative. Check out this interview I did with a lovely military spouse who bakes macarons!
Everyone has a mobile device these days, right? Making an app that someone can find helpful is another great side hustle if you have the programming skills (or partner with someone who does). This is an example of a babysitting exchange app that helps other parents.
Dropshipping is a way to sell products without keeping inventory or shipping items. The drop shipper is a sort of middle-man between the customer and the vendor providing the item.
You can start a local candle side hustle and buy your supplies wholesale. Read my interview with a candle wholesale supplier sharing tips on starting your own candle biz.
Yes you can start a lucrative gift basket side hustle. I have a post coming up that shares all the details of starting your gift basket biz.
Side-Hustles Investing and Trading
Stocks allow you to share in the profits of a company as it grows and thrives. You can start investing even with a fraction of a share using Stockpile. Trading is done online or from your app, making purchasing shares super easy. My review post has more details.
Start off online trading on the right foot by choosing brokers which have demonstrated reliability over the years. A good trading platform to start with would be something like CMC Markets that offers a host of trading tools and a wealth of helpful tutorials for those who are new to the industry.
Are you wondering how to start a side business from home? These are all great side hustles from home you can start in your spare time to make extra spending money, or to transition into a business from your 9 to 5. Did you enjoy these ideas for side hustles and do you have any to add?
Over to you – what side hustle ideas do you have? Have you started a side business of your own? I'd love to interview you!
Grab your Budget Workbook Now!
Join my email list and we will send you this Monthly Budget Workbook right away!