I am enjoying interviewing professionals and wonderful mompreneurs about their line of work or their side hustles. Today I am sharing an interview with Nikki Kay, Founder of Elite Teepees. If you're wondering how to start a teepee sleepover business, read on.
Learn about Elite Teepees and this exciting business opportunity
Tell us a little about yourself and Elite Teepees. Why did you decide to start your own business? And what does your business do?
I am British and born, brought up and educated in England, where dance, travel, sewing, and pets were my childhood passions. As a child, I created costumes for my performing dance troupes, and was never happier than when creating a beautiful flamenco, can-can, or majorette outfit!
In my mid twenty's I decided to take some time out from the corporate world to travel. I started in the delightful town of Meribel in the French Alps. On day one, serendipity played its hand, and I met my future husband, a kiwi surfer called Duncan. We have been together ever since.
Fast forward 20 years – I enjoyed a successful career in the corporate consulting world, spanning 5 continents, which brought me from New Zealand to America in 2013. Working in the U.S. was a real eye-opener – although I loved my role, I became a little disillusioned with some of the practices of "Corporate America," specifically the way that people are fired 'at will' and forced back into the workforce without any health benefits.
I made it a personal mission to try to help those who, frequently through no fault of their own, find themselves in such a position. First, though, I had to prove that anyone, with the right mindset, could take control of their own destiny, build their own business, earn a decent living, contribute to their community, and have fun along the way!
The challenge was finding the right business. Then, a friend sent me an article about a new phenomenon in Australia – a curated sleepover business. It ticked all my boxes – I could build a business for women everywhere to replicate and earn a good full or part-time income; and it's fun, flexible, creative, and rewarding work.
I worked extremely hard to bring Elite Teepees to life. To create the perfect Elite Teepee, and to ensure that all the finer details had been thought through to deliver a unique, exquisite sleepover experience.
I opened my business in Feb 2019. Elite Teepees creates luxury sleepover experiences in your own home. It was formed to recreate the essence of childhood, where the magic of friendships happen, bonds grow tighter and life-long memories are formed. Our aim is to revolutionize the humble sleepover into something that is beautiful, comfortable, safe and magical.
Elite Teepees sets up your chosen sleepover collection on the day of your party, then returns the next day to pack it all away. We bring the magic, you make the memories!
Each person has their own handcrafted Teepee – a personal sleeping cocoon. Each teepee starts with an exquisite fabric selection and features a full-size proper mattress (not a blow-up!), sumptuous European duvet and bed linen, sleeping pillow, soft handcrafted decorative pillows, fur rugs, bed tray, night light, and a sleep mask. Then we add fairy lights, name plaques, party favors and a large sprinkling of magic.
All the sleepover guests need to bring is their PJs, toothbrush, and a sense of adventure! A magical experience for kids and hassle-free for parents.
Who is the ideal customer for Elite Teepees and how does your customer find out about hosting an Elite Teepee sleepover party?
Although Elite Teepees are used for many of life's milestones, (e.g. Family or ladies night "Glamp-in"; Bar/Bat Mitzvah or Quinceañera; team bonding or end of school year; kids' corner at a wedding or bachelorette party, etc.) without doubt the majority of my clients book Elite Teepees for their children's birthday parties. So my ideal client is almost certainly going to be a Mom. Typically, a busy Mom who enjoys the luxuries life has to offer, and wants to give her kids the best but doesn't have the time to organize everything.
Moms usually find us by word of mouth, or sometimes via Social Media. We are active on both Instagram and Facebook, but I have to confess that I adore Instagram, partly because my visuals are so powerful, but also because of the engagement I have with both Moms and kids. You can check us out here: instagram.com/eliteteepees. Please follow us if you like what you see.
To find out about hosting an Elite Teepees experience, the best place to go first is our website: www.eliteteepees.com. Here you can browse our themes, check out our FAQs and book a free consultation with me to discuss your specific requirements.
What are some of your favorite things about what you do?
I love everything about this business! It's such fun. From the sleepover design to product creation, to setting up an exquisite sleepover in a client's home. I also enjoy the freedom it provides – I can choose how many experiences to create each week and fit the rest of the work in and around my personal schedule.
Making dreams come true is our mission. Please tell me how many people do you know who get to fulfill their mission every weekend? The pure joy on people's faces when they see their teepees, beautifully styled especially for them, is beyond priceless!
I work with AMAZING clients who are deeply involved with their kids' lives and want to show them just how much they are loved. And I get to share in that, each and every time we set up an Elite Teepees experience.
What are some challenges of this business? Tell us about some lessons learned.
Since leaving the comfort of the corporate world, I've had to transform my whole being to be able to succeed. At times, I would have given my right arm to have my old Marketing Team, IT Helpdesk, Finance Team and Executive Assistant at my beck and call. However, learning new skills has been both exhilarating and empowering.
I advise anyone who is considering business ownership to take advantage of the incredible services provided across the nation (often at no cost) by the S.B.A. (U.S. Small Business Administration). The other piece of advice I share is to 'take action'. Procrastination kills many potential entrepreneurs from realizing their dream.
I learned first hand that it's true when they say, "just because you build it, doesn't mean that they will come." I spent time and money on advertising and direct mail, then expected the phones to start ringing – they didn't! In hindsight, the fact that it took 2 years to get my green card was fortuitous, as it enabled me to save my corporate salary, which has given me the luxury of time to figure everything out.
I have definitely made many mistakes along the way, particularly when it comes to marketing and product sourcing. Being a perfectionist around the teepee product design, and sourcing the right accessories took valuable time. I was determined not to succumb to mass consumerism by finding unique accessories to add both luxury, and a sprinkling of magic to the whole sleepover experience.
As well as designing several prototype teepees to create the perfect Elite Teepee, sometimes it's the littlest of things that take time and cost, like designing drapes into the teepee covers to create a perfect sleeping cocoon; or sourcing rubber feet for the frames to protect a client's floors, or finding the best markers to personalize name plaques.
You've decided to open Elite Teepees up as a business opportunity for others. For someone interested in joining the Elite Teepees Tribe can you share what to expect as far as earning potential and effort?
The Elite Teepees business opportunity provides the new business owner with full autonomy to decide how to run their business and what to charge for an Elite Teepees experience. Earning potential depends on what the business owner decides to charge in their location and how many sleepovers they create. I've seen companies charge as little as $50 per teepee (for blowup mattresses (or worse), and no bedding) to over $100.
By way of example, if you charge $80 per teepee and $70 for delivery, you could earn $57k to $171k per year, assuming you create 2 to 6 parties per week for an average of 6 kids. For 2 parties a week you could expect to be delivering for 3 hours on Saturday and picking up on Sunday.
For 6 experiences, you'll likely need an assistant to help with deliveries and will be setting up on Friday and Saturday, then picking up on Saturday and Sunday. That leaves client consultation, laundry, and other business activities such as accounts, to be done during the week at times to suit you.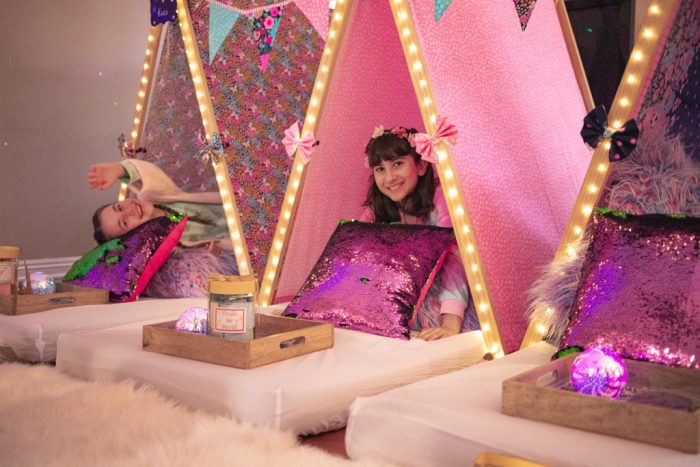 What does it take for someone to get started with their own side hustle with Elite Teepees?
A great place to start is to read the company overview and FAQs on my website here: www.eliteteepees.com/jointhetribe.
New Elite Teepees business owners decide how to set up and market their business, whether to create or outsource the making of the teepees and soft furnishings, which themes to design to best suit their community and how to expand their service offering if they desire to do so.
Licensees receive a comprehensive Quick Start Guide to help them set up their own Elite Teepees business; use of the Elite Teepees trademarked name, logo, and other intellectual property, and a listing on the Elite Teepees corporate website so that people can find their business in their area.
The Quick Start Guide is designed to be a thorough, practical aid to help Licensees get up and running as quickly as possible and avoid many of the trials and tribulations I experienced along the way. It includes full instructions for making the exclusive teepees, teepee covers, bows, bunting and even a teepee carrier. It also includes all the suppliers I used to build my business, the systems I use, my design principles, and ideas about how to expand revenue streams.
There's a one-time licensing fee of $995 and an annual renewal fee of $600, and the expense of setting up your business, estimated around $10k if you make the teepees and soft furnishings yourself. The cost maybe a couple of thousand dollars more in coastal areas to pay for website development, marketing materials, legal fees, etc.
I purposely kept the business opportunity license price low (a fraction of the cost of a franchise, and without the controls ) so that it is accessible to all, and ensures that new business owners are making all their own decisions about their business.
Does running a business with Elite Teepees help with the motherhood work-life balance?
In a word YES! This is the perfect role for Moms wanting to balance home-life, family, kids, career, community, and own-time. The fact that most sleepover experiences are held at the weekend means that you are available to spend time with your kiddos during the week. Imagine always being there for them when they go to and finish school, and never missing a school recital. You decide how many hours you want to give to the business, and because you are working from home, there's no commute, no office politics, and its fun, flexible and very rewarding. Moms also have a huge advantage in that they have a ready-made strong client network of other moms!
Anything else you would like to tell us about your business?
My vision for Elite Teepees has always been to set the standard for exclusive sleepover experiences and to create a replicable model to empower others to reap the benefits of business ownership. But – opening a business takes time and energy – even with the benefits of my learnings in the Quick Start Guide, all successful business owners need courage, discipline, fortitude, integrity, and patience. However, to really thrive in this business you'll also need to have an inner creative spirit and love working around kids. And if you are wanting to create something truly unique, it also really helps if you can (or know someone who can) create the teepees and soft furnishings.
Owning a business where you create pure joy, are rewarded with giggles and screams of delight, may only come around once in a lifetime. There's more information on my website about the industry, benefits of sleepovers, and how the trend for sleepover parties is exploding elsewhere across the world. Although this type and style of luxury sleepover experience in new to the U.S. it is expected to grow very rapidly. So right NOW is the time to get in at the ground level and take it to the next.
If creating magical memories for kids, and a stress-free event for parents sounds like fun, visit our website for more information.
If you would like to be interviewed for my side hustle series, please fill out this form.
Join the Working Mom List
Join the Working Mom collective and get support and tools to help you thrive! Subscribers get access to my library of resources and printables.