I first "met" Jacqueline Pirtle when a publisher invited me to read her book, 365 Days of Happiness – Because happiness is a piece of cake: A step-by-step guide to being happy.

How often do you really pay attention and choose things to improve your day? In 365 Days of Happiness, author, energy healer, and mindfulness teacher Jacqueline Pirtle has created daily inspirations that help you mindfully work towards living a more vivid experience of daily happiness. Showing that you can put in work to change your life while having fun, the practices are full of whimsy and delight. Jacqueline decided to spend every day of 2017 devoted to her own happiness. She wrote every single day about the things she does to honor her joy, and used these writings to create this 365 day step-by-step guide, so she could teach you how to shift to BE and live in a "high for life" frequency of happiness too-no matter where you are at in your life right now.
I received a complimentary copy of this book. The title intrigued me, and being happy is one of my goals. What this book does amazingly well is to remind us to find happiness in each and every day. In every little action. In every smile. Even in every flower. We can find joy in every accomplishment and even in our failures as they teach us something new about ourselves and our goals.
This was almost a handful of years ago, and now I'm happy to announce I am collaborating with the author on her newest project – sharing the High-for-Life membership! Enjoy this interview with her.
Hi Jacqueline. Tell us about yourself and FreakyHealer.com.
I'm a born Swiss, married to an American, a mom of 2 incredible young adults, plus a mom to 4 Italian rescue cats––and I live in Tampa, Florida.
Some call me the perfect image of a free spirit that exhilarates with momentum and then milks that connection to its most to help myself, my family, clients, and everyone and everything that I encounter to BE and live their highest and most truthful potential––hence, I adore traveling, moving, change, food, experiences, and life itself.
I love keeping my focus always on being my limitless energetic self, and not being restricted by any idea that looks like a physical fixed space––let alone feeling held and glued into yesterday's story because I am new every single moment and believe that everything IS always possible.
FreakyHealer is my business in which I showcase my 24 years of phenomenally successful expertise as a bestselling author of inspiring self-help books, speaker, knowing of The Soul thought-leader, mindful happiness expert, and holistic practitioner––helping thousands of clients discover their own happiness and how to live a conscious and mindful life.
What inspired you to pour happiness into others? Who is your ideal coaching client?
It's not so much about pouring happiness into others, but more about me being aligned with who I really am, then sharing and spreading that essence, wisdom, and knowledge of living an inspired life, with the hopes of being a light switch for others!
My ideal coaching client is anyone looking for a new way of living life––one that is fulfilling, energizing, and all about living and being on the brighter side.
Your High-For-Life membership is now open for new clients. Tell us about your membership.
The High-for-Life membership is a safe space in which clients get to know themselves better and form a deep connection with their inner being, with life itself, and all that it entangles.
The entirety of the material is incredibly inspiring, shifting you moment-by-moment to feel better than you have before. It is coaching you to understand yourself and life at a higher level, therefore, making more aligned choices that fit a life that you love.
Why is this membership perfect for busy moms?
It is perfect because it gives moms a self-help guide they can follow without thinking twice about what else they can do for themselves, which is key, since they are already thinking for the kids and family. Plus, all practices are short and in different modalities; moms can take 5 minutes here and there to take care of themselves while choosing if a video, voice recording, or reading is appropriate for their moments and surroundings.
It's lovely to have a daily transformation topic – how do you recommend your clients to use these daily prompts?
Best practice is to read the daily transformation first thing when waking up, then spending a little time with what it initiates for you by meditating, daydreaming, or journaling.
These daily focuses are short and deep, meant for a swift shift to set a great tone for your day – and to remember that well-feeling throughout the day – guaranteeing a heightening in being and living while also making sure that your day is indeed a great one, no matter the circumstances.
View this post on Instagram
The weekly coaching topic is your client's self-care Sunday moment. Share with us what it includes.
The weekly coaching covers a new life subject every week and has multiple components so you can practice each part at different times. There's a voice recording called "The weekly forecast," then there are "The words of wisdom," which is short reading material. There's also a weekly video, a podcast episode, worksheets, and sometimes a mediation––all covering how you can feel better and create a nicer life.
The whole weekly coaching material takes about 20-30 minutes to complete, but make sure to take time in between to sit with your newly gained wisdom and breathe into this happy feeling. It's not supposed to be a sprint!
Here's an example weekly coaching worksheet prompt.
Tell us more about the community aspect of your membership. How do high-for-life members interact with each other?
There's a ChitChat forum built into the membership site to communicate and ask questions in the hopes that this will be of great value for members to make new friends, feel supported, and have access to me.
There's also the option to be featured as a member, so members get to know each other and their passions and support each other's businesses, projects, and work.
Any other special features we should introduce to our readers?
I hold live sessions in the High-for-Life membership at least once a month, and the recordings will be available to watch at a later time.
I bring in special guests – that offer inspirational value and stories – to inspire, help, and support members because when you hear different ways that life can be lived it brings ideas for change.
Future plans for the community include journal challenges, live book readings, a 365 Days of Happiness book club, workshops, and much much more.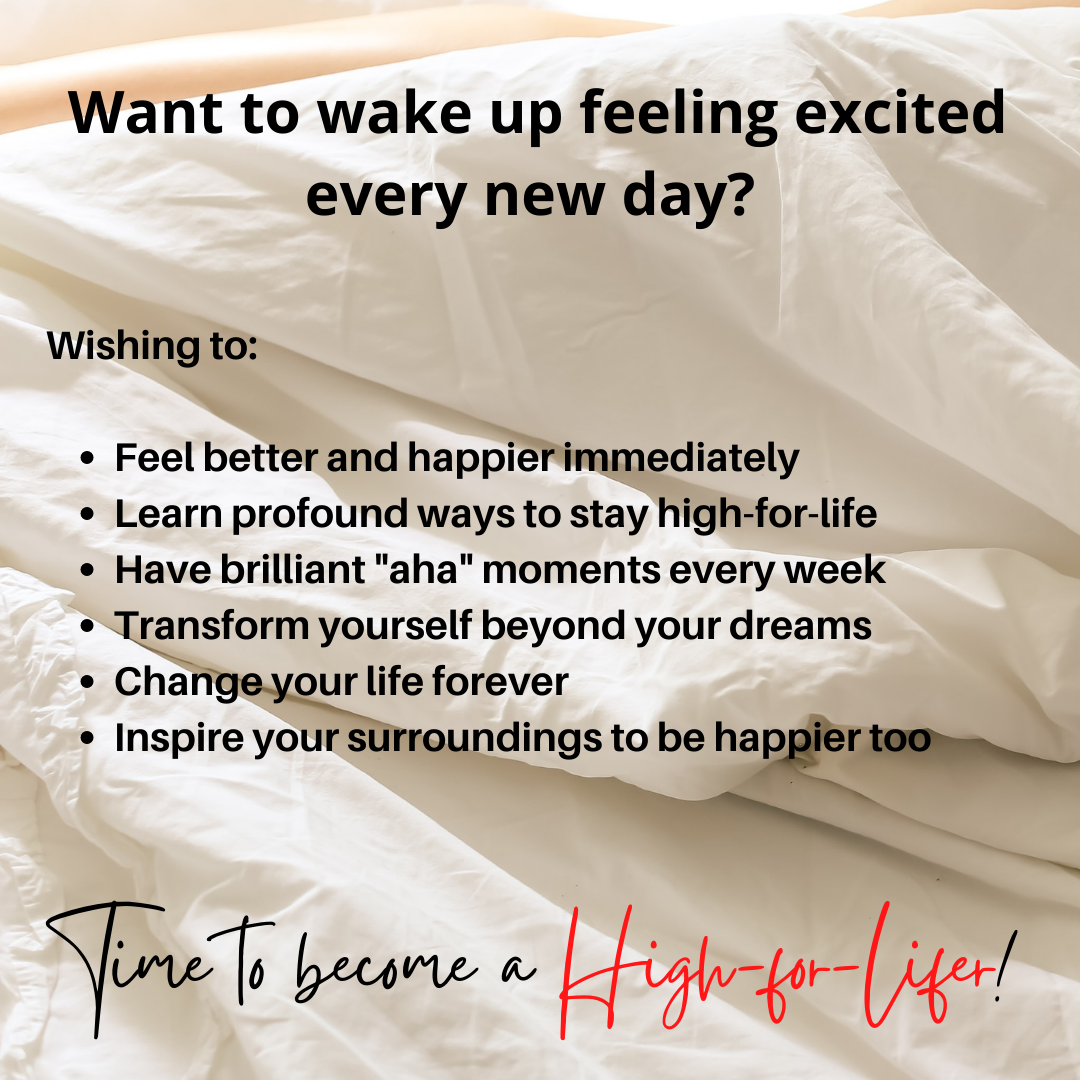 Use this code for 20% off the HFL membership: HFL6
---
You might also like: Self-Love Planner for Moms Printable
Join the Working Mom List
Join the Working Mom collective and get support and tools to help you thrive! Subscribers get access to my library of resources and printables.