Ever since being pregnant, you knew you would be coming back to work after the maternity leave is over and that meant searching for a good childcare provider. Although there are so many options available, like finding a nanny, or making arrangements with grandparents, most of us opt for daycare.
There is a lot to the mix of finding a good daycare, taking into consideration the cost, location, and spots availability. But today we will put these factors aside and talk about what to look for in a good daycare for working moms to make sure your child is well taken care of and is developing to his or her best potential.
1. People who work at daycare

What do parents look for in a daycare ?First, it's important that caregivers who work at the daycare are patient and kind. Secondly, you want to watch out for the kids-to-caregivers ratio. The fewer kids per caregiver, the better. When there are many kids in a group, there is less chance that their needs will be met.
A child needs to feel safe to explore on his own and having one primary caregiver who is attentive to your child promotes this feeling of security and helps your child to establish an attachment. When there are more than two people caring for a group of children they tend to relax and feel not so obliged, hoping that someone else is watching children in case something happens. If there are more than two people interacting with kids, their roles should be clearly defined.
2. Daycare's rules
A good daycare center should have a philosophy or principles to which they adhere in interacting with children on a daily basis. These principles should be written down and communicated to parents in a clear format so that you know what environment your child will be spending his day at and it should be no mystery to you. Ask the daycare center you consider how various activities such as sleeping, feeding, crying, and discipline are dealt with.
3. Freedom to move and play
Children learn from everything around them, and their minds are working non-stop. It's absolutely unnecessary to teach infants and toddlers to memorize flashcards or how to work a puzzle. There will be an opportunity for that when they go to school, but for now, kids should be given a nourishing environment for their minds to grow. That means the daycare provider should consciously create opportunities for children to play and solve age-appropriate challenges on their own, instead of being given instructions on what to do and a list of activities. It's important that his environment is safe and is according to his age and needs, so he can play safely instead of hearing "no, don't touch that" all the time.
4. Schedule
Look for a daycare that has an outlined, yet flexible schedule rather than a set curriculum. Children thrive on predictability when they know what to expect and when, as it helps them to feel safe, especially when they are away from home. That's why naptimes, meals, and outdoor play should occur at the same time each day.
Asking your daycare provider whether they will provide logbook notes about your child's time at daycare at the end of each day will also be useful. These can include notes about meals, naptime, mood, any health concerns, possible accidents, etc. It would also be nice if the daycare provider left a note about what particular activity the child was doing during the day and how did he like it. Craft or a printed photo is also great.
5. How many hours
Here's one to consider when you think about what to look for in a daycare for infants. We parents all have different schedules and lifestyles, so choosing the right amount of time that is good for everyone might be a tough one. Watch out for the opening and closing hours, as they differ from one place to another. Take into account time when you start and finish your work, plus the time you spend to get to and from daycare. Be realistic and give yourself plenty of time, because things like last-minute work stuff or traffic happen more often than we would like it to. Calculate what time you can commit to being at daycare every day and go from there.
Conclusion
At the end of the day, it's all about finding a kind, patient, and gentle person who will pay attention to your child. Your child may be spending quite some time away from home, but knowing she is in good hands and well-taken care of is all that matters and will give you peace of mind to focus on your daily tasks. Cost and location play a big role for a parent, but considering these five factors listed will benefit your child, and that's every parent's goal.
Don't forget your Custom Daycare or School Labels Pack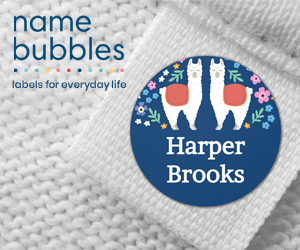 Author Bio
Dasha is a millennial mom to an active toddler and works full time in marketing. Combining these two is not an easy job, but with proper planning and positive attitude things do fall into place. Dasha sees inspiration in everything and believes every mom sets an example to her child. She helps other moms find time for themselves in their busy schedule, shares her parenting hacks, and resources on how to be the best version of yourself you can be. You can find her at myscarlettdays.com
Read other posts from this childcare and nanny series.
P.S. If you are looking at hiring a nanny, I have prepared a Nanny Contract Template to help you hire your own nanny.
Join the Working Mom List
Join the Working Mom collective and get support and tools to help you thrive! Subscribers get access to my library of resources and printables.