If you've been a stay-at-home mom, beginning a job hunt after a long time out of the workforce is an intimidating process — especially if you have little-to-no professional experience.
It's no wonder either. You're up against candidates with years of continuous career building. Standing out and showing hiring managers that you're worth consideration isn't easy.
Luckily, there are plenty of strategies that will make your application competitive so you can land an interview.
Resume Tips for Rejoining the Workforce
Resume Tailored for each role
First, tailor your resume to each role to edge out the competition and ensure your resume catches the eye of the hiring manager. Many job seekers use the same resume for every opening they apply for, which is a critical mistake. Tailoring your resume to each role makes sure yours is noticed and shows employers you're perfect for the role.
Functional Resume format
Second, try a functional resume format that draws attention away from gaps in your employment. Functional resumes move the hiring manager's focus away from your work history to the parts of your resume that showcase your talents — such as your skills section and resume objective. These sections prove to potential employers you have the expertise to be an effective performer in their companies while downplaying the fact you don't have a traditional career trajectory.
Resume Writing Infographic
Need more information? This infographic breaks down five simple resume writing tips for stay-at-home moms who wish to rejoin the workforce.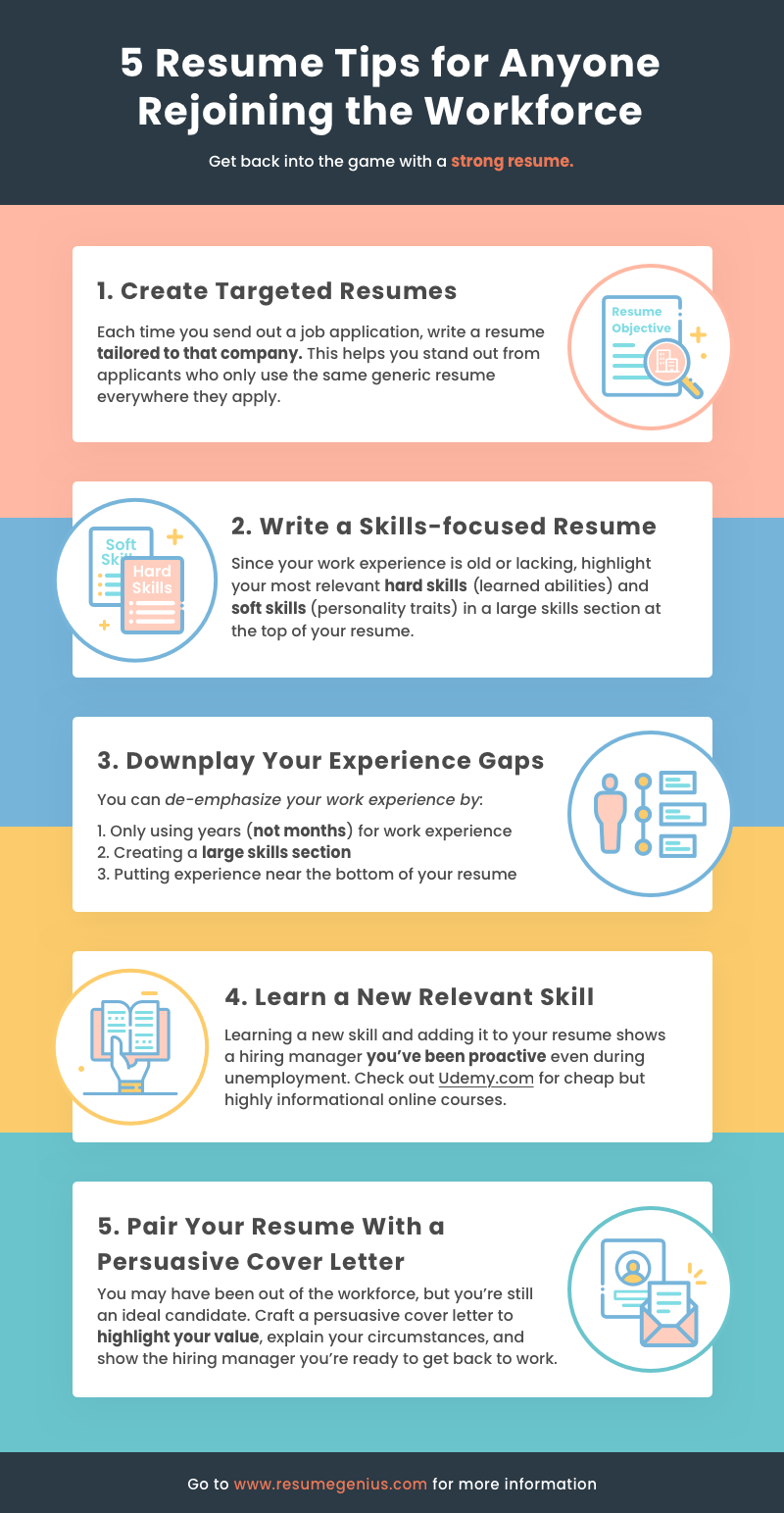 Infographic courtesy of ResumeGenius.com
Looking for the best resume writing services? This post ranks 750 best resume writing services.
Next, learn about balancing your new busy life as a working mom.
You might also like, How Moms Can Update Their LinkedIn To Land A Job.
Join the Working Mom List
Join the Working Mom collective and get support and tools to help you thrive! Subscribers get access to my library of resources and printables.