Before returning to work I put a lot of thought into what I needed to continue on this breastfeeding journey. I had to learn how to pump at work including packing the perfect breast pumping bag for work! Here are the breastfeeding must-have items for working moms!
Post originally written in 2015; updated in 2022.
Pumping isn't as pleasant as nursing, obviously, since you're hooked up to what I like to call a Medieval torture device rather than your baby. But, it is a necessary activity to continue to provide milk for your baby, maintain supply (and avoid painful engorgement).
So how do you pump at work? Do you know how to store breast pump parts at work?
Here's the breastfeeding mom's pumping bag checklist for when you go back to work. Enjoy these "pump at work" tips!
Breast Milk Pumping Bag Checklist when Returning to Work
These are the pumping at work essentials!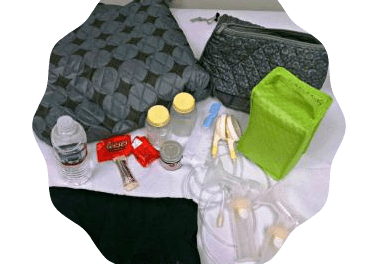 Breast pump and accessories. My workplace provides a hospital-grade pump, the Medela Symphony, so all I need are the attachments, breast shield flanges, and bottles. If this was not the case, I would have my Medela Pump In Style breast pump I got via insurance in the bag as well.
Hands-free pumping bra. I used the Medela Easy Expression Hands-Free Bustier. It zips down the front and has holes so you can put the shields through it and attach to the rest of the pumping gear. Later I switched to the Beli Bea pumping bra so I didn't have to change.
Breast milk storage bottles. I take some home and bring some new breast milk storage bottles the next day, but I also have a few extra storage bottles in the bag.
Cooler and ice packs. Someplace to store the pumped milk bottles and for safe transport home.
Nipple butter. Because pumping isn't gentle.
Drink and snacks. Because you gotta stay hydrated and fed, right?
Bottle brush and dish soap. You'll need to clean your supplies. At least at the end of the day. You can store everything in the refrigerator if there's room between pumping sessions.
Entertainment. I have my phone and my kindle. It helps not to focus on what I'm doing. Sometimes I have to bring the laptop and keep working but I try not to.
Connection to Baby. I can check in on Baby H on the nanny cam app on my phone and that helps with pumping. some people suggest bringing a photo, or you can even record the sound of your baby (crying/giggling/making noises) if that helps.
Pumping Bag Checklist for Work
How to store breast pump parts at work?
Tips on how to store pump parts at work
First and foremost, it really helps to have access to a refrigerator where you can store your breast milk and breast pump parts. I was super fortunate that my company had a nurse's office with a fridge just for this purpose. They also had a cabinet where we could store our pumping bags and pumping at work supplies.
All the pump parts and accessories can be kept together in a pumping bag or basically a tote bag. I had a smaller bag that kept the specific pump parts that actually touched me or touched milk and between pumping sessions all that would go in the refrigerator with the pumped milk. At the end of the day, I would wash out the pump parts and store them, and take home my little cooler of pumped milk.
If you do not have a refrigerator, keeping a larger cooler on hand will be so helpful. That way you can store anything that has touched milk throughout the day without having to wash everything after each pumping session.
The rest of your pumping bag for work can remain in your desk at work, or you can carry everything home/store it in your car if you need to use it there as well.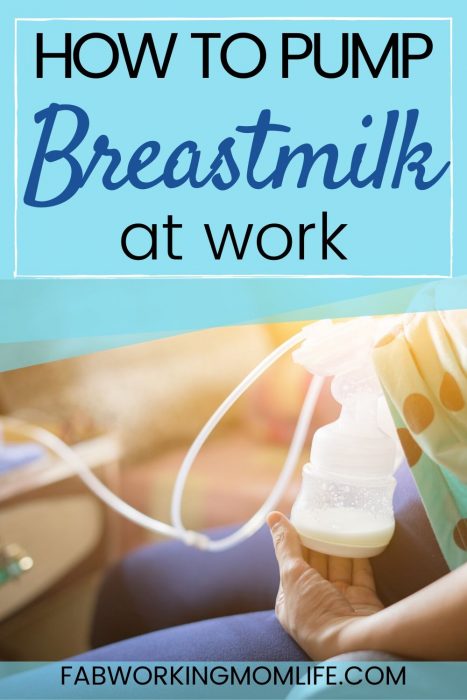 What pump at work schedule should you follow?
What's the best breastfeeding and pumping schedule for working mom?
How often should I pump at work? This is a delicate balance between what your work schedule allows, and how much milk you need to pump. It is usually recommended to pump every 3 hours. However, that is not usually realistic with a busy schedule full of meetings.
One way around this issue is to pump while you're driving to/from work (multitasking FTW). Yes, it does sound awkward but a good cover should help.
Find time between busy schedules at work for your working mom pumping schedule. Maybe pump as soon as you arrive (especially if your morning commute is long) and before you get settled at your computer. It might mean pumping closer to the lunch hour, when there are no meetings scheduled, and pumping closer to the end of the day.
Three times during your workday would be ideal if you can fit it in. When do you pump at work?
You might also like learning about portable breast pumps you can use in the office.
More tips about pumping at work?
And if you want some additional support and a chance to get ready for pumping before you go back to work, check out this fantastic pumping class!
Join the Working Mom List
Join the Working Mom collective and get support and tools to help you thrive! Subscribers get access to my library of resources and printables.