When you live in Texas, you don't really get to experience winter. This year we decided to plan the ultimate winter vacation, which resulted in family travel to Winter Park, Colorado. This was our Colorado winter vacation!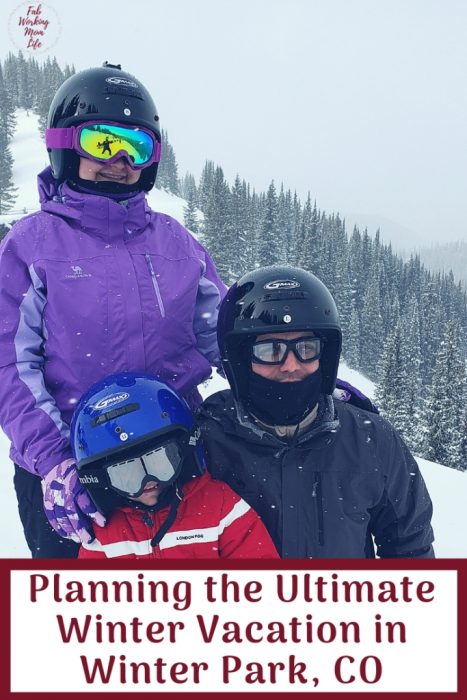 I picked the word Adventure for my Word of the Year, because I need to be more open to new experiences, and say yes to more things. Now that the kiddo is older and we can do more with him, we should. Because traveling with kids is important! So we decided to take him to see snow, real snow, for the first time.
Honestly, while I was born in a snow environment, I grew up mostly in warm or temperate climates. The one time I tried to ski as a semi-adult (I was 17 at the time) at a ski resort in California, I was too scared to jump off the ski lift, not to mention ski on a slope. In college, future hubby and I took a trip to Colorado and went snowmobiling. And guess who (yours truly) fell off during a turn. So let's just say my fear of the snow is healthy.
So no, we did not ski. But we did have a lot of fun adventures in the snow, and so can you!
Where to Stay in Winter Park, Colorado
We researched affordable resort stays and ended up staying in. We stayed at the Winter Park Mountain Lodge. It's across from the Winter Park resort but is less costly from what I remember, and it has a free bus that takes you across the road (you can't walk, even though it's across) to the ski slopes. The WPML has a lovely indoor pool with mountain views. The amenities area even has a sauna, two hot tubs, and a small gym. There are also lovely cozy living room type areas with a fireplace and couches, and even games to play. We had a nice family Jenga night, by the fire. I love a fireplace.
Go Snowmobiling in Winter Park, Colorado
The Grand Adventures snowmobiling tours company picked up right in our hotel. We took the two-hour tour, the Continental Divide, and it took us up up up the mountain and to some breathtaking views. Now you will recall that I had a healthy fear of these from the time I fell off. Well, I had to drive my own since the four-year-old rode with Daddy. I mean, I couldn't ride with Daddy and have the four-year-old drive his own, so that's how it went. I will say I did not fall off and did pretty well overall. Though I was totally slow and the rest of the tour took off in front of us. That's OK though, we still had fun and got some amazing photos.
Go Snow Tubing in Winter Park, Colorado
Tubing is the activity we did most often. Three days of tubing, in fact. So I have some opinions on the best tubing place in Winter Park, Colorado.
The first day we went to the tubing hill in Fraser, based on a recommendation from a local. He was right to send us there. The hills are lovely, and there are several tubing hills and companies there. Fraser is about a 5-minute drive, which was fine since we had a rental (gotta get there from the Denver airport somehow). The company we went to was Colorado Adventure Park, and they have multiple options for easy and "expert," aka fast hills. You go up the conveyer belt road with your tube and send yourself down whichever hill you want. Young kids need to be in a double tube with someone, so we got one single tube and one double, and trade which one of us our kiddo rode with.
The second tubing location we went to was the Coca Cola Tubing hill, which is located inside the Winter Park Resort. But let me tell you, this we were not fans of. We bought a two-hour tubing like we did the previous day at Colorado Adventure Park tubing, but we ended up getting a refund for our second hour. Let me tell you why. First, the tubing hills are not very long or fast, but they do back up to a road. So there are rubber brake pads to slow you down at the end, which hurt. They hurt me, and they really hurt the kiddo. Second, it's super corporately run, and they have people to send you down, with four lanes you can only have one going at a time, so no one runs into each other at the bottom. Third, well, you have to buy time slots. So when you show up, you probably are going to wait for an hour before the next available time slot, if it's not super busy and sold out that day. So really it was not enjoyable. Our 4-year-old was crying so much we gave up and went back to management and got a refund, even though they claim no refunds (like if you miss a time). So maybe this isn't the best review for Coca Cola Tubing Winter Park but you'll have to decide for yourself if you want to give it a try.
So the third day of tubing, we went back to Colorado Adventure Park. No lines, start immediately. They don't police your time, and you go up and down the hills at will. Much more freedom, different hills, more open space, allowing for more fun. Totally recommend. That was our favorite part of our winter vacation in Colorado.
What to Pack for your Winter Vacation
Those of us who live in warmer climates probably don't own very much snow gear. But it's critical for a place like Winter Park, CO because the temperatures were in the single digits, and getting snow all over you makes you wet and freezing cold, fast. So it's important to have proper snow boots, snow pants, snow jackets, and don't forget the long underwear, gloves, goggles, and neck gators.
We got a set of everything for each of us adults, but we got a few extras for the four-year-old, even though he'll outgrow them quickly. We figured he might get it wet, for one reason or another, and need a change sooner than we would.
Where do you plan your winter vacation?
Join the Working Mom List
Join the Working Mom collective and get support and tools to help you thrive! Subscribers get access to my library of resources and printables.