My workplace had an International Luncheon potluck recently and I decided to make the dish Russian Beet Salad. I wanted something that didn't need to be heated up and could be made in advance and refrigerated until ready to serve.
I also, obviously, wanted to make something I grew up eating, and it had to be fairly easy to make. I decided to go with the beet salad since it is a pretty well-known Russian dish, and much easier to make and serve at a potluck than Borscht (beet soup) or Russian potato salad (another well-known dish with many more ingredients).
How to make Russian Beet Salad
Enjoy trying out and making this Russian beet salad recipe. Did you know this recipe is very popular in both Russian and Ukranian cultures, but was originally adopted from Western European cuisines.
Ingredients for Russian Beet Salad:
4 beets
6 potatoes
4 carrots
6 green onions
6 dill pickles
1/2 cup vegetable oil
4 tablespoons champagne vinegar
salt
Directions to prepare the Russian Beet Salad:
Cook, peel, and dice beets, red potatoes, carrots. Add diced pickles. Combine vegetable oil and champagne vinegar for dressing. Green onion garnish, salt to taste.
The steps are pretty simple, but in reality, this salad does take some time to make.
You have to cook the beets, potatoes, and carrots until they are soft, then let them cool, then peel them and dice them. It took me about 40 minutes to cook the beets and 30 minutes to cook the potatoes and carrots (separately from the beets). I set two separate pots to boil and cooked the beets in one pot and the potatoes and carrots in another.
The veggies have to be fairly soft to be able to peel and dice them easily – this is not a crunchy salad. While the beets were finishing up I was peeling the potatoes. Peeling the carrots was pretty quick and peeling the softened beets is easy.
Fair warning – cooking with beets makes your kitchen look like a crime scene – an apron is recommended. I diced the potatoes, carrots, and beets into a large mixing bowl, then I got the pickles out of the jar and diced them up as well, mixing everything together.
The next step is making the dressing. When I looked up variations of this recipe online to confirm I wasn't forgetting a key ingredient, I saw a recommendation to use champagne vinegar in the dressing. I went with that instead of how my Mom makes it, which is with regular white vinegar that we would already have at the house.
I find this beet salad can be a bit too overwhelming with white vinegar, but the champagne vinegar was perfect. This was my first time using champagne vinegar and it took me a little while to locate it in the store.
You can measure out the 1/2 cup of vegetable oil and add the 4 tablespoons of champagne vinegar to the measuring cup before pouring over the vegetables in the mixing bowl and tossing them evenly. I added a little salt, then a little bit more after taste testing it. I didn't want to overdo the flavors, but I did want it to affect the taste. Then I chopped up the green onion.
Finally, I transferred the mixed salad into a large serving bowl and sprinkled the green onion on top. I closed the lid and refrigerated it overnight, bringing it to work the next day for the luncheon. The beet salad waited in the refrigerator at work until it was time to serve it.
Easy peasy for potluck purposes, but a bit of time on the preparation.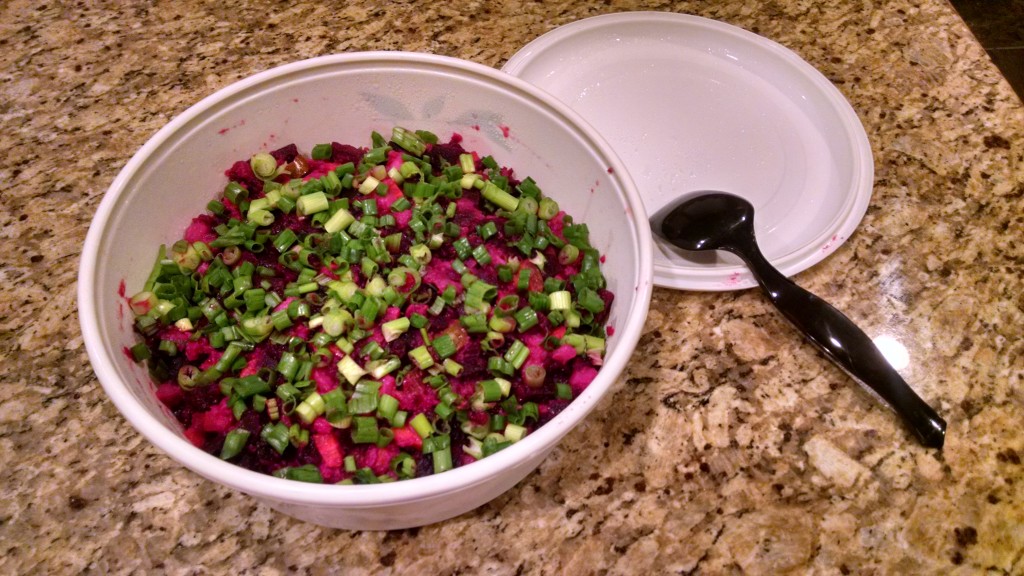 Are Beets healthy?
A great thing about this salad is how healthy it is. How often do any of us eat beets? Probably not all that often, but beets are so good for you:
Beets are high in vitamins and minerals
Beets can help reduce cholesterol and risks for some cancers
Beets are a superfood and are good to eat during pregnancy
Beets lower blood pressure and increase energy levels
I got a lot of compliments on this dish so it was definitely well-received by the office. There you have it, my slightly modified family recipe for making Russian beet salad that you can take to a potluck.
Join the Working Mom List
Join the Working Mom collective and get support and tools to help you thrive! Subscribers get access to my library of resources and printables.