Between Memorial Day and Fourth of July, and simply being a military family, patriotic crafts are a wonderful thing to do with kiddos. Especially toddlers and preschoolers who just love to paint. After our Father's Day craft fiasco, I applied my lessons learned to the next craft.
I started this craft up after nap time Sunday afternoon. I asked my son if he wanted to paint: "SURE!" he said. Then I backed up a bit and said, "wait do you want a snack?" (Cause, you know, no one wants to have a hangry toddler) and he said, "not yet, first, painting." OK, buddy you got it!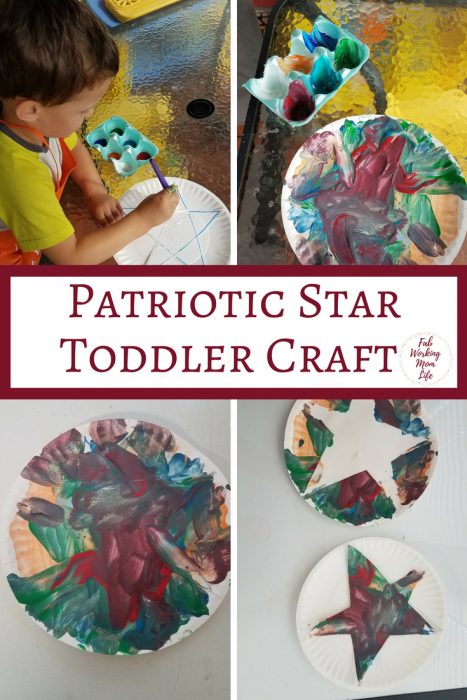 Fourth of July Patriotic Star Toddler Craft
Supplies:
Washable Paints and paintbrush
Clear tape
Paper Plates
Scissors (If you have the kiddo cut, use (preschooler safe scissors)
Newspaper or packing paper for a mess-free workspace (or play outside)
Egg carton (empty) with just enough slots for the number of colors of different paint you wish to offer
The first thing I did was draw a basic star on a paper plate (the one where the lines cross, no worries it will be painted over). Then I cut it out via the outline and used folded over the tape to stick it to the second paper plate, so all the tape is underneath the star.
Then I gave my toddler a variety of colors, some reds, some blues, some whites, some others that made him happy. I had to give him six since I gave him a slice of the egg carton with six spots. He wouldn't let me leave any empty. Hence the note above.
Then I put him in an apron, gave him a brush and let him have at it. I learned from last time that he likes to full-coverage the plate with lots of paint colors, and I tried to guide him a bit to put different colors in different places, so we didn't end up with a brown mush mess.
He had a blast, enjoying mixing the colors on the plate and swirling them around.
After I let it dry, I carefully peeled off the top star and tape and stuck it on a blank paper plate. Now we have TWO lovely crafts. One with the star itself, and one with the inverted space of the star. Simple, fun, patriotic. You should try it with your toddler or preschooler!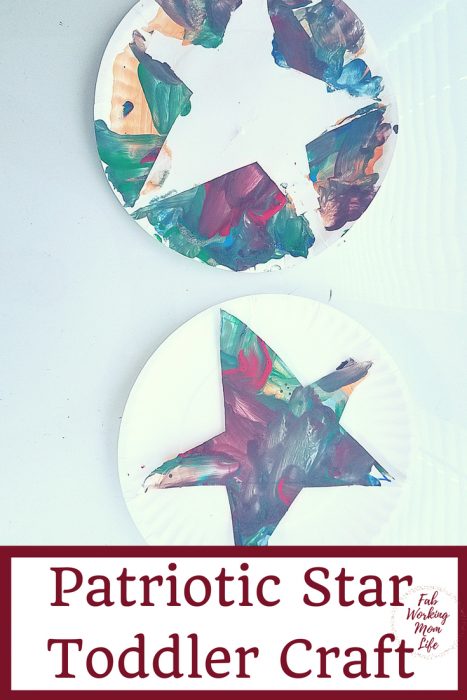 Want more Fourth of July craft ideas?
Here's another fun patriotic craft: a patriotic firecracker wind catcher made with recycled materials! from Healthy Happy Thrifty Family
Here is a fun tissue paper suncatcher red, white and blue craft from Live Well Play Together
This one is a placemat craft for the Fourth of July from Penlights to Pacifiers
And a cute Dollar Tree Fourth of July wreath from The Coffee Mom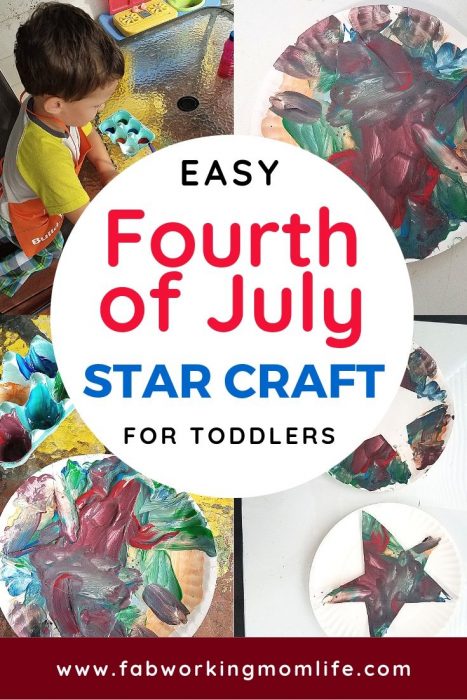 Join the Working Mom List
Join the Working Mom collective and get support and tools to help you thrive! Subscribers get access to my library of resources and printables.