Thank you to Silver Fern Brands for facilitating this conversation.  Affiliate links are used in this post, earning me a small commission at no cost to you. All opinions are my own.
Does your toddler have a sweet tooth? You know where the little one got it from, right? Raise your hand if you have a sweet tooth, too!
One of the biggest struggles I have is feeding my little guy. He used to be a fantastic eater. He used to sit with his mouth open in a "food goes in here" gesture. Now, he just takes and throws everything that isn't bready and sweet.
Good news, though, I've discovered these amazing baking mixes by Silver Fern Brands that are high in protein and fiber, while being low in sugar and carbs. Now I can make delicious treats for my little guy that are healthy and guilt-free, including a no-guilt breakfast feast.
I usually try to make something healthy for my toddler's breakfast that also will be something he will eat. Sometimes this looks like mini-muffins with hidden veggies, and sometimes it is scrambled eggs with hidden blended spinach. You see my habit of hiding a nutritious food item, huh? But what about something high in protein without having to blend in and hide foods to make the item nutritious?
I recently got to try out this Silver Fern Brands Strawberry Blondie Bar Paka baking mix. The mix is loaded with natural ingredients such as algal flour, whey protein, and soluble fiber. These bars high in fiber and high in protein, and use a low-cal-sweetener! But not only that, they are absolutely delicious (says this mama who enjoyed licking the spatula a little too much).
As you can see, the ingredients were quite simple:
The Paka Strawberry Blondie Bar baking mix
1/3 cup Butter
2 Eggs
2 Tbsp Water
The instructions are quite simple too. Essentially:
Make the batter by mixing the box contents, butter, eggs, and water as instructed. Mix for several minutes to even the batter and not have any dry spots.
Layer onto a baking dish.
Bake at 350 deg F for about 12 minutes.
Seriously, this is how I like to cook. Baking these no-guilt strawberry blondie bars was easy, and the toddler and I enjoyed licking the spatula and bowl clean while these yummy breakfast bites cooked and then cooled. He's been enjoying them as a breakfast treat all week, and I've been enjoying the fact that he is getting a meal that is high in protein and fiber, and low in sugar, despite being a pastry. Mom Win!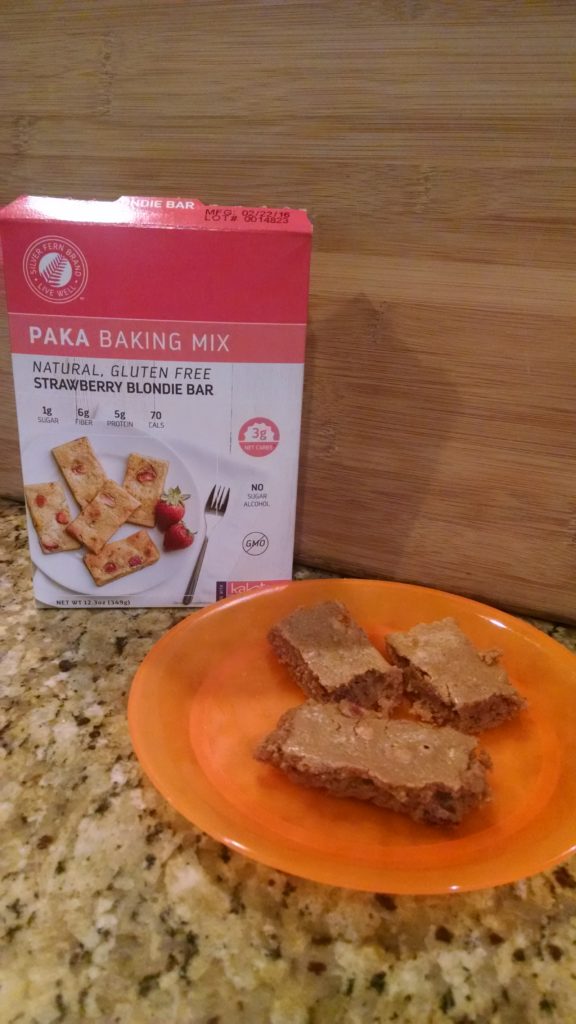 Try out these baking mixes by Silver Fern and let me know what you think!
Note: Silver Fern has since discontinued their baking mix line. They do have a great Kakato natural high fiber sweetener you can use as a healthier alternative in your baking.
How are you satisfying your own (or your toddler's) sweet tooth in a healthy way?