New Year's Eve has always been a fun celebration for me as a teenager and adult, but it doesn't need to stop now that I'm a Mom with a small child. I can do fun, easy New Year's Eve crafts with my son, and we can enjoy the festivities together. Here I'm sharing two simple and easy New Year's Eve crafts to do with toddlers and preschoolers.
New Years crafts for toddlers
These two New Years Eve crafts are great ideas for New Year activities for toddlers and New Years crafts for toddlers.
New Years Eve Fireworks Art
This fireworks art project is a quick and easy one that can be fun on New Year's Eve, but also the Fourth of July and other patriotic holidays.
Supplies:
Construction paper or poster board for the canvas
Toilet Paper Rolls
Paper plate for the easel, and later for the next craft
Steps:
Take the toilet paper, and show the little one how to cut slits halfway up the length. Then fold them up and out to make the fireworks stamp.
Take your paper plate and make an easel with various color paints.
Then, dip, and stamp onto the canvas paper of your choice.
The paper plate will get all colorful, and the paints will mix. Great! Save that and let it dry for the next craft.
New Years Eve Ball Drop Countdown Craft
Because no New Year's Eve is complete without a ball drop and countdown, make your own such paper plate craft!
Supplies:
Paper plate painted up from the previous craft
Steps:
If you have any white space left on the plate edge after the paint was smudged up, write the numbers 1 through 10 for your countdown.
Help your preschooler pour glitter glue all over the painted up paper plate.
Then let him enjoy sprinkling glitter and confetti over the glue. I suggest having a broom handy.
Then let it dry, and use it to practice your numbers one through ten, and counting down to the new year!
My son had a blast with these crafts, pun intended, but especially with the glitter part.
Here are more fun winter crafts and activities for toddlers and preschoolers if you're looking for ideas.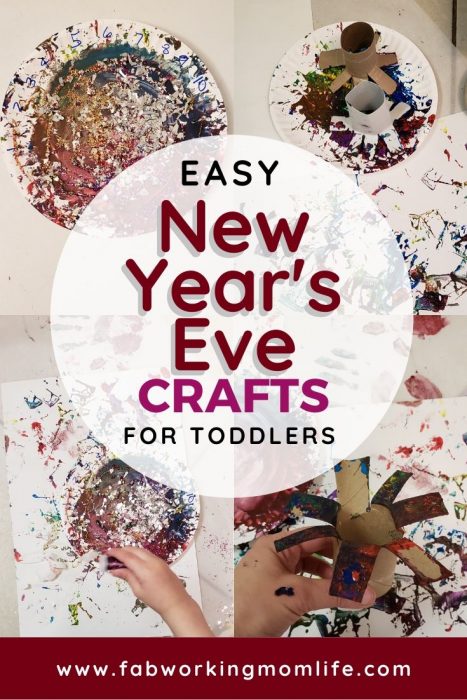 Join the Working Mom List
Join the Working Mom collective and get support and tools to help you thrive! Subscribers get access to my library of resources and printables.