Spring is magnificent, with the lovely colors of all the plants and flowers awakening. It's a great time to celebrate the Earth (we just had Earth Day after all) and all things Nature.
Importance of nature walk for preschoolers
"Just living is not enough, one must have sunshine, freedom, and a little flower." – Hans Christian Andersen
Getting out in nature is so vital for kids. Not only is the fresh air and physical activity great for preschoolers (and toddlers) but the visual stimulation and opportunities for learning are endless.
Nature walks are great opportunities to help toddlers develop language skills and preschoolers to work on kindergarten readiness skills.
Things you can do on a nature walk with kids
Here are so many great nature walk ideas. Going on a nature walk or hike can be as simple as walking around your neighborhood to as complicated as going to a special park or botanical gardens. There are so many wonderful things kids can explore and enjoy on a nature walk. And so many things to find on a nature walk! Here are some:
Do a scavenger hunt and pre-plan with a list of things to look for on a nature walk
Collect leaves, twigs, and flower petals that have fallen to the ground (for nature crafts)
Compare nature you see – what's bigger and smaller?
Nature color learning – call out something that is green. Or pink. Or yellow.
Nature math – how many flowers does that plant have? How many petals on that flower?
Explore the senses – what do you feel with your hands, what do you see, what can you touch?
Draw a map/picture of what you see on the nature walk
Find shapes in nature, and group things based on the shape
Find patterns in nature – do you see anything repeating?
Climb and jump over things – preschoolers love to do that!
Nature crafts with kids
We love doing nature walks and collecting nature treasures. We've been taking almost daily walks these days, and my son has always enjoyed crafting with me. So here is a collection of lovely nature treasure crafts we've conducted after a nature walk. Enjoy these nature walk activities for toddlers!
Mother's Day flower craft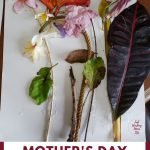 This is the most recent, a Mother's day themed flower created with flowers.
We really enjoyed collecting the items and gluing them on the paper, to create a visual flower with the nature we brought home.
You can read more here: Mother's Day flower craft using nature treasures
Easter nature craft
Here is a fun one we recently did as well, just in time for Easter and right when Spring really took off around here.
We collected flower petals and decorated cardboard in egg-shaped ovals.
They turned out gorgeous! It's a must add to your list of nature crafts for preschoolers.
You can read more here: Easter crafts and activities for toddlers and preschoolers
Fall leaf tree craft
This one is great for fall since we collected fallen leaves. But you can do this any time there are leaves on the ground to collect.
We used the leaves to make a tree art. Glue and nature are fun!
You can read more here: Fall Leaf Tree craft for toddlers
Nature suncatcher
This was also a fall activity but can be done in springtime as well. A great one for nature walks for kids.
You gather nature treasures, and fun flower petals, and create a suncatcher!
A bit of tape, twine, and a clear plastic lid and you have a lovely craft.
You can read more here: Enjoy Fall activities at the park searching for nature treasures
Nature Ice treasures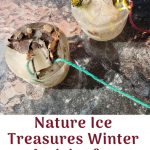 This is a great winter activity. The fun part here is to let the treasures freeze overnight outside.
If you don't live somewhere where it gets cold enough, or want to do this another time of year, simply use your freezer.
This activity creates a nature ornament that can hang outside. A bit of nature, string, and water in a cup give you this activity.
You can read more here: Nature ice treasures winter activity for preschoolers
What nature activities and crafts do you enjoy doing?
Join the Working Mom List
Join the Working Mom collective and get support and tools to help you thrive! Subscribers get access to my library of resources and printables.