If you're an expecting parent and planning to return to work, I know this topic is weighing on your mind: child care. Who will you trust to watch your little baby while you're at work all day?
Both of us work full-time so we considered several options for this common dilemma. Daycare is a common solution, but there are also nannies and au pairs. Today I'm sharing the options we considered before deciding what option will work best for our family.
Child care options we considered and our ultimate decision to hire a live-in nanny
Daycare considerations
Daycare was the first option we considered seriously and there are definitely pros and cons for every selection. I looked into a lot of different daycares, specifically looking at the hours they were open and the prices. I found a huge spread of costs associated with the daycares in our area – ranging from the daycares in my suburb being relatively affordable (so, only one arm) to the daycares near my work (the Galleria area of Houston) costing more than my mortgage did in our previous house!
I've said before that my commute is typically an hour and fifteen minutes to an hour and a half each way (gotta love Houston traffic) so I come home late. 7 pm late. Most daycares close at 6 pm. That was a big issue for us and a major player in our decision process. That was a reason I started looking into daycares closer to work because then I could drop in faster, maybe even stop by to breastfeed on my lunch breaks, but that obviously didn't end up working out. In hindsight that was probably for the best, since no newborn really needs to be carted around the city for 3 hours a day in traffic. That's stressful for everyone, and you can't exactly stop and tend to the baby very easily while commuting to work.
Another concern I had with daycares is when the baby is sick, you can't bring them. I mean, yes that makes sense because you don't want to infect everyone else or others to infect your child – but it isn't really practical to stay home from work at every sniffle, either.
Of course, then there's the packing the baby up, making sure you brought enough extra clothes, diapers, wipes, food, etc. and the sad wails as you leave them in a strange new place. If you get stuck in even more traffic due to an accident or stay at work a little bit longer to finish a project, you may end up having to pay a late pick-up fee. And never mind trying to run any errands on the way home from work.
For us, daycare wasn't the first choice, but we're happy to have it as an option. I did find one daycare in our suburb located along my route that is open until 7 pm Mondays – Thursdays and 6:30 pm on Fridays. That one daycare was our only serious option. (We actually registered with them as a back-up so we can always drop in our little one if we need to.)
In-home child care considerations
Then we started talking about having someone watch our child in our own home. We looked at au pair options and talked about simply hiring someone as a nanny. We considered options for live in childcare and decided to hire a baby nanny.
The au pair option interested me because it was a way to get a cultural experience for our child. But there are two big problems for me with the au pair program – one is the huge upfront cost, though the weekly costs are affordable. The second, and biggest deal-breaker for us, is the au pair could only work 10 hours a day, up to 40 hours a week. That simply is not feasible for families who work full time and have a commute. I work 40 hours a week, drive 2.5-3 hours a day, plus take a lunch break (even if only 30 minutes). So I'm out of the house for up to 12 hours a day, 5 days a week. I absolutely need childcare for all that time.
So then we started looking for regular nannies. We discussed what we could afford based on our income and expected bills, including the big mortgage for our new big house and all the student loans we still have. We decided on a live-in option for several reasons, one of which is we could deduct rent. We ended up recently buying a really large house (in the same price range as other houses in the area, we just lucked out that this particular house has so many bedrooms) so we certainly have the space for someone to have her own bedroom and bathroom.
Another reason we wanted a live-in nanny is my husband is in the Army National Guard and is often away for a week here and there. He was also in the process of transitioning into the JAG Corps, so we knew he would need to be away for several months sometime in the upcoming future for training. I wanted another adult in the house with me while he was away, so I wouldn't be by myself with a baby. So a live-in nanny was the best option since both our families are so far away.
I originally wanted to find a Russian-speaking nanny, since my family speaks Russian and that would provide a bilingual learning experience for my son all day. We interviewed a few Russian-speaking nanny options but kept running into issues of pay (some of the ladies we talked with wanted to be paid $2000+ a month! And that's in addition to being live-in after rent) and some were afraid of dogs (we have two big dogs, who is afraid of dogs these days?). So we scrapped that idea and just started looking for a regular, American nanny.
I put up ads online (at places like Care.com and SitterCity.com) and specified exactly what I was looking for (an experienced nanny, a woman aged 40+, non-smoker, etc.). I certainly didn't want someone my age or younger living with us, because I think that is a bit awkward, and I wanted someone with experience either raising her own kids and grandkids or just working for other families for some time. We received a ton of responses, many of which didn't fit our "looking for" description, but we were able to weed out the applicants worth interviewing. And when we narrowed down our search, we would order a background check after the interview with the nanny.
A great thing about having child care inside our own home is we can check in on the baby whenever we want on our nanny cam. We have a camera set up in the living room, and one also in his bedroom, so we can check in any time. I don't have to worry about getting him dressed and ready to go out in the world – I can leave him in his pajamas. I don't have to think about packing a diaper bag and enough diapers and changes of clothes since the dresser is full and all the diapers and wipes are stockpiled. It has really made things easier for us to have the convenience of having our baby looked after in our own home.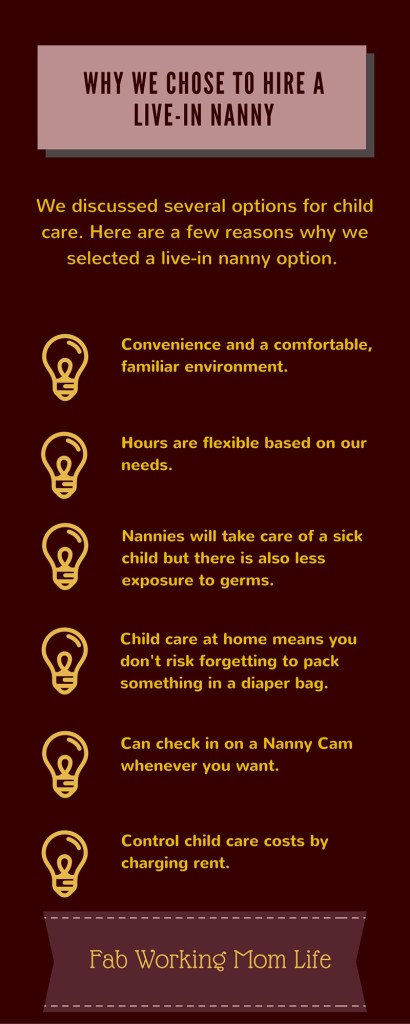 What child care options did you consider?
P.S. If you are looking at hiring a nanny, I have prepared a Nanny Contract Template to help you hire your own nanny.
Read other posts from this child care and nanny series.
Join the Working Mom List
Join the Working Mom collective and get support and tools to help you thrive! Subscribers get access to my library of resources and printables.