Selecting someone to take care of your children is not an easy feat. You're typically going to be interviewing strangers, so you have to ask the right nanny interview questions and get a good feeling about the person you choose to hire.
Here are some helpful nanny interview tips and examples of nanny interview questions to ask a potential nanny that you should focus on, and these can give you ideas for additional questions to ask.
Updated in 2021.
Keep reading for your free nanny printable list of interview questions and your checklist for finding a nanny. It is ultimately very important to hold an interview and ask specific and behavioral interview questions for nanny before you select who will care for your child.
Questions to ask during your Nanny Interview, a Nanny Interview Questions Printable Checklist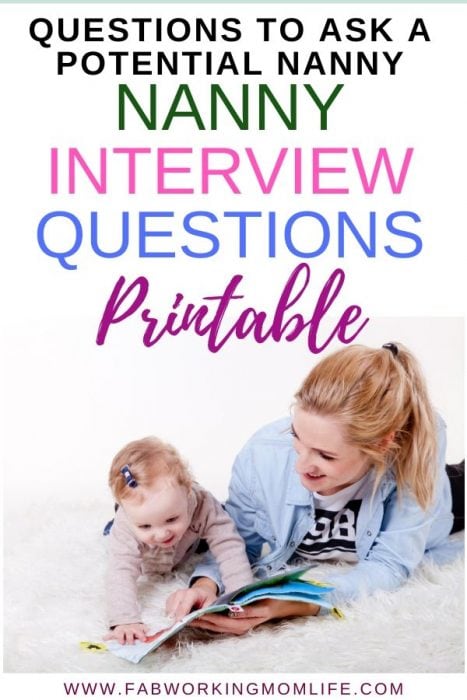 Grab your question list for nanny interview here!
General Background Questions
These are the usual starter questions for someone you will interview, so a nanny interview is no different. Ask her about herself, her hobbies, and her interests. Ask the potential hire why she wants to be a nanny, and what interests her about your specific need. It is also important to ask the nanny about her previous experience caring for children, their ages, and a little about her duties.
Is she CPR certified, or willing to get the certification? Has she ever had to handle a medical emergency? Does she have a vehicle and is she willing to drive children to a doctor or hospital if needed? Is she willing to submit to a background check?
What does she love about children and what do children love about her? How does she feel about light housekeeping, especially in the areas the children will play? Ask about living arrangements and transportation, if not a live-in nanny. Ask about any health issues and whether the nanny smokes or drinks.
Discuss Your Family's Specific Needs
I was still pregnant when we were hiring our nanny. We didn't really know what a typical day would look like post-baby and with me returning to work, so a lot of these questions were general care and not specific to our lifestyle. If you already know what you will need, this is the time to bring it up.
Ask what activities the nanny does with babies and toddlers (or other ages as appropriate). Is the nanny willing to adjust her schedule if you have to work late, or leave early for a meeting? Ask her to tell you about a typical day she will have with a baby or a toddler. Is the nanny willing to keep a daily log?
Ask her if there is a task she will not do. Ask about her philosophy on raising children. How does she discipline children? How does she comfort them?
Considerations if You're Seeking a Live-In Nanny
There are more topics to ask if you want to hire a live-in nanny as we did. Ask her about her sleeping and eating habits and needs. Find out if she has any pets she wants to bring with her. Ask if she has any family or friends who may visit, and decide how you feel about guests. Does she keep her living area clean and is she quiet? How does she feel about living with a family?
The nanny should have some questions for you, and those might spark other questions as well. If the interview goes well and you feel like you connect with the nanny and she with you, then you should introduce her to the children unless of course, you are still expecting as I was.
Download this Nanny Interview Questions Printable
I have put together a nanny interview questions printable that includes questions to ask a potential nanny, and of course, you should add any that you can think of that are specific to your situation. These helpful nanny interview tips and printable nanny questions to ask will get you started and get a good conversation going in the nanny interview. You should also ask your potential nanny if she has any interview questions to ask the family.
Hiring a nanny interview free printable. Grab this Nanny Interview Checklist!
Grab your Nanny Interview Questions Checklist Today!
Join the email tribe and we will send you this nanny interview questions checklist right away!
---
P.S. If you are looking at hiring a nanny, I have prepared a Nanny Contract Template to help you hire your own nanny.
Read other posts from this childcare and nanny series.
Do you know what to ask a potential nanny? Grab your Nanny Interview Questions Printable Checklist!