Enjoy my Nutrisystem blog where I share my Nutrisystem honest review.
Many years ago I went to a comedy performance and the comedian referred to himself as a "Fat @&*$" (let's just bleep this out to keep it family-friendly, but you all know which F-word I am referring to). He started off saying he used to weigh 400+ pounds, and he was a "Fat F@&*$". Then, he got his act together and started a diet and exercise program and he lost 100 pounds. Which is amazing! But he went on to say that now he weighs 300 pounds, and he is *still* a "Fat F@&*$". That routine really stuck with me over the course of all these years. What a powerful message on how we perceive ourselves even after making so much progress.
Getting healthy and losing the extra weight is a wonderful thing. Leveling down from "obese" improves our heart health and helps us avoid illnesses and conditions. But at a certain point, just a little bit of weight loss isn't going to cut it and we really need additional assistance to reach our healthy goals. I have struggled with my weight for many years. I yo-yo'd up and down multiple times, and it always feels awful to see the scale climb back up after a successful weight loss journey. I gained weight in college, then graduated and went on a diet and lost weight, but then gained it back again after getting married and relaxing into my lifestyle.
When my husband was deployed (and well before the baby came along) I went on a Jenny Craig program and lost 30 pounds. It felt wonderful and I saw so much improvement in my health: my plantar fasciitis was gone, my knee pain was gone, and I just felt invincible. Then I gained a bunch of weight during my pregnancy, and while I lost some of it during my maternity leave, I quickly gained it back when I returned to work. I had to do something about it again because this level of an unhealthy weight was making it difficult to balance working full-time and chasing my son around; I constantly felt run-down.
So, since I stopped breastfeeding and since hubby is away again for an extended time, now is a good time for me to start another weight loss program. I blogged previously about my Jenny Craig journey, and now I am blogging about my Nutrisystem journey. Keep reading for my Nutrisystem honest review.
See Results Fast with Nutrisystem. Get Meals Delivered + Free Gift for a Limited Time.
Nutrisystem review: My experience with the Nutrisystem diet plan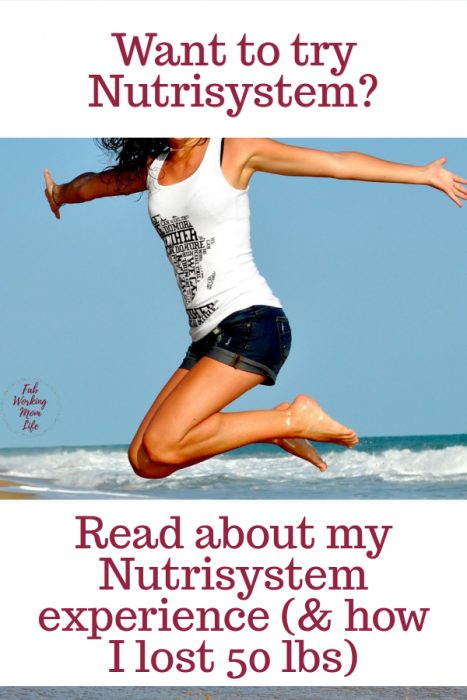 My parents bought me a promotional month of Nutrisystem through Costco, which I started near the end of January. I thought I would give it a try, and if it ended up working for me, I would buy my own program.
Does Nutrisystem work? Result: it has been working for me quite well!
My Nutrisystem Journey: Month 1
At the time of writing this post, I have been on Nutrisystem for 5 weeks and have lost 11 pounds. The way Nutrisystem program works is they send you breakfasts, lunches, dinners, snacks, and shakes. The idea is you only eat their food while on the program during the week, but are allowed weekends off. There are pros and cons to only getting meals for weekdays. I do like the flexibility of being able to go to book club and just try to make good choices during the weekend, but I have also just continued to eat the meals on weekends if I didn't want to cook for myself.
The promotional deal from Costco that my parents got me was the lowest tier program, where all the food is shelf-stable. It also didn't come with instructions or really much of anything so I think it would be confusing to people new to this type of diet program. I basically followed my teachings while I was on Jenny Craig, and paired each meal with a salad, ate a healthy fruit during the day, and drank a milk product with breakfast.
When I renewed and purchased a program, I bought the high tier that includes frozen foods. It came with a few pamphlets with information that can be helpful, and I've read that it comes with access to coaches. I haven't tried that out because I don't want to be hassled, but I do think it is important and helpful for someone who is doing this program for the first time.
Does Nutrisystem food taste good?
I know, that's the question, isn't it? Generally, yes, the Nutrisystem menu is good. Some of the boxed meals are great. Some meals where you have to add water to the container, microwave it, and wait for it to "thicken" are not as great. The custom plan lets you pick and choose the meals you want, so after trying different meals you can get an idea of what you like and don't like.
Their frozen meals tend to taste better than some of the shelf-stable meals. I am a huge fan of the Nutrisystem breakfast muffins, though; they fill me up and are quite tasty. The dinners I have been happy with as well, for the most part, particularly the boxed dinners. I like the shakes and they help curb hunger between meals. The shakes have been great to drink at work in that gap of time between arriving and before lunch and before leaving to go home for the day.
The lunches are where I've had the most trouble. The meals in pouches or little containers are not my favorite. Unfortunately, you can't see the packaging when you order the meals because the food is plated on the menu, so it does take trying it out to find out. But it was the same for Jenny Craig, I tried various meals, decided if something wasn't for me, and told the coach not to put it in my next order. It seems like many of the lunches come in those containers where you have to wait for them to "thicken" or are soups. At least, those are the items that seemed appealing on the selection menu. Maybe next time I'll try something different.
Nutrisystem vs Jenny Craig, per my experience
I compare here Jenny Craig vs Nutrisystem based on my experience with both. Sharing my Nutrisystem pros and cons here.
Nutrisystem gives you 21 days of food, assuming you are doing weekends on your own (aka Nutrisystem weekends off). Jenny Craig gives you food for each day. Of course, if you end up not eating their food and start to stockpile, you can tell the coach and order fewer meals of that type in the next shipment.
Jenny Craig has required weekly coaching check-ins either by phone or in person. Nutrisystem does not have required coaching but offers access to coaches. I found the coach part annoying because, introvert that I am, I hate talking to strangers about my personal stuff over the phone or in person. But, it is great for accountability and for beginners to get the information they need. I did find it all overwhelming until my first coaching call.
Nutrisystem cost: Nutrisystem costs less than Jenny Craig. This is probably due to the coaching piece not being a required element and resulting in fewer people that need paychecks, but there may be other factors. This price difference makes Nutrisystem a better choice for me, right now.
I plan to continue this program for at least a few months, while hubby is away, and then transition back to eating regular food. I'm already down one pants size, which makes me very happy. I really don't want to be a "Fat @&*$" anymore.
See Results Fast with Nutrisystem. Get Meals Delivered + Free Gift for a Limited Time.
After program update: I did Nutrisystem for about a year while my husband was away on active duty. I ended up losing 50 pounds! I thoroughly enjoyed the simplicity of the program – no one bothered me and I was able to just do the program on my own terms. I didn't have to cook, which was great since I was on my own and my son was too young to eat with me anyway. I definitely recommend the Nutrisystem program to others and if I were to go on a weight loss program again in the future, Nutrisystem would be my choice.
Have you tried a weight loss program like Nutrisystem?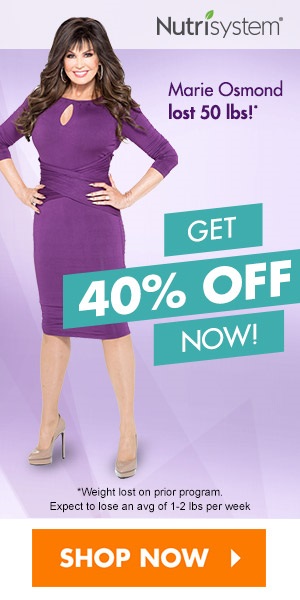 Join the Working Mom List
Join the Working Mom collective and get support and tools to help you thrive! Subscribers get access to my library of resources and printables.