Mother's Day is a special day – because MOMS are so special! Right ladies? Send this gift guide to your husbands/partners and tell them how important it is they recognize and celebrate YOU! These gifts are also perfect for Grandma on Mother's Day.
Mother's Day is a special occasion to show appreciation and love for mothers everywhere. It is an opportunity to express our gratitude and make our moms feel loved with thoughtful gifts. If you are looking for the perfect Mother's Day gift, there are many options available that will bring a smile to your mom's face. Or, heck, buy them for yourself and put a smile on YOUR face! From classic flowers and jewelry to unique items such as handcrafted items or experiences, there are plenty of options to choose from.
Enjoy this fun collection of unique, custom, handmade, and personalized Mother's Day gifts you can order from Etsy.
Mother's Day Gift Ideas for Moms with Multiple Children
These Etsy Mothers day gifts are adorable for moms with several children.
Funny Mother's Day Gifts
These funny Etsy Mothers day gifts are a win!
Inspirational Gifts for Mom
These beautiful and inspirational Mothers day gifts Etsy listings are perfect.
Mother's Day Printables
Who doesn't love a super fast and easy gift idea you can print up right at home?
So what did you think of my list of Etsy gifts for Mom? Did you enjoy these 20 ideas for gifts you can give Mom this Mother's Day?
More Mother's Day gift ideas? – I got you covered!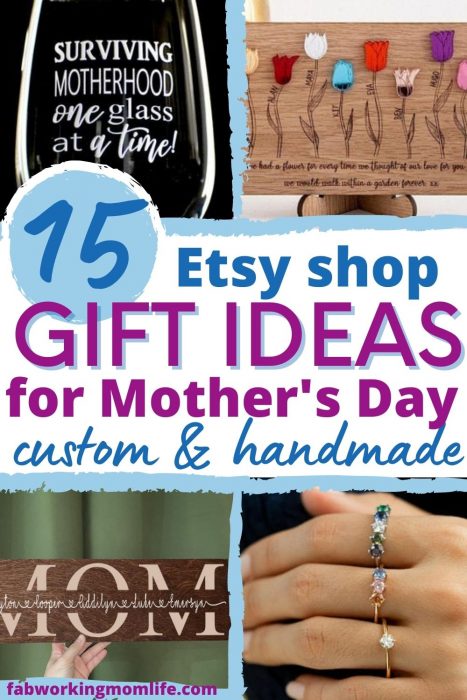 Join the Working Mom List
Join the Working Mom collective and get support and tools to help you thrive! Subscribers get access to my library of resources and printables.