Motherhood is already a tough challenge for stay-at-home moms. So, one could only imagine how difficult the situation is for working moms juggling their work and home lives.
Establishing a support network is crucial to thriving as a working mom. Call it however you want — a "motherhood community" or a "mom tribe" — you need a group of supportive moms who can help you manage the twists and turns of parenthood and work.
This article aims to help you make friends outside your immediate family and build a strong mom tribe.
Learn practical tips, ideas, and ways to create a supportive motherhood community that can help empower you as you go through this challenging but fulfilling journey of motherhood.
5 Tips for Working Moms To Build a Solid Support Network With Like-Minded Moms
If you just became a mom, chances are you've already heard this advice: "Join a mom group for your sanity's sake!"
Understandably, working moms with jampacked work and personal schedules might initially be skeptical.
After all, who wants to hear unsolicited delivery horror stories or constant questions regarding one's birth plan, right?
But here's the thing: A tightly-knit group of mom friends can be a lifesaver. For example, you'll interact with other moms facing similar challenges who understand the unique ups and downs working moms encounter daily.
You can also swap ideas, vent about sleepless nights, and congratulate others on victories.
So don't let horror stories scare you away. Take risks, find a group that suits you, and give it a go. If you don't know how to start, here are some tips on building the support and friendship you need to stay sane:
Offer Help to New Parents
It might appear counterintuitive, but one of the best ways to gain support is to help other moms. Helping others strengthens support networks and encourages people to be more active. This, in turn, can help boost your self-esteem.
There is also some research suggesting that when people help others, it can trigger brain changes associated with happiness.
You can volunteer at your kid's school or join the PTA (parent-teacher association) to network with like-minded parents. You can also lend a hand to local charities serving working families.
Build on What Works

Don't waste time speculating what the mom tribe should be or do; expand what already works.
Suppose you intend to start a motherhood support group in your organization. In that case, work on an existing working-mom network. This community is often organic and inconspicuous but functional.
For example, maybe there's an email chain where new moms in the marketing department exchange second-hand baby gear, or perhaps that lady over in finance is known as an "all-star" mom — so she ends up coaching and mentoring many of her peers.
In identifying these hidden peer-to-peer connections, you'll learn what your fellow working mom needs, how to meet those, and how to help.
This information can help you develop an agenda or action plan based on sound values. You can encourage others to make that email chain an internal website or digital channel available for all working moms in your organization.
Once you've established connections, you can invite that "all-star" mom in as a featured speaker during working-mom meetings.
Organize a Support Group With Your Friends From the Church
If you don't know any working friends, there is no shortage of ways to find support. For religious individuals, you can start by helping another working mom at church with her children and household duties.
You can also start a prayer gathering, Bible study, or casual meet-ups with other moms to help you navigate the complexities of your home and work life.
Be Active on Social Media
Social media is a great way to broaden your horizons and make new friends. You can reach many like-minded working moms with digital platforms like Twitter, Facebook, and Instagram.
Join Community Organizations
Finding places where you and your kids can participate in fun and healthy activities is another excellent way to meet other working parents.
As a working mom, access to such community resources can help you gain helpful insights for juggling work and family.
Consider these five ways to start and build a solid support network as a working mom. As indicated above, you can benefit from mom groups and organizations.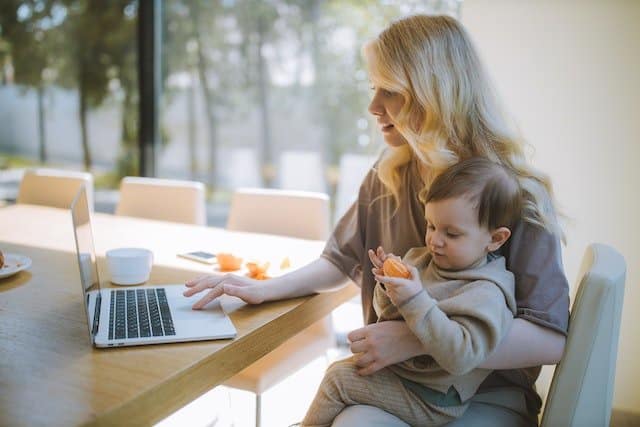 Strengthening Your Mom Tribe Through Thick and Thin
As you know, working moms face unique challenges juggling their respective careers and families.
Maintaining close relationships with your mom-friends can provide crucial support during the difficult stages of your motherhood journey.
However, finding time to socialize and nurture relationships can be extra challenging when work is hectic.
Here are two suggestions to keep your mom tribe intact despite busy schedules:
Virtual check-ins: Communicating with your mom-friends don't have to be in person. You can still catch up with them during busy times via regular text messages, phone calls, or video chat.
This way, you can stay in touch and keep your friendship strong even if your schedules don't allow frequent coffee get-togethers.
Special gatherings: Suppose your work and life commitments don't allow you to meet as often as you like. In that case, you can plan something like a "Mom's Night Out" ahead of time to share meals, drinks, and even a fun activity or two. You will all have something to look forward to, which might help strengthen your bond.
Author Bio
Fay Smith is a regular contributor on various health and wellness sites. She also works as a freelance writer and researcher on wellness topics.
Join the Working Mom List
Join the Working Mom collective and get support and tools to help you thrive! Subscribers get access to my library of resources and printables.