Learning about dinosaur fossils is always a hit with preschool kids! Kids love dinosaurs, and this fun fossil stem activity learning activity doubles as messy play. Fossil activities for preschoolers are definitely a win-win for my five-year-old!
This making fossils activity was actually his Pre-K school science project. Because apparently we have science projects in Pre-K now! The school gave us the activity assignment and directions. But you know this momma loved doing the craft with her son. Especially since this activity also involved mommy having some coffee! How do you make fossils out of coffee grounds? Keep reading!
And for extra bonus fun, we made fossils of nature treasures as well. Because we love collecting nature treasures and crafting with them. We love these types of hands-on fossil activities.
You can use this activity to discuss how fossilized imprints are formed and why we have dinosaur footprint fossils.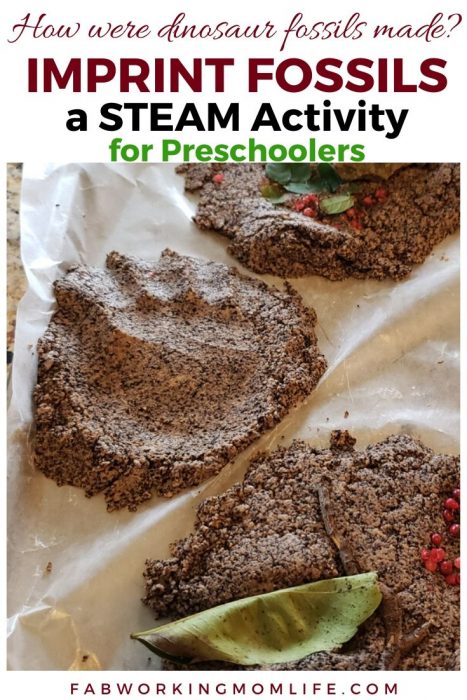 Making Dinosaur Fossils Preschool STEM Activity
How to make the fossil clay
If you're wondering how do you make salt dough fossils, here's one way of making them, with coffee grounds! This is how we made coffee ground fossils.
Supplies – for making fossils with clay:
1 cup of damp, used coffee grounds
1/2 cup of cold coffee
1 cup of flour
1/2 cup of salt
Wax paper
Mixing bowl
Spoon for mixing (wooden or other)
Rolling pin (we used our son's play dough rolling pins)
Cookie sheet for a mess-free workspace
Measuring cup
Steps – how to make fossils:
How to make fossils with coffee grounds? Start with these ingredients and get ready. Let your child help you use a measuring cup to get the right amounts. What a great learning opportunity and way to let your little one feel empowered.
How do you make fossil dough? Combine the following in your mixing bowl: coffee grounds, cold coffee, flour, salt.
Let the preschooler stir and stir until mixed well. Or feel free to use hands and fingers to create the fossil dough mixture.
Next, place the wax paper over the cookie sheet (for easier cleanup and moving the project around, trust me). Put some handfuls of fossil clay onto the wax paper, and roll flat with the rolling pin.
Now you have your fossil clay ready for the fun.
How to make a fossil
We made several blobs of clay to try various imprints. The simplest fossil imprint you can make to discuss how dinosaur footprints get fossilized is a lovely preschooler handprint. Press the hand firmly onto the clay to create the imprint.
You can also create other imprints. We went outside and collected a variety of nature's treasures: a twig with berries, a leaf, a stick, and my son's favorite, a rock.
Then we squished each onto other piles of clay to create many fossils.
Then allow the clay to dry. We moved our project off the table for about a day since we did this project over winter break and had other plans.
So what is happening with the imprint fossil during this activity?
Hands and nature treasures make an imprint in the clay. As the clay dries, the print remains.
Dinosaur footprints are imprint fossils. This means the dinosaur footprint got squished into wet soil, mud, clay, or sand. Then it dried and hardened, turning into a fossil.
Will you be adding this activity to your list of dinosaur stem activities? What are your favorite dinosaur fossil crafts for preschoolers?
Join the Working Mom List
Join the Working Mom collective and get support and tools to help you thrive! Subscribers get access to my library of resources and printables.